Hawks: Bad Point Guard Play to Blame for Loss @ Knicks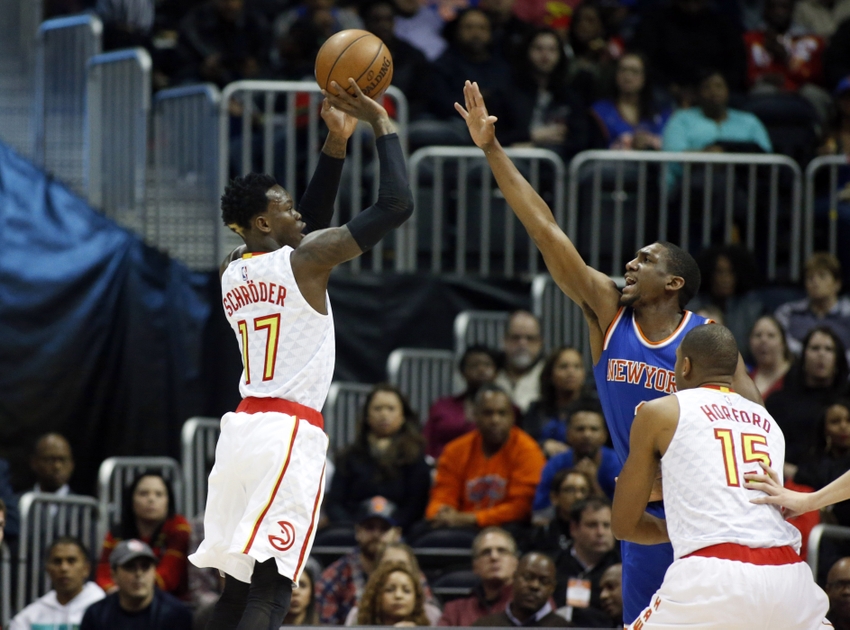 Were you busy defrosting a turkey or making stuffing, macaroni and cheese on Sunday ? What about green beans, casserole's and cranberry sauce? If so, you most likely were having a much easier time than the Atlanta Hawks were during their matinee contest against the New York Knicks. You could be severely challenged in the culinary art's, cooking a feast and still had things under control more so than the Hawks did. The struggle was felt as a collective group. But, it didn't take long to see that the reason the game was lost was due to the production, or lack thereof from the point guard position.
In 42 minutes,  Dennis Schroder and Malcolm Delaney went on to make only one of twelve field goal attempts. and had seven turnovers between them. Schroder, nonetheless, is still a young player.  By following the link to Schroder's name, you can see that topic was covered over the summer. It's just as relevant today, or even more so than it was several months ago.
While the Knicks were busy adding point guards in the off season, none of them are named Curry or Westbrook. They did however, add a former league MVP in Derrick Rose. They also added playground legend from the city of Compton in Brandon Jennings. It does go without saying that was all during a prior generation.
These days, both Rose and Jennings could be described as of course past their prime. They didn't set the world on fire Sunday, but badly outplayed the younger, more athletic set of Hawks guards. Conventional wisdom states Schroder should lick his chops to have a matchup against Rose. Or, at the very least hold his own so that his performance alone doesn't cost his team the game. But then again, that may be an unfairly harsh assessment, but it is accurate.
"Personally didn't feel good. I didn't hit my shots. I didn't play like I did before but I got to do a better job of being ready to prepare myself." Schroder said after being benched in the fourth quarter as coach Bud tried a lineup without a point guard.
Schroder looked lackadaisical and disinterested. In turn, Schroder committed arrant lob passes, while also getting beat off the dribble. Understand it's just 1 game out of 82. But a 1 point, 3 assist, 3 turnover and 0 for 8 from the field outing is especially frustrating. His teammates held up their end of the bargain. Dwight Howard recorded his 10th double double of the season with 18 points and 18 rebounds. Paul Millsap played well both offensively and defensively. Millsap scored 19 points and kept Kristaps Porzingis in foul trouble. He also had 2 steals, 2 blocks and also had 7 rebounds and 5 assists.
Head Coach Mike Budenholzer got a really strong game from Kyle Korver. Korver, finished with 17 points and 4 rebounds on 7-12 shooting. Although Mike Muscala had an uncharacteristic non factor type of game, Tim Hardaway Jr. continues to excel. He recorded 12 points on 5-8 from the field. He ended the day taking a nasty spill on a shot to the head from Carmelo Anthony. Anthony felt it was necessary to celebrate a series of missed layups and offensive rebounds. This in turn ultimately led to a foul on Hardaway Jr. Anthony's elbow came down on Tim's head and he remained on the ground for a full time out. He did walk off under his own power but did not return.
The Hawks view Delaney and Schroder as the clear cut future. I will not shape my confidence or opinion of their abilities from one game. It was, after all the first time the Hawks have played a game as early as 12 pm eastern time in over 10 years. There's a chance Dennis had much more success the night before playing uno or go fish versus his teammates. Most of the games happen later in the evening, and based on what he said, the early game snuck up on him.
The good news is the Hawks are still squarely in second place behind the Cavaliers in the Eastern Conference after the Hornet's managed to lose in overtime against the Pelican's. The bad news is 5 of the next 6 games are on the road. May we all root for Dennis to step up to a greater level of play.
ESPN.com was used in this article
More from Soaring Down South
This article originally appeared on