Has Terry Rozier Been a Disappointment for the Boston Celtics?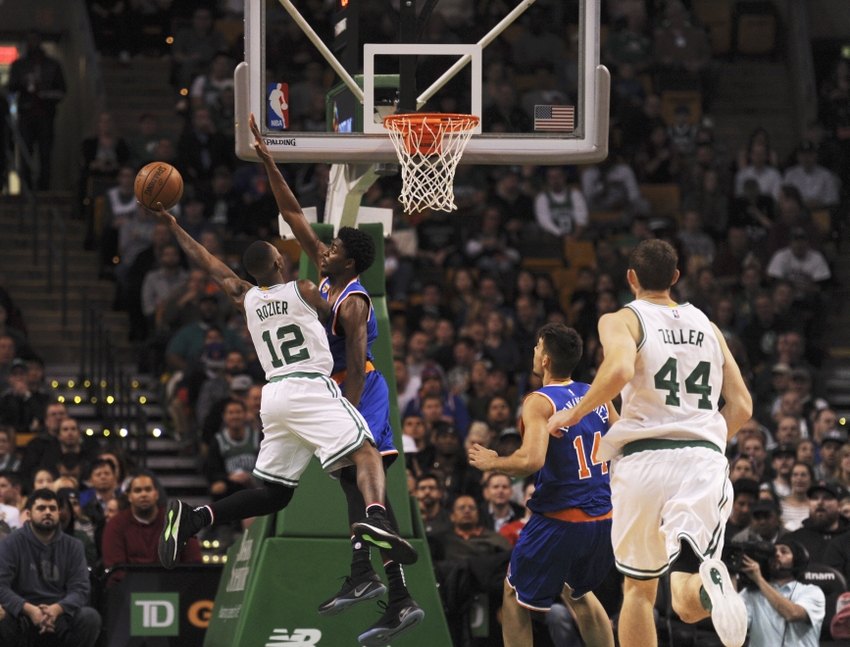 Is Terry Rozier's slow start to the season a disappointment for the Boston Celtics?
The Boston Celtics went into this season with high hopes for Terry Rozier. After a phenomenal outing in the summer league, the hype surrounding him kept growing, and the expectation was that he would replace the role that was held by Evan Turner. By those standards, Rozier has been a disappointment this season. But, in hindsight, those expectations were incredibly unfair to a second year guard who spent much of his first season in the D League.
Everything that the Celtics loved about Rozier last season is still there this season. He is developing as a distributor and looks more comfortable as a scorer. He impressed as a rookie and has quickly improved in multiple areas in his second year. And yet, he still is not having the kind of impact that the Celtics needs out of their primary ball handler on the second unit.
Turner, for all his faults, figured out how he needed to play on that second unit. He eliminated the three point shots, and found exactly where he needed to attack in the mid range game. He sat right behind Isaiah Thomas in assist on the team, and was clearly the next best at controlling the offense. He eventually took on a significant role, but it took him time to learn and improve. Turner had a lot more negatives in his early years than Rozier does right now, but Rozier is still not capturing the impact that Turner had in his final season, where he was at his best across the board.
Rozier is scoring four fewer points per game and 2.7 fewer assists per game. Much of that can be attributed to the fact that Turner played nine more minutes per game, but that is also part of the problem. The Celtics have not felt comfortable enough with Rozier to give him the kind of role that Turner had, and their lack of that true ball handler is amplified by the fact that Marcus Smart and Kelly Olynyk are with the starting unit.
Rozier has continued to play with the aggressiveness that has been essential across the board for the Celtics. His defensive rebounding percentage has actually improved from a season ago, and he has began adapting his game. Rozier is understanding how he can become a better distributor, and keep the offense in rhythm. Unfortunately, he has not had the time to master it like Turner had, and the same goes for anyone else on their incredibly young second unit.
Rozier may not be reaching the hype that was surrounding him this summer, but there is no way the Celtics can be disappointed with how he has looked so early in the season. Having the rotation settle should improve things. Rozier has little help around him and next to no floor spacing from the front court. Once Smart and Olynyk return to that unit, it forces the defense to account for another guard who has been vastly improved as a three point shooter, and pulls their bigs out of the paint in order to account for a stretch five.
Rozier's aggressiveness has always been his strength, and he will have more opportunities to attack the inside once they are at full strength. Smart appears to be in a better position to take over much of Turner's role from last year, and that will help Rozier eliminate some of the negatives.
More from Hardwood Houdini
In a small sample size, Rozier has taken his 22 percent from three point range and turned it into 40 percent. His points per 36 minutes has gone up by four, making it clear that the terrible offense from last year is nothing to be too concerned about. Rozier still needs to grow as a distributor, and that will always be the difference maker as a ball handler.
Until Rozier develops that ability to be a top distributor, Smart should expect to have a much larger role as a ball handler. The Celtics want to use Smart as a shooter with the way he has been playing this year, but his control of the offense is much further along than Rozier.
The Celtics need scoring on that second unit, and putting Rozier into a more purely score first mentality should allow him to develop more as a scorer within Stevens' system. It will allow him to get more comfortable, rather than forcing things far too often.
The second unit has been underwhleming in every way this season. There has been a lot of promise in some young players, but injuries have left them without a single player that they should feel comfortable with as their instigator on either end.
Rozier has not taken on that role but those are unfair expectations. Rozier continues to look great and continues to shut down all those that doubted Danny Ainge for taking him with the 16th overall pick. Rozier has shown signs of being the point guard they believe he can be, and that should continue to get better as the season goes on for such a young player.
This article originally appeared on