Harrison Barnes and Why Average NBA Players Get Max Contracts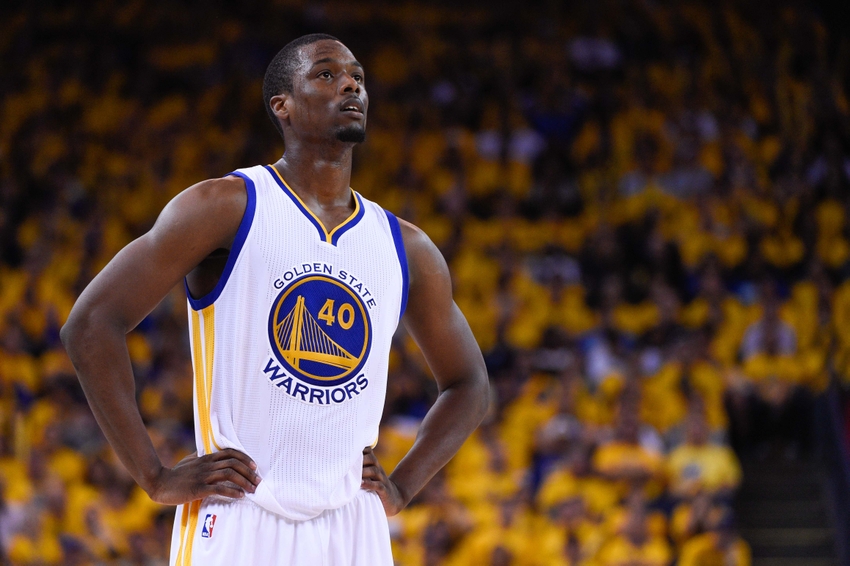 2016 NBA Free Agency has ended, and Harrison Barnes now has one of the richest contracts in basketball. Is it okay that average players get paid more than some of the NBA's brightest stars?
The 2016 NBA Playoffs had not treated Harrison Barnes well. Heading into the Finals, he had averaged less than nine points per game and shot only 40 percent from the field – both far below his regular season averages.
This was made all the more troubling by Barnes' impending free agency. His contract with the Golden State Warriors would expire at the end of the season. Once this happened, he would have to start fielding offers from organizations around the league for a new deal.
The Playoffs should have been a venue for Barnes to showcase all his skills under the brightest lights. Instead, it was living his own personal nightmare. Yet, hope still remained. The NBA Finals offered one last shot at redemption for Barnes' regrettable month of playoff efforts.
When the Warriors sprung out to an early 3-1 lead in its best of seven against the Cleveland Cavaliers, Barnes seemed to have been absolved of all past shortcomings. Sure, he hadn't performed up to expectations. Who cares? He was on his way on his way to his second consecutive NBA title as a part of a record-breaking Golden State team.
Barnes played an essential role in a well-documented killer five-man Warriors unit that had collected heads around the league all season. That much would be etched in stone. The world gifted him a get-out-of-jail-free card. When you're a champion, you're a champion. All the other blemishes just get put into the periphery.
Then the Warriors lost Game 5… then Game 6… and then Game 7… and suddenly the Harrison Barnes hole grew even deeper. Not only did Barnes have to return the shadow box for his second championship ring, but his performance cratered to an all-time low in those last few games.
Barnes averaged five points and shot 15 percent from the field in the decisive final three contests. In Game 6, he went 0-8, missing every shot that came his way. The only difference between me and Harrison Barnes in Game 6 was that he had two more rebounds and missed eight more shots. Otherwise, I contributed just as much to the Warriors cause watching from home.
Now, defeated, Barnes and his agent would have to enter free agency with a tough case to pitch. As his postseason struggles unfolded, Barnes cost himself millions in future earnings. After he laid his Finals egg, the Harrison Barnes stock was trading at an all-time low.
Yet on July 4th, only four days after free agency started, reports surfaced that Harrison Barnes had agreed to a 4-year, $94.4 million contract with the Dallas Mavericks. In fact, with the way the league's collective bargaining agreement was structured, this was the maximum amount of money that any team was allowed to offer him.
Harrison Barnes – the same Harrison Barnes who played like a chalk outline in the playoffs – now makes more money than Kyrie Irving, Kawhi Leonard, and Blake Griffin. He makes more than Stephen Curry and Karl-Anthony Towns, the reigning NBA MVP and Rookie of the Year respectively, combined.
Harrison Barnes will enter next season with one of the 20 richest contracts in the entire league. For some reason, the Dallas Mavericks gave out elite-level money to an average basketball player. Even so, despite what common sense would suggest, they may have been right to do so.
Harrison Barnes has his warts, but so does the system which dictated his contract in the first place.
A little bit about how these contracts work: each team has their roster spending restricted by a salary cap. The cap is determined when team owners and players negotiate a collective bargaining agreement (CBA). This was last done five years ago, before the 2011-12 season.
Usually, this cap settles around 51 percent of the league's projected basketball-related income for that year. For example, entering the 2016-17 season, the salary cap is $94.14 million. From this number, you can infer the NBA plans to make roughly $6.5 billion that business cycle. Teams also must spend at least 90 percent of the cap (a salary "floor") to ensure that sufficient money goes to the players.
Otherwise, the difference between the floor and the team's cap space is evenly distributed among players on its current roster.
Moreover, the CBA restricts how much teams can actually pay certain players. Rookies have their annual salaries limited by their draft pick. If you are the No. 1 pick in the draft, you will have a better first contract than the second pick. If your contract expires and you want to sign a new one, your NBA tenure determines your maximum salary, with more money going to more experienced players.
Harrison Barnes has less than six years of experience, so teams can only offer him 25 percent of the total salary cap. On the other hand, someone with more years under his belt, a LeBron James/Dwyane Wade-type, can make up to 35 percent of the cap. Many other interesting wrinkles to the structure of NBA finances exist, but these are the basic rules of player salaries.
So why can someone like Harrison Barnes court so much money? The first explanation goes back to the way the salary cap is set. The cap can be extremely sensitive to new sources of league revenue.
Only 20 years ago, the NBA salary cap was $24.36 million. This means that the salary cap (and in turn, NBA financial returns) have risen over 350 percent over those 20 years. Even more remarkably, the cap for the 2015-16 season was only $70 million compared to the $94.14 million today. Yes, the league saw a 34 percent profit increase in the last year!
This dramatic change resulted from a new national television deal the NBA signed in the ballpark of $2.5 billion a year. Suddenly, this massive cash influx gave nearly every team tons of contract space. Moreover, due to the salary floor, teams were looking to spend now.
Changing the contract cap so abruptly creates some obvious market inefficiencies. Now, max contracts negotiated under the old, much lower cap are much more affordable. Players like Klay Thompson who would normally garner max money now must earn well below their value for the life of their old contracts. Likewise, teams who maxed out star players years ago now find new flexibility in a more lucrative market.
Rookie contracts also play a big role in teams spending an exorbitant amount of money on free agents. Great players often blossom early in their careers, offering starter-level and sometimes All Star-level production within their first few seasons. However, the rookie scales for contracts don't grow with or account for the rising salary cap.
Although much more money exists, some of the best players in the league still make many times less than their value while under a rookie contract.
Heading into the 2016 offseason, the Dallas Mavericks expected to have roughly $60 million in cap space. Dirk Nowitzki would predictably come back, as would point guard Deron Williams, but the roster still had holes. Chandler Parsons, the team's starting small forward, signed with the Memphis Grizzlies early in free agency. With the NBA as a whole adopting a pace-and-space identity, having a player on the wing that can defend and shoot is more important than ever.
In comes Harrison Barnes. He can defend – unless that player was LeBron James, or Kevin Durant, or even Portland's Al-Farouq Aminu. The postseason gave us a growing list of players ready to score at will against Barnes. He can shoot – unless you mean in the 2016 playoffs, where Barnes went full on Leonard Shelby and forgot how to put the ball in the basket.
The Mavericks risked it anyway. Maybe it would work out, and maybe it wouldn't. All that money had to go somewhere.
More from Sir Charles In Charge
People love to jump on professional athletes for making so much money to "play a game," yet it's these same people that allow for high salaries in the first place. The League doesn't make money without interested fans. Viewers watch games and buy merchandise while the NBA signs endorsements and television deals. The next thing you know there's millions of dollars to go around.
Harrison Barnes likely won't play up to his $94-plus million contract, but that's not the point. It doesn't matter that we refuse to believe Barnes is worth $22 million a year.
In 2016, he was. Once Chandler Parsons decided to leave Dallas, Barnes became a necessity for the Mavericks. What sort of contract did Parsons ended up signing with the Memphis Grizzlies you might ask? Four years, $94.8 million – nearly identical to Barnes.
Call it supply and demand, call it lucky timing, call it whatever you want. That was the asking price for that type of player, and someone paid it – end of story.
Harrison Barnes has his warts, but so does the system which dictated his contract in the first place. Barnes got the most money he possibly could. That, in a vacuum at least, should be celebrated, not condemned. The NBA is no worse off for Harrison Barnes getting a bigger paycheck. If you have to hate, don't hate the player, and don't hate the game. Hate the flawed rule book.
This article originally appeared on