Harden, Rockets Coast Through Trail Blazers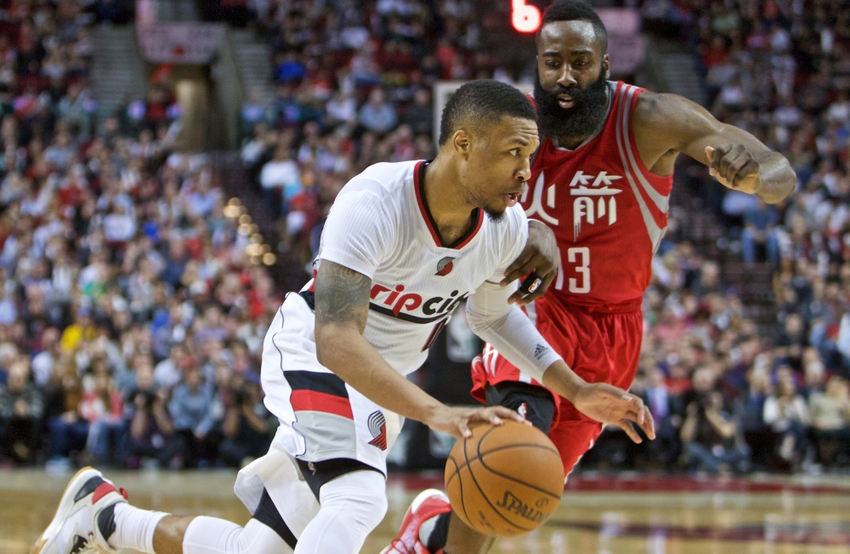 McCollum's 26 not enough as Rockets blow through Trail Blazers 126-109
VS.
| | | | | | |
| --- | --- | --- | --- | --- | --- |
| | 1 | 2 | 3 | 4 | T |
| Rockets | 41 | 21 | 38 | 26 | 126 |
| Trail Blazers | 29 | 33 | 21 | 26 | 109 |
CJ McCollum had a big night for himself, but could not get any help from his teammates. The entire starting five had a negative plus or minus. Besides Moe Harkless, who had himself a great night of 19 points, McCollum was the only one in the starting lineup who shot the ball at 50% or better.  Damian Lillard had 18, but struggled throughout the game.
The Rockets were just too much for the Trail Blazers last night. The Rockets starting five all had more than 15 points. They also all had a positive plus or minus of more than 10 – pretty impressive.  If you looked at the box score, the FG% of both teams were about the same, but the Rockets had 3PT% of 44% compared to the Trail Blazers 36%.  Both teams shot the ball at a good rate, but the Rockets were superior. Again, the Trail Blazers were out-rebounded significantly.
More from Rip City Project
The majority of our bench received a lot of playing time last night. Evan Turner played more of a starter's role compared to Allen Crabbe's 20 mins. Turner was in the game for 28 mins and lead the bench in scoring with 19 points. Turner played a key role in last night's game, with Mason Plumlee only having 4 points and Crabbe only getting 5 points throughout the night.
The Trail Blazers have to step up their game as their record has now fallen to 7-6. They are now 2nd in Northwest Division and 8th in the Western Conference. They really need to step it soon as they have dropped three of their last five games.
Next game:
Tonight @ Pelicans 5PM Pacific
Radio: Rip City Radio 620
TV: CSNNWHD
The Trail Blazers take on Anthony Davis and the struggling Pelicans as they aim at getting their record away from 500 and towards 8-6.
This article originally appeared on