Greg Monroe Has Become A Defense-First Player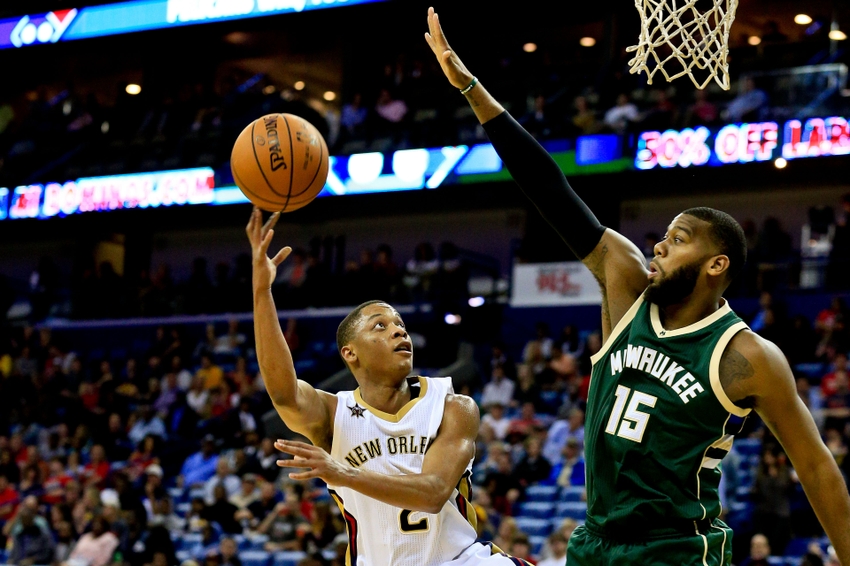 Despite being notorious for not being a good defender, Greg Monroe has excelled on that end in the early stages of the 2016-17 NBA season.
When he was signed, essentially nobody around the Milwaukee Bucks expected Greg Monroe to be anything but a poor defender. It was a reputation he had earned through his career with the Detroit Pistons, and Monroe's first year in Milwaukee didn't do much to dissuade that reputation.
Mornoe leading the team in defensive rating and defensive box plus/minus, while trailing only Giannis Antetokounmpo in defensive wins added, is thus a surprise to Bucks fans.
It's easy to attribute those numbers to a small, noisy sample size, but it legitimately seems like a sustainable trend for the Moose. Monroe is noticeably thinner than he was last season, and it has mattered in his defensive play.
Monroe is averaging 1.2 blocks per 36 minutes, which is a career-high for him. Even more impressive, though, is the amount of steals the Moose has accrued thus far this season.
After averaging 1.1 steals per 36 minutes last season, and less than 1.5 steals per 36 every year after his rookie season, Monroe is grabbing 2.6 steals per 36 in 2016-17 so far.
That's a remarkable change, and one that seems to be a product of the new way Monroe approaches defense. He's never been able to play with verticality, so instead of trying to block or contest shots Monroe has instead attacked the ball before opposing players can raise it.
He looks faster both on his feet and with his hands, which has led to some highlight plays that Bucks fans would've thought unthinkable last season.
With this sharp increase in defensive production, unfortunately, has some a drop-off on the other end. Monroe is currently eighth among Bucks in two-point percentage, trailing perimeter players like Rashad Vaughn, Matthew Dellavedova and Tony Snell.
Big men typically have better shooting splits because of all of the shots they attempt around the rim, but Monroe has struggled with his close shots. He's eighth among all Bucks in field goal percentage on shots within two feet of the rim, and tied for eighth in field goal percentage on shots taken from between three and nine feet away from the rim.
More from Behind the Buck Pass
Monroe's current field goal percentage of 45 is the lowest he's ever posted in a season. The one attempted–and missed–three he took this year doesn't help, but it isn't much of an influence on a 60 shot sample size.
Moose just hasn't looked right on offense, often missing layups that really should be buckets. His inability to finish has been highlighted on attempted put-backs, which have been more common this season than ever before for Monroe.
For the first time ever, Monroe is pulling in over 14 rebounds per 36 minutes. His previous career-best mark was 11.9 boards per 36. Interestingly enough, Monroe is setting career-highs in each of the five basic statistics per 36 minutes–aside from scoring.
His passing has been something to behold. Monroe was always seen as an above-average passer, but not many people expected him to be tied for third on the Bucks in assists per game.
That trade-off works for the Milwaukee Bucks. The Bucks want Jabari Parker and Giannis Antetokounmpo taking shots, and it seems like Greg Monroe is just as cognizant of that this season as most Bucks fans are.
He's still taking a lot of shots, but fortunately Monroe has found ways to be very effective even without them falling. If he can continue to be an impact defender and keep the ball moving on offense, Greg Monroe could end up fitting with Milwaukee's starting five after all.
His transformation as a player has been fascinating to watch, as has the Bucks rotations dealing with the plethora of centers on the roster. If Monroe starts to knock down those easy looks, he might become the undeniable choice for the starting five in Milwaukee.
This article originally appeared on