Grading the Miami Heat a quarter through the season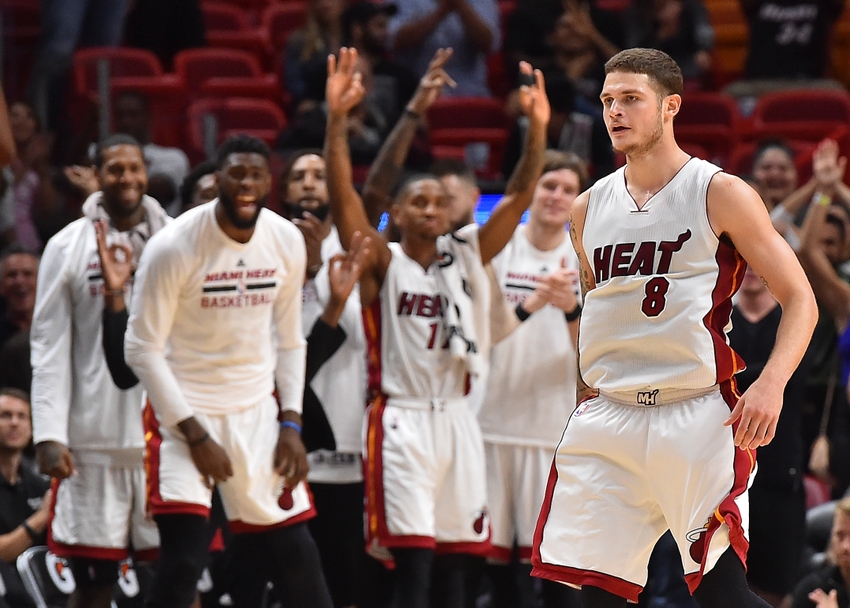 With a quarter of the season now complete, here's a look at how each Miami Heat player has fared thus far.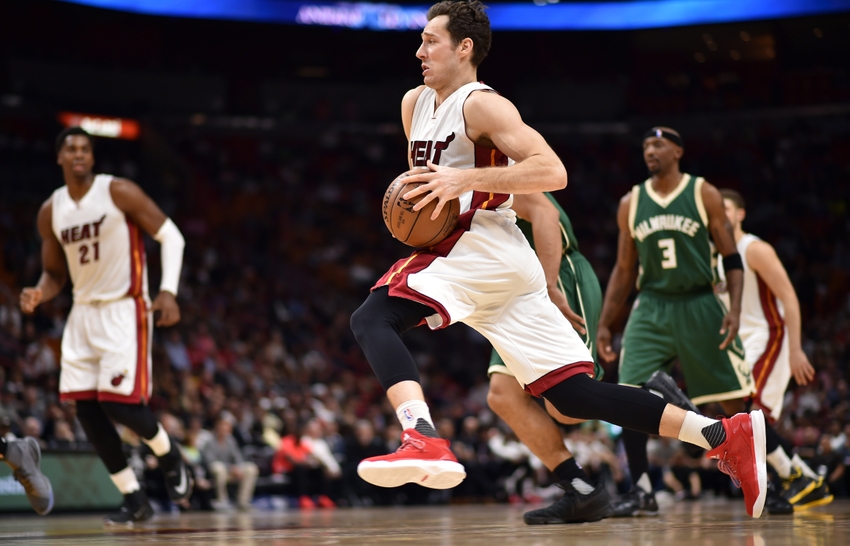 Mandatory Credit: Steve Mitchell-USA TODAY Sports
Goran Dragic
Season numbers: 17.8 points per game, 3.9 rebounds per game, 6.7 assists per game,44.3 field goal percentage, 42.1 three-point percentage, 33.4 minutes per game, 16 games played.
Dragic has been a picture of consistency throughout a trying early start to the season for the Miami Heat. Aside from the game against the Chicago Bulls when he left the injured, and the overall team debacle on the road in Detroit, Dragic has scored in double figures each game. With the spate of injuries that has taken over the team recently, Dragic has raised his game a notch. Over the past five games he has posted 23.4 points, 4.4 rebounds and 9.0 assists per game.
Dragic's value to the team is almost as noticeable when he is resting during the course of the game. Without a bonafide backup point guard to direct the team, the Heat's offence can look out of sorts when he is sitting. Dragic's recent stretch of excellent form has come without a high usage guard in Dion Waiters alongside him. Much like the presence Dwayne Wade used to present, Dragic does seem to flourish when he has the opportunity to be the dominant ball handler.
Like the year he was named to the All-NBA third team, Dragic has demonstrated that his current level of play is sustainable for the duration of the season.
Grade: A-
Dion Waiters
Season numbers:  14.2 PPG, 3.4 RPG, 3.9 APG, 38.4 FG%, 34.4 3P%, 31.8 MPG, 16 GP
Prior to his recent injury, Waiters had been a pleasant surprise during his short time in Miami. Signed at a relatively cheap price in the offseason, Waiters has demonstrated an ability few others on the Heat roster possess: creating his own shot.
Naturally moving forward, this is going to be a great asset for the Heat in tight game situations. Waiters has seemingly improved as the season has progressed, as evidenced by posting 18.8 points, 4.4 assists and 3.8 rebounds per game over his last eight games before injury set in.
Waiters' main issue, as has been the case throughout his career, is efficiency. For the season, he is shooting 38.4 percent from the field and just 65.2 percent from the free-throw line. Further, Waiters' usage ranks second on the team with 24.7, just behind Dragic's 25.4. So even though Waiters has been posting some solid numbers, it's taking a lot of time and effort to do so. Even during his impressive recent eight-game stretch, he was still only shooting 41.8 percent from the field.
When Waiters does eventually return from injury, a role coming off the bench combining his scoring and playmaking abilities would likely be the most logical option.
Grade: B
Hassan Whiteside
Season numbers: 18.0 PPG, 14.8 RPG, 0.8 APG, 55.8 FG%, 33.4 MPG, 21 GP
Whiteside has simply been outstanding to this point of the season. He is most definitely living up to the billing of 'max-player' after signing his $98 million contract in the offseason. The noticeable difference of how the Heat function with him on and off the court is a testament to his early season dominance. His post game has improved noticeably, with his footwork and touch around the hoop proving a nightmare for opposing defenders.
On the defensive end, Whiteside's block numbers are down from last season, averaging 2.6 blocks per game. However, this can be due to to teams planning further to score in different ways when coming up against him. Furthermore, it would be interesting to have a running count of the amount of shot attempts from opponents that have been altered and rendered useless simply due to the presence of Whiteside in the paint.
With the injury list growing on the eve of another three-game road trip, Whiteside's contributions are going to be as important as ever in the Heat's visits to Atlanta, Cleveland and Chicago.
A debut all-star appearance is also definitely on the cards for the 27 year-old Whiteside.
Grade: A
James Johnson
Season numbers: 9.9 PPG, 4.7 RPG, 1.9 APG, 46.8 FG%, 34.4 3P%, 24.4 MPG, 20 GP
Johnson has demonstrated himself to be a more than valuable contributor off the bench for the Heat. Now playing for his fifth team in his eight season, Johnson has been somewhat of a journeyman through his career. But it's amazing what can happen when a player is shown complete faith by the coaching staff in charge.
Johnson is experiencing the best season of his career, demonstrating a terrific amount of versatility on both ends of the floor. Aside from an early season struggle (three-game span averaging 1.3 points, five rebounds and 19 minutes per game while shooting 1-of-13 overall), Johnson has been a revelation.
Again, this is an example of what can happen when a player is given the confidence to play his natural game. In the ensuing 15 games following his early slump, Johnson posted 12.1 points, 4.8 rebounds per game in 25.9 minutes, shooting 51.6 percent from the field. Johnson has demonstrated a vast array of moves on the offensive end, and is able to switch onto a variety of players on the defensive end.
Unfortunately, Johnson has now joined the long list in the Miami injury ward. He has been ruled out for the coming three-game road trip.
Grade: B
Luke Babbitt
Season numbers: 4.2 PPG, 1.8 RPG, 0.5 APG, 33.7 FG%, 32.8 3P%, 15.9 MPG, 19 GP
Although he entered the Heat via a fairly low-key offseason trade, Babbitt landed the starting power forward spot for the first eight games of the season. Head coach Erik Spoelstra clearly saw his perimeter shooting as a way of stretching the floor and utilising the Heat's proposed new approach on offence. Babbitt's contributions, however, have been quite negligible over the course of the season.
As can be seen from the numbers above, his shooting returns have been substandard for a player classified as a shooter. Babbitt has started 11 of the 19 games he has played, and has also seen time time at the small forward spot at various times. Babbitt has twice nailed three three-pointers, but he has not demonstrated very much apart from the occasional ability to hit the three-point shot
Still, Babbitt has competed hard and is a handy insurance policy for any team to possess.
Grade: D
Justise Winslow
Season numbers:  11.6 PPG, 4.7 RPG, 4.0 APG, 33.6 FG%, 22.2 3P%, 35.9 MPG, 9 GP
Unfortunately, the ambitions that both Winslow and the Heat had for the second-year forward have not come to fruition thus far. Winslow has played in just nine games before succumbing to an elbow injury.
During the time he was on the court, Winslow was unable to fulfill the preseason predictions that his jump shot had improved significantly following a summer of hard work. In fact, his shooting regressed significantly, as can be seen by the numbers above.
How much his elbow injury had to do with this is hard to equate. But the fact that he has now missed the past 12 games, and the upcoming three-game road trip, indicates it must have at least a partial hindrance.
Winslow's effort and performance on the defensive end was still at the excellent we saw in his rookie campaign. And also, his ball-handling and playmaking ability was very evident in the  short stretch in which he played.
The fact that Winslow will be missing further games is certainly a concern. However, his long-term progress must take priority over potentially winning a couple of games in December. Given the expectations of both fans and the team alike, it's hard to sometimes forget that Winslow is still just 20 years-old.
Grade: C-
Josh Richardson
Season numbers:  10.9 PPG, 3.1 RPG, 1.8 APG, 39.4 FG%, 36.2 3P%, 28.1 MPG, 13 GP
Richardson showed a gradual level of improvement this season, having from a two-month layoffs due to a knee injury sustained in the preseason. Unfortunately, he is back on the injury list and will be out of action for at least the next three games.
Thus far, Richardson's role has involved a mixture of starting and coming off the bench, depending on the availability of the roster. He has demonstrated the three-point range which became such a highlight of his rookie season.
Over the last three games he played before being hurt, Richardson nailed 10 three-pointers at a 45.5 percent clip. This is certainly invaluable for any team. But it's particularly important for the Heat who are ranked 21st by shooting 33.8 percent from downtown.
Richardson's development will predominately  be predicated on improved ball-handling and decision making, as his defence and general effort level are already at an exceptional level.
The Heat will be hoping he can return soon after the upcoming three-game road trip.
Grade: C
Tyler Johnson
Season numbers: 12.3 PPG, 4.8 RPG, 3.1 APG, 41.1 FG%, 35 3P%, 30.1 MPG, 20 GP
After a scorching start to the season, Johnson has slowed recently in both production and efficiency. Over the first five games of the season, Johnson posted 15.4 points on 52.8 percent shooting from the field and 50 percent from three. Contrast that to his last nine games where Johnson has produced 11.9 points per game on 35.3 from the field and 26.7 percent from three.
With the lack of a true backup point guard, Johnson has shown an improvement in his ball-handling. During a stretch last season when the Heat were without Dragic, Johnson struggled when given the primary ball-handler duties. This season, Johnson has twice finished games with seven assists and just one turnover. And aside from one game where he turned the ball over six times, Johnson has averaged just 0.85 turnovers per game. This is an exceptional return considering Johnson just over the 30 minutes per game
Without Waiters, Richardson and Winslow for the upcoming road trip, Johnson and the Heat will be hoping that he can replicate his early season hot streak.
Grade: B-
Derrick Williams
Season numbers: 6.3 PPG, 2.3 RPG, 0.3 APG, 38.7 FG%, 18.5 3P%, 15.5 MPG, 12 GP
Williams' season has been completely up and down thus far, both in opportunity and production. Over the first seven games of the season, Williams played a grand total of three minutes. He then enjoyed nine consecutive starts, followed by another three non-appearances despite the growing injury list. Granted, Williams has overall shot poorly from the field and has not always seemed to be in the right spots on the floor during various offensive sets.
But there have been some performances where he has shown great promise and performed particularly well. However, these performance were met with strict eight-to-nine minute stints on the floor, regardless of how well he was performing. With a team struggling mightily on the offensive end all season, the use of Williams on some occasions has been mind-boggling.
Williams' desire to make the most of his career was evidenced when he entered the game against the New York Knicks, where he played last season. Knicks announcer Walt Frazier immediately stated when he entered the game, "wow, he's lost some weight". Not that it was a huge problem for Williams, but more a testament to the culture of the Heat.
With a three-game road trip coming up minus five key rotation players, this would be as good a time as any to try and utilise Williams' talents.
Grade: D
Wayne Ellington
Season numbers: 14.8 PPG, 1.6 RPG, 2.0 APG, 47.5 FG%, 36.8 3P%, 32.7 MPG, 5 GP
Ellington's debut for the Heat came at a very timely stage considering the raft of recent injuries to a variety of players. Ellington sustained a severe leg contusion during the preseason, resulting in him missing the initial 16 games of the season.
Since his return to the court, Ellington's impact has been profound. It only took until his second game for the Heat TV announcers to state that he was likely the best three-point shooter on the team.
So far, their prediction has proven to be correct. Ellington has nailed 14 three-pointers in the space of five games, ranking him ninth in the league in three-pointers made per game. His presence on the floor has so far been a perfect compliment to Dragic, with a usage rate of just 17.3.
Much like James Johnson, Ellington is thoroughly enjoying having the total faith and backing of head coach Erik Spoelstra. On a number of occasions, Ellington has stated that he essentially has the green light to shoot whenever he sees fit. Now on his eighth NBA team, this reassurance has been very evident in short sample of play.
It is clear that Ellington wants to make Miami home, and the Heat and fans alike will be hoping his contributions can continue.
Grade: B+
Josh McRoberts
Season numbers: 4.0 PPG, 3.9 RPG, 2.2 APG, 32.8 FG%, 27.3 3P%, 16.0 MPG, 12 GP
Unfortunately, McRoberts again commenced the season on the injury list, which has been a recurring theme since his arrival in Miami in 2014. Having missed all the preseason action and seven of the first nine regular season games, McRoberts was always going to take some time to find hit feet .
However with absence of several key players in recent weeks, McRoberts has found himself in the starting lineup.
Over the last three games starting at power forward, McRoberts has averaged 10 points, 5.3 rebounds and 3.3 assists per game  in 27.1 minutes of court time. McRoberts has demonstrated in these recent starts that his overall smarts on both ends of the floor have not been diminished by his terrible run of injuries. Impressively, he has shot 50 percent from the floor and 48 percent from three during this three-game stretch.
With the versatility to defend both on the perimeter and down low, McRoberts gives the Heat a great degree of flexibility and experience. With some games under his belt and a growing injury list, McRoberts' return to form has come at an ideal time for the Heat.
Grade: C-
Willie Reed
Season numbers: 3.9 PPG, 3.3 RPG, 0.4 APG, 60.5 FG%, 12.1 MPG, 14 GP
Prior to this season, Reed had played just 39 NBA games. Now a quarter of the way into his first season with the Heat, Reed has proven to a more than capable backup to Whiteside.
Extremely athletic and possessing a terrific work rate, Reed has given his all in the limited court time he has received in his 14 appearances.
Reed, however, is extremely limited offensively. He has a lot of work to do from the free-throw line, where he is currently covering at a 45 percent clip.
Grade: C
Rodney McGruder
Season numbers: 6.3 PPG, 3.4 RPG, 1.1 APG, 40.9 FG%, 33.3 3P%, 24.3 MPG, 20 GP
McGruder was the last player to make the 15-man Heat roster, and has demonstrated the reasons the Heat called him up from their D-league affiliate.
His primary strengths are defence and three-point shooting, and McGruder has performed more than admirably in these departments.
And with the growing injury list, McGruder has averaged a whopping 33.8 minutes per game. For a D-league call up, this is quite impressive.
When the Heat returns to full strength, McGruder's minutes are likely to decrease significantly. But in the meantime, this extended court time should pay off down the road.
Grade: B-
This article originally appeared on