Grading the Detroit Pistons Victory Over the Bucks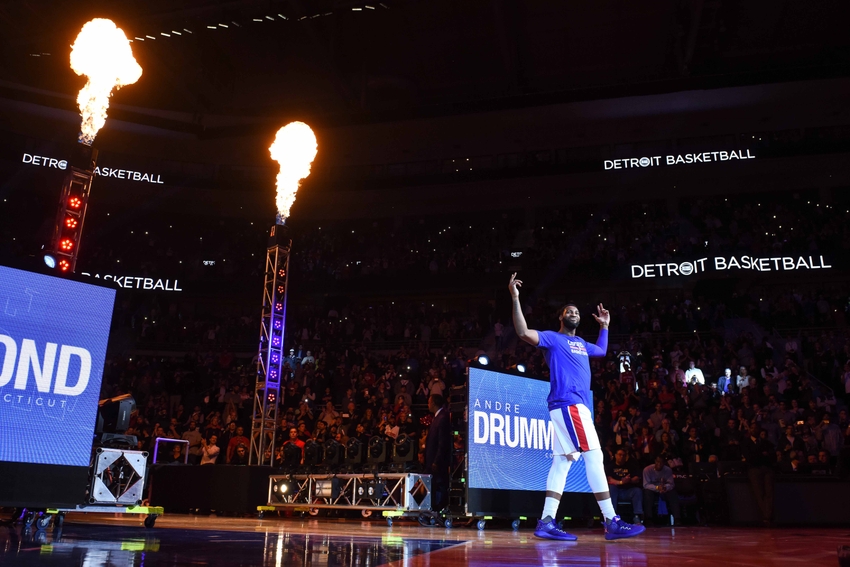 The Detroit Pistons grabbed a solid 50-39 lead in the first half. Andre Drummond owned the first half with 12 points, 8 rebounds, and 2 blocks. Kentavious Caldwell-Pope also came out of his offensive funk and had 11 points in the first half.
The Milwaukee Bucks had a nice run in the middle of the 3rd quarter and cut the lead to 2 points with 3:00 minutes to go in the third. But the Detroit Pistons outscored the Bucks by 8 points to close the quarter and maintained a 10 point lead going into the fourth. Andre Drummond dominated the glass and helped the Pistons pull away in the fourth. The Pistons (2-1) won their second in a row Sunday night with an 83-98 victory over the Milwaukee Bucks (1-2).
Ish
Smith
PG,
Detroit Pistons
B-
Ish Smith
continued playing well for the Pistons overall. He finished with 11 points and 7 assists. There were times in the third quarter when the Bucks pulled closer when he forced a couple of jumpers outside of his range and wasn't applying much resistance on the defensive end. He has been playing well, but staying within himself will continue to be his biggest hurdle.
Kentavious
Caldwell-Pope
SG,
Detroit Pistons
A-
Kentavious Caldwell-Pope
had himself a nice first half offensively and defensively which carried into the second half as well. Tonight was his best all around effort of the season. He filled the stat sheets with 21 points, 6 rebounds, 2 assists, and 2 steals. He was engaged in the offense throughout the game and when he gets a chance to run out in transition he is a very dynamic athlete. Tonight was a good night defensively as well, he matched up again Giannis Antekokounmpo,
Tony Snell
, and
Rashad Vaughn
, making them work for the baskets they hit. It would be nice to see Caldwell-Pope build off of this type of effort going forward.
Marcus
Morris
SF,
Detroit Pistons
C
Marcus Morris
had himself a fairly lackluster evening. Defensively, he had his hands full with
Giannis Antetokounmpo
and
Jabari Parker
at times. He went scoreless in the first half, although perked up in the second and finished with 11 points and 5 rebounds. Even on quiet nights, Morris continues to exude grit on the floor which others emulate when he's engaged.
Tobias
Harris
PF,
Detroit Pistons
B+
Tobias Harris
had himself a quietly effective evening. He finished with 16 points, 5 rebounds, and 2 assists. He also looked engaged defensively throughout the night. The Bucks have a nice front court when they give themselves a chance to set-up and Harris did a nice job of moving his feet to cut of baseline and grabbing several weak-side rebounds that resulted in a transition going the other way.
Andre
Drummond
C,
Detroit Pistons
A
Easily his best game of the young season. Drummond finished with a monster stat line of 20 points, 23 rebounds, 3 blocks, and 2 steals. He also had a dynamite dunk off of a steal he created. And several possessions later, he caught an alley-opp pass and finished it with an acrobatic reverse layup. Andre controlled the paint, engulfing every missed shot on defense while creating tap-ins offensively. Drummond also look comfortable on the floor defensively off the ball, he cut off Monroe twice early in the first half that prevented easy scores. After back-to-back 20/20 nights, Drummond is probably ready to play again today.
Aaron
Baynes
C,
Detroit Pistons
B+
On a night where Andre Drummond controlled both ends of the floor, Aron provided the Pistons with an efficient 7 points and 7 rebounds in only 11 minutes on the floor. He rebounded well against Monroe for a short stretch. He's been very good three games in.
Stanley
Johnson
SF,
Detroit Pistons
D
Stanley Johnson
didn't do much in tonight's game. On the floor for only 16 minutes, he managed 4 rebounds without scoring. Throughout the first three games of the season, Johnson has not established any rhythm nor is he carrying himself with the endearing swagger he possessed as a rookie.
Jon
Leuer
PF,
Detroit Pistons
B-
Jon Leuer
had himself a solid game off the bench. He finished with 6 points, 4 rebounds, and 2 assistants, numbers that do not jump at you, but he played solid defense as well. He also sparked the Pistons in the second quarter after a posterizing dunk over Giannis Antetokounmpo.
Beno
Udrih
PG,
Detroit Pistons
A-
Beno Udrih
continued to be a pleasant surprise against the Bucks. He finished with 6 points, 6 assists, and 3 rebounds. His energy off the bench seems to blend well with the second unit. He did a nice job of penetrating the lane and either finding the open player for a lay-in or taking his own shot. The Pistons went into the season with legitimate concerns about their back-up point guard situation, but they have to be feeling much better after this first week of play.
Stan
Van Gundy
Head Coach,
Detroit Pistons
B+
Solid night for Stan Van Gundy's Pistons. The first unit set the tone offensively early by forcing some easy baskets defensively. The Pistons had a nice pace going all night, minus an eight minute stretch in the third quarter, where the team was moving the ball from one side of the court the other. Van Gundy and the Pistons are now on a two-game winning streak and starting to find a rhythm with the new pieces.
This article originally appeared on