Grading the Detroit Pistons' 99-96 loss to the Houston Rockets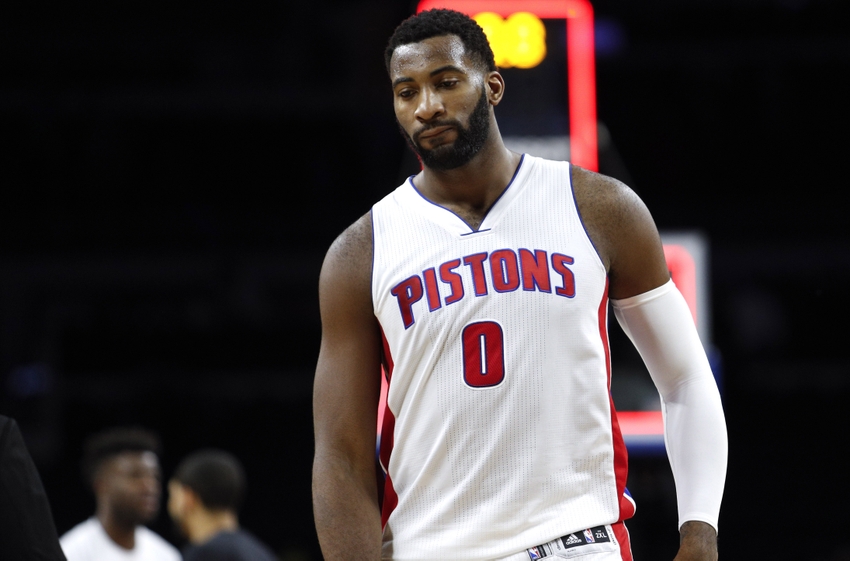 The Detroit Pistons (6-9) have lost to the Houston Rockets (9-5) 99-96, continuing the team's downward spiral in recent weeks.
The Detroit Pistons have now lost four straight games, including two at the Palace of Auburn Hills, after missing three critical free throws down the stretch.
The Pistons had started tonight's game strong, leading by as much as 12 points in the first quarter. Kentavious Caldwell-Pope was a big part their early success, scoring seven of his 25 points in the opening frame.
As the night went on though, the Pistons started to struggle. By halftime, the Rockets had taken their first lead of the game, outscoring Detroit 33-21 in the second quarter.
It would take Detroit until midway through the fourth quarter to take the lead back thanks to a 17-3 run led by a balanced offensive attack.
The Rockets would soon take back control late in the game after Caldwell-Pope missed the game-tying free throw with eight seconds left. After a missed free throw on the other end of the court by James Harden, the Rockets immediately fouled Andre Drummond on the rebound, who then missed both shots from the stripe to seal Detroit's fate.
While the Pistons kept the game close towards the end, they did not play well for the most part.
The Rockets outscored the Pistons 46-32 in the paint tonight and made about one-third of their three-point attempts (10-31). While they had less turnovers than Houston, Detroit had also allowed more points off those chances.
Caldwell-Pope was also the only starter to shoot the ball well tonight, making 60 percent of his shots. While Drummond, Ish Smith and Marcus Morris scored double-digits as well, they also all shot 33 percent from the field.
One positive to take from the loss is their ability to stop Harden. While he scored a game-high 28 points, he also had six turnovers, five missed free throws and made just six shots.
The Pistons continue to fall further down the conference standings while the Rockets shoot upward with their third straight win.
Kentavious
Caldwell-Pope
SG,
Detroit Pistons
B+
Kentavious Caldwell-Pope finished with 26 points and a -3 plus/minus rating. He was the main reason why the Pistons stayed in tonight's game, playing good on both ends of the floor. He also held James Harden to six made shots on 17 attempts. The Pistons lost the game though after he went 1-2 at the free throw line with eight seconds to go. The made free throw would have tied the game and possibly sent it to overtime.
Marcus
Morris
SF,
Detroit Pistons
C
Marcus Morris meanwhile did not play well offensively. While he scored 13 points, he also shot just 33 per cent from the field and had just two rebounds. His plus/minus was good though with a +11.
Tobias
Harris
PF,
Detroit Pistons
D
Tobias Harris
also did not play so well, recording just 20 minutes on the floor. He also had nine points and two rebounds.
Andre
Drummond
C,
Detroit Pistons
D
Andre Drummond was a defensive liability for the Pistons tonight. While he had 13 points and 16 rebounds, he was also a major factor as to how the Rockets scored 46 points in the paint. He was also outclassed by
Clint Capela
, who recorded 12 points and 15 rebounds on 70 percent shooting. Overall, it was a rough night for Drummond.
Stanley
Johnson
SF,
Detroit Pistons
D
Stanley Johnson
continues to regress this season after playing nine minutes tonight. In those minutes, he was a team-worst -16 and made just one shot from the floor.
Aron
Baynes
C,
Detroit Pistons
D
Aron Baynes did not do much at all tonight. In 13 minutes of playing time, Baynes recorded a grand total of one rebound. While he played some okay defense at times, he did not do much at all tonight.
Ish
Smith
PG,
Detroit Pistons
C+
Ish Smith played decently tonight, scoring 10 points and having eight assists. He was defensive liability though, recording a -8 rating for his performance. He did not do enough in my opinion to get the offense going down the stretch.
Jon
Leuer
PF,
Detroit Pistons
C
Jon Leuer
finished tonight with 12 points and eight rebounds off the bench tonight. While he was one of the team's better players, he also was a defensive liability at times, recording a -8 rating.
Reggie
Bullock
SG/SF,
Detroit Pistons
Inc
Reggie Bullock
played just 10 minutes and scored six points three of five shooting off the bench.
Beno
Udrih
PG,
Detroit Pistons
C-
Beno Udrih
did not do much tonight outside of passing the ball. While he recorded seven assists, he took just two shots, making one. He helped the team's second unit throughout the night, but they also needed him to play well offensively.
Stan
Van Gundy
Head Coach,
Detroit Pistons
D
Stan Van Gundy and the Pistons played well to start off the night, but seemed to get worse as it went on. It seemed like the adjustments Van Gundy were making did not work out the way he expected. As well, prior to Caldwell-Pope's final free throws, there was not enough offensive movement to try to get an open shot.
This article originally appeared on