Grading the Detroit Pistons 94-92 loss to the Boston Celtics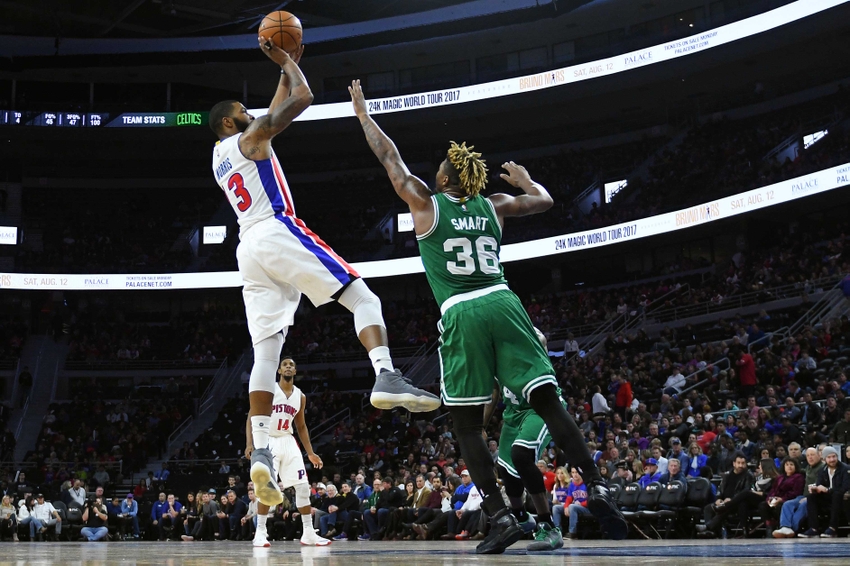 The Detroit Pistons (6-8) dropped their first home game of the season as they lost to the Boston Celtics (7-6) 94-92 on a last-second put back by Al Horford.
Al Horford made his return to the court count. After sitting out the previous nine Boston Celtics games with a concussion, Horford sealed a 94-92 victory over the Detroit Pistons with a game-winning put back layup and a block on the ensuing possession.
It was a tough way for the Pistons to drop their first home game of the season, as they had just tied up the game on a Tobias Harris triple on the possession before Horford's follow. Detroit has now lost three in row, as well as six of their last eight games. Let's get to the grades.
Ish
Smith
PG,
Detroit Pistons
B+
Smith played every minute of the first and third quarters, and he made them count. Smith pushed the ball for the entire third quarter and made a lot of good things happen for Detroit in the process, finishing with 8 points, 3 assists, and 2 rebounds in that 12-minute stint. At the same time, Isaiah Thomas went off for 24 points and Smith finished the game with a +/- of -7.
Kentavious
Caldwell-Pope
SG,
Detroit Pistons
C+
KCP played less than usual (just 28 minutes) tonight because Morris and Harris had the hot hands. He also was not aggressive on offense at all, hoisting just three shot attempts through three quarters and finishing just 1-7 from the field. That being said, he made some great passes and played his usual stellar defense.
Marcus
Morris
SF,
Detroit Pistons
A
Morris busted out of his slump as he led the Pistons in scoring with a season-high 24 points on 10-16 shooting with four threes. That's more points than he had in his previous three games combined. He took advantage of size mismatches all night, rising over smaller defenders to drain his jumpers.
Tobias
Harris
PF,
Detroit Pistons
B-
Harris had a number of vicious slam dunks tonight, finishing with 19 points. He also tied up the game with 23 seconds left with his first three of the game, but that turned out to be all for naught. Harris struggled with his jumper and on defense all night, especially against the bigger Horford, but even when he was on more perimeter-oriented forwards like Jonas Jerebko and Kelly Olynyk.
Andre
Drummond
C,
Detroit Pistons
A-
Drummond turned in a nice 20-point, 17-rebound game, but it was a little disappointing considering he had nine in the first quarter and finished the third with 19 and 15. Drummond was also missing in action on defense down the stretch, where Horford and Thomas both were able to get uncontested bunnies off with under two minutes to play.
Jon
Leuer
PF,
Detroit Pistons
C
Leuer couldn't buy a bucket on offense, finishing 0-7 from the field with 0 points. I will say that the majority of his looks were rhythm shots, so it's not exactly like he was forcing much. Despite the rough shooting night, Leuer continued to stay engaged, providing tough defense and being active on the glass.
Reggie
Bullock
SG/SF,
Detroit Pistons
B-
The surprise of the game was Stanley Johnson's DNP-Coach's Decision in lieu of 20 minutes for Reggie Bullock. Bullock looked solid in his first meaningful game action of the season. He splashed a three on his first shot of the game and made a nice block on an Avery Bradley reverse layup attempt. Outside of a couple of mental lapses, Bullock looked ready, willing, and able to contribute.
Aron
Baynes
C,
Detroit Pistons
C-
Baynes settled for bad shots in the post all night and let Horford grab the offensive rebound that led to the game winner. Baynes consistently brings his hard screens and rebounding effort, but he might have cost the Pistons a chance at OT in this one.
Beno
Udrih
PG,
Detroit Pistons
B+
Udrih was practically flawless in his nine-minute stint in the second quarter, where he piled up 2 points, 2 rebounds and 4 assists and was +8. He also provided six points in six fourth quarter minutes, using Baynes' screens to get off his patented elbow jumpers.
Stan
Van Gundy
Head Coach,
Detroit Pistons
C-
Van Gundy got his team to clamp down defensively after Boston went for 30 in the first quarter. He also drew up the nice play that got Harris wide open for the game-tying three with 23 seconds left. Unfortunately, he also put Baynes in to execute said play, and Horford proceeded to win the game on an offensive rebound in the absence of Drummond on the ensuing possession.
This article originally appeared on