Grading the Detroit Pistons 86-96 loss to the San Antonio Spurs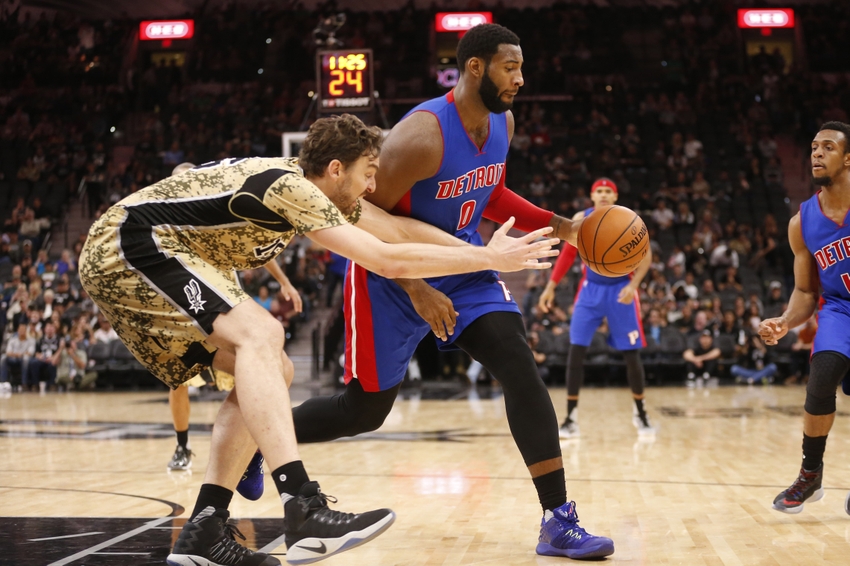 Despite recording their best defensive effort on the road this season, the Detroit Pistons went down to the San Antonio Spurs by 10 points.
The Detroit Pistons led by 3 points at halftime, but a disappointing 26-15 third quarter gave the Spurs a lead they would hold onto until the final buzzer. The Pistons had no answer for Spurs' big man Pau Gasol, putting up 21 points, 9 rebounds, 6 assists, 1 steal and 2 blocks. Andre Drummond was the standout for the Pistons, dropping a season-high equalling 20 points along with 17 rebounds.
Ish
Smith
PG,
Detroit Pistons
B-
Ish Smith had a much improved shooting night after being incredibly poor in the last few outings, scoring 12 points on 6 of 10 shooting. He also chipped in with 4 assists and 4 rebounds, but his lack of a credible three-point shot is proving to be troublesome for the Pistons' offence.
Kentavious
Caldwell-Pope
SG,
Detroit Pistons
C
Kentavious Caldwell-Pope had a much quieter game compared to his recent performances scoring just 10 points on an ugly 3 of shooting. The lowlight of the night came when he blew a wide-open fast break layup as the Pistons attempted to make a comeback late in the fourth quarter. However, he continues to shoot well from three (2 of 5 on the night) and was solid on the boards, pulling in 7 rebounds.
Marcus
Morris
SF,
Detroit Pistons
F
Marcus Morris had by far his worst performance of the season against the Spurs. Morris had been one of the team's most consistent players through the first 8 games, but struggled tonight on his way to 4 points on 2 of 11 shooting as well as being a team worst -14 when on the court. This is a night he'd like to forget.
Tobias
Harris
PF,
Detroit Pistons
C-
Tobias Harris had a forgettable shooting night for the Pistons. He went 4 of 13 from the field, including 0 of 4 from three on his way to scoring 12 points. On a more positive note, he managed to restrict LaMarcus Aldridge's contribution for the Spurs, keeping him to just 14 points on 42.9 per cent shooting.
Andre
Drummond
C,
Detroit Pistons
B+
Andre Drummond looked like he was in for a terrible game early on. He committed three turnovers in the opening minutes and quickly being yanked by Stan Van Gundy. However, he returned to the game in the second quarter motivated, which showed in his performance on the glass as he registered 17 rebounds, 6 of which were on the offensive board. Drummond struggled in the post for most of the night, but was able to feast on put-backs as scored 20 points on 8 of 10 shooting, including one ridiculous step-back three. Drummond continued to show his improvement at the free throw line, knocking down all three of his attempts. Unfortunately, finishing with a team 6 turnovers sours his performance.
Beno
Udrih
PG,
Detroit Pistons
C-
Beno Udrih's game was a tale of two halves. He looked great in the first, seemingly knocking down every shot he took. In the second half the offence became stagnant with him in charge, and was ultimately one of the reasons why the Spurs ran away with the lead. It's also concerning that he didn't record a single assist in his 18 minutes on the court.
Stanley
Johnson
SF,
Detroit Pistons
D
Stanley Johnson regressed tonight after putting together a number of promising performances recently. He finished the game 1 of 6 from the field and didn't contribute very much in other ways. However, he did show great initiative in getting to the line in the fourth quarter, which helped give the Pistons life.
Jon
Leuer
PF,
Detroit Pistons
D
Jon Leuer was given a greater role tonight playing 27 minutes, but squandered the opportunity. Despite being a normally reliable three-point shooter he was a miserable 0 of 5 from three. Finishing the night -11 in plus/minus accurately shows how much his poor shooting performance had an effect.
Aaron
Baynes
C,
Detroit Pistons
D
Baynes was barely a factor matching up against his former team. In his 15 minutes of court time he had just 2 points and 4 rebounds.
More from PistonPowered
This article originally appeared on