Grading the Detroit Pistons' 114-82 loss to the Clippers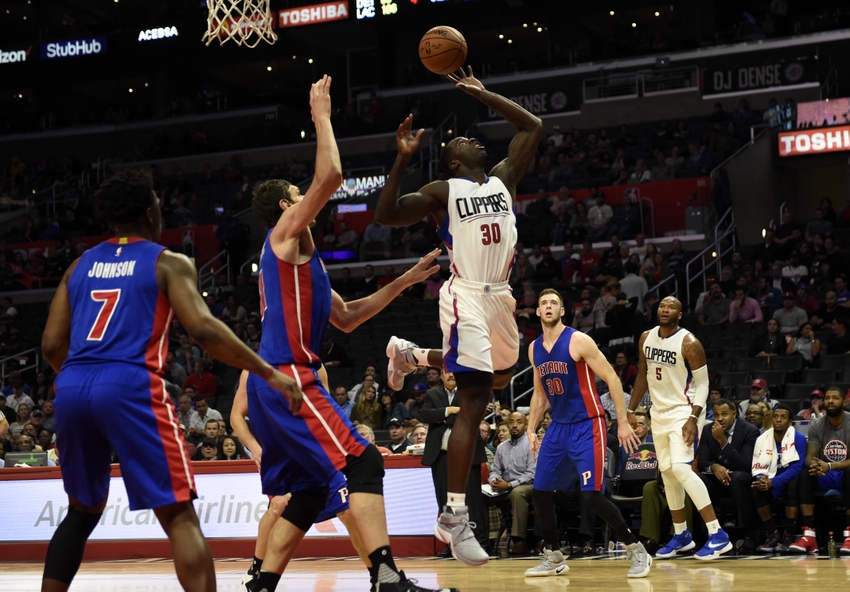 The 4-3 Detroit Pistons opened their West Coast road trip on a bad footing, getting demolished 114-82 by the 6-1 Los Angeles Clippers.
The Detroit Pistons got out to an early 6-4 lead, and the Los Angeles Clippers caught fire and never released their grip on this game. The Clippers led 62-32 at half and by a ridiculous 73-35 margin early in the third quarter, expanding it to 41 points late in the quarter.
The Pistons were dominated in every facet of the game by a superior Clippers squad, and the best team by far won this one on Monday night.
Let's take a deep breath, maybe a shot (yeah, it's probably early morning as you read this, but who are we kidding? You're going to need a shot to get through reliving this thing), and get to the player grades.
Ish
Smith
PG,
Detroit Pistons
D-
It's hard to fault any point guard for getting eaten alive by
Chris Paul
, and that's what happened to
Ish Smith
on Monday night. Paul scored 24 points and had 8 assists and 6 rebounds in 25 minutes, and did it on just 8-of-10 from the floor. Conversely, Smith scored 2 points on 1-of-9 shooting with three assists. He was -25 in his time on the floor. Sometimes it's not your night, and this positional matchup was anything but fair.
Kentavious
Caldwell-Pope
SG,
Detroit Pistons
F
Kentavious Caldwell-Pope
's nice start to November found a hole and died Monday night. He scored one point in 23 minutes, missing all six of his attempts from the floor. He grabbed a rebound and filled the stat sheet in no other way. KCP was -32 in those 23 minutes.
Marcus
Morris
SF,
Detroit Pistons
C-
Marcus Morris
scored just 10 points. He hit 5-of-9 from the field and grabbed two rebounds and had an assist. Like the rest of the Pistons, he couldn't get anything positive going after about the three minute mark of the first quarter. Morris was -33 in his 26 minutes on the floor.
Tobias
Harris
PF,
Detroit Pistons
C-
Tobias Harris
has had an impressive season thus far, but this one was a game to forget. Harris was not impactful, scoring 12 points in 30 minutes. He added three rebounds. The Pistons were outscored by 27 points when Harris was on the floor.
Andre
Drummond
C,
Detroit Pistons
B-
Andre Drummond
had by far the best performance of anybody in a Pistons' uniform. He scored 15 points and 12 rebounds and was the only Pistons to come out of the gate with any energy in the first quarter. The only glimmer of hope to come out of this game was Drummond's 3-of-5 free throw shooting. Don't look now, but he's hitting 50 percent of his free throws through seven games.
Stanley
Johnson
SF,
Detroit Pistons
C+
Stanley Johnson
continues to round into form this season. After scoring six points in the Pistons first five games combined, he scored 12 points against the Denver Nuggets on Saturday and another 11 points on Monday against the Clippers. Johnson hit 4-of-7 from the floor and made half of the Pistons' four three-pointers by himself. He played 25 minutes and pulled off the massive feat of having a neutral point differential in this game.
Aaron
Baynes
C,
Detroit Pistons
D+
Aron Baynes
played 15 minutes and had very little impact. He scored two points and grabbed four rebounds. Baynes was -9 on the night.
Jon
Leuer
PF,
Detroit Pistons
C
Jon Leuer
was one of the best Pistons in this one. He had 29 minutes of action and was a respectable -10. He scored 14 points, second only to Drummond's 15, and added six boards and two assists. All things considered, Leuer comported himself much better than his Piston teammates, although he had the added benefit of playing against the Clippers second unit.
Beno
Udrih
PG,
Detroit Pistons
F
Beno Udrih has been a pleasant surprise for the Pistons so far, but he came out with by far his worst performance with his new team on Monday night. He played 24 minutes and scored just five points on 1-of-8 shooting. He dished out three assists and collected two rebounds.
Darrun
Hilliard
SG,
Detroit Pistons
Inc
Darrun Hilliard
scored his first points this season and finished the game with three points (all on free throws, he missed both of his field goal attempts). He finished with a +6, but he was playing minutes with the game well in hand and was facing the depths of the Clipper bench.
Boban
Marjanovic
C,
Detroit Pistons
Inc
Boban Marjanovic
played in this game. He was ok. Marjanovic scored seven points in eight minutes and pulled in two rebounds. Boban was the biggest player on the floor at all times.
Stan
Van Gundy
Head Coach,
Detroit Pistons
F
Somebody has to pay the price for this debacle, and that responsibility falls to Stan Van Gundy. The Pistons were flat out of the gate and never got going. Ever. The Pistons have demonstrated no interest in putting forth the effort expected of a playoff team when they play away from the Palace of Auburn Hills, and that's an issue that Van Gundy is going to have to resolve quickly. In Van Gundy's own words, "There were no positive, and we did everything bad. So we're starting at ground zero." That's not good enough, and this team needs to step it up in a hurry on this road trip.
More from PistonPowered
This article originally appeared on