Grading the Detroit Pistons 107-100 Loss to the Suns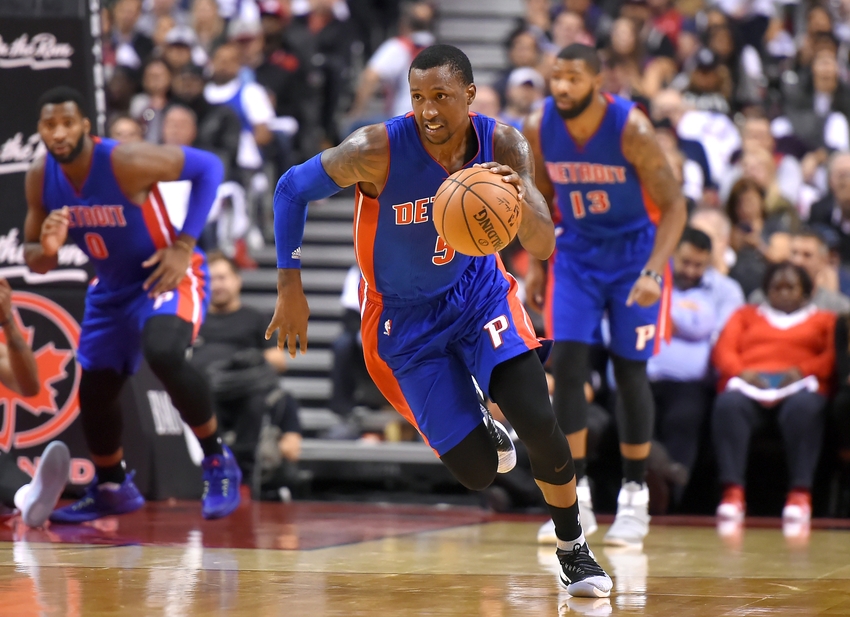 The Detroit Pistons lost a seven point fourth quarter lead against the Phoenix Suns, dropping them to 0-4 on the road this year.
The Detroit Pistons fell short in the second game of their early West Coast trip, losing to the Phoenix Suns 107-100.  The Pistons got out to an early nine point lead after the first quarter, but the bench struggled in the second quarter, and the Suns led the game by three at halftime.  Kentavious Caldwell-Pope led an early fourth quarter surge leading to a seven point lead, but the starters couldn't hold onto the lead and the Pistons fell to 0-4 on the road to begin the season.
Ish
Smith
PG,
Detroit Pistons
C-
Ish Smith
was active throughout the game, evidenced by his 9 points, 7 assists, and 4 steals. He really struggled shooting at the rim, though, and that was one of the major differences in a 7 point game. Smith got into some passing lanes, but his size was a liability at times against a bigger Suns backcourt.
Kentavious
Caldwell-Pope
SG,
Detroit Pistons
A
Kentavious Caldwell-Pope carried the Pistons for much of the game, scoring 27 points and shutting down
Devin Booker
. Caldwell-Pope blanketed Booker the entire game, holding him to just 1 shot attempt while guarding him in the first half. Caldwell-Pope created some offense off the dribble on a night where the Pistons offense was stagnant and he shot an excellent 5-for-10 from deep. On a night where not many stood out, Caldwell-Pope was a star.
Marcus
Morris
SF,
Detroit Pistons
C+
Marcus Morris
scored 16 points, but he struggled to find his shooting touch and didn't involve many teammates. Defensively, he played good defense off-the-ball, but he lost
T.J. Warren
a few times leading to easy points for the Suns. Morris's stat line was decent, but he didn't have much of an impact tonight.
Tobias
Harris
PF,
Detroit Pistons
C-
Tobias Harris
continued his struggles early in the road trip, scoring only 9 points on 12 shots against the Suns. Harris never found much of a rhythm offensively and he lost
Jared Dudley
numerous times on the defensive end. Harris was definitively outplayed by Jared Dudley, something the Pistons could not afford tonight.
Andre
Drummond
C,
Detroit Pistons
C+
Andre Drummond
tallied yet another double-double against the Suns, scoring 18 points and grabbing 14 rebounds. Drummond showed off his improved passing with 4 assists and continued to be solid at the free throw line, making 4-of-6 attempts. Defensively, he allowed a struggling
Alex Len
to score 16 points and looked disinterested at times. Ultimately, Drummond's inability to punish the Suns' small lineups was a major factor in the loss.
Stanley
Johnson
SF,
Detroit Pistons
C
Stanley Johnson
had little impact on the game tonight. He played just 6 minutes, though he scored 6 points in that limited time. He failed to grab a rebound or assist, though, and did little to give Stan Van Gundy a reason to expand his minutes.
Aaron
Baynes
C,
Detroit Pistons
D
Aron Baynes
was yet another Pistons' bench player who had little to no impact tonight. He scored just 3 points and 2 rebounds and didn't play defense as much as he just fouled his counterparts, accumulating 5 fouls in only 15 minutes. The Pistons needed Baynes in the second half when Drummond was struggling, but he simply couldn't stay on the floor.
Jon
Leuer
PF,
Detroit Pistons
B+
Jon Leuer
was the Pistons' second best player tonight, outscoring Tobias Harris while playing 8 fewer minutes, and out-rebounding every Piston outside of Andre Drummond. Leuer scored 11 points and grabbed 9 rebounds, and did a little bit of everything in his 24 minutes on the floor. Stan Van Gundy rewarded Leuer for his good play, leaving him in the game in crunch time minutes.
Beno
Udrih
PG,
Detroit Pistons
F
Beno Udrih
was bad tonight, scoring jut 1 point on a technical foul free throw. Udrih's shot selection was suspect all night, leading to a terrible 0-for-5 shooting night. The Pistons looked unorganized with Udrih running the point, especially in the first half. Udrih ended with a neutral plus-minus, but the Pistons achieved that in spite of Udrih, not because of him.
Stan
Van Gundy
Head Coach,
Detroit Pistons
C-
The Pistons lost their 4th straight road game to start the season, and at some point, Van Gundy has to shoulder some responsibility for that. The Pistons, once again, lacked energy and looked disinterested from time to time on the road. This time, it happened in a very winnable game. In terms of his lineups, Van Gundy didn't go to Jon Leuer enough tonight on a night when Leuer badly outplayed Tobias Harris.
This article originally appeared on