Goran Dragic's injury could unlock the Miami Heat's future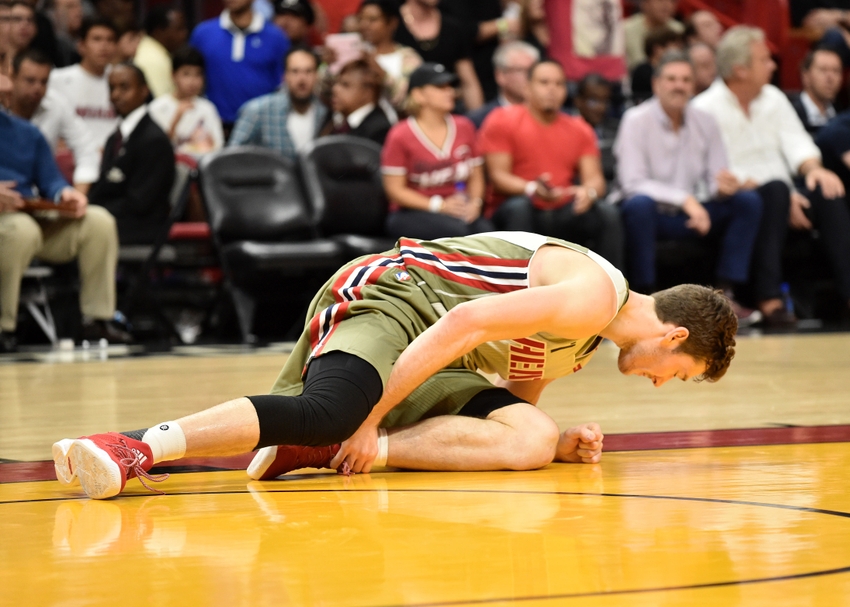 The injury to Goran Dragic should help the Miami Heat decide if they want to go on without him.
Now that Dwyane Wade's return to South Beach is finally over, the Miami Heat can officially focus on the future. A future that–thanks to an ankle injury–begins with a glimpse of how the team will look if the offseason rumors about moving Goran Dragic play out to be true.
Dragic injured his ankle after playing 22 minutes in the Heat's loss to the Chicago Bulls on Thursday.  The team announced that Dragic, with a sprained left ankle, will not play against the Utah Jazz Saturday. His return is undetermined.
Without their starting point guard on the floor the Heat average less turnovers, but with less steals, fewer assists and a dip in effective field goal rate (which measures a combination field goal and three pointers made) that takes the team from shooting 49 percent to 44. With Dragic on the court the offense is not much better, managing a paltry 96.1 points per game. Good enough to be ranked 28th out of the 30 teams in the league.
Statistics like those are on par with that of Miami's 2014-15 team that loss Chris Bosh to injury, LeBron James to free agency and Wade to 20 games of maintenance. They were a team that resembled the D-League all-stars. Which is a nice way of saying that they were bad enough to eliminate the need to tank.
Perhaps seven games into the season is too early to use such a word, but it is something that Miami is definitely capable of.
Although most pundits seem to believe that the Heat would never use this practice, losing with a purpose has been a slight part of their DNA.
Rewind back to that 2014-15 year and you will remember a team trying to lose their last game by playing four out of five starters for 48 minutes before realizing that a win would not hinder Pat Riley's chances of retaining his top-10 pick. There is also the example of what the South Florida Sun Sentinel's Ira Winderman called the organizations ability to seize moments:
"In '08, I was smart enough to say, 'It really is time to get a lottery pick,'" Heat President Pat Riley said in June in discussing what turned into the ill-fated gambit with Michael Beasley. But that also was a year that Russell Westbrook, Kevin Love, even Danilo Gallinari and Brook Lopez were available."
Hindsight often makes Riley's last two lottery picks look questionable, but in the moment both Westbrook, in 2008, and Devin Booker, in 2015, would have had their growth stunted by sitting behind Wade. But with no hall-of-famer around and a draft class that includes Harry Giles, Josh Jackson and Jayson Tatum, the Heat should aim for grabbing as many building blocks as possible.
The only way to insure that is to make Dragic available, as he is the nearest thing the Heat have to a player capable of closing a fourth quarter. Important because they would free themselves of a few extra wins while abandoning the remaining $54 million of his contract.
Call it a win-win for, both, their free agency and draft needs. Or an opportunity for Riley to truly start the rebuild.
This article originally appeared on