Golden State Warriors: Will they have a Love problem?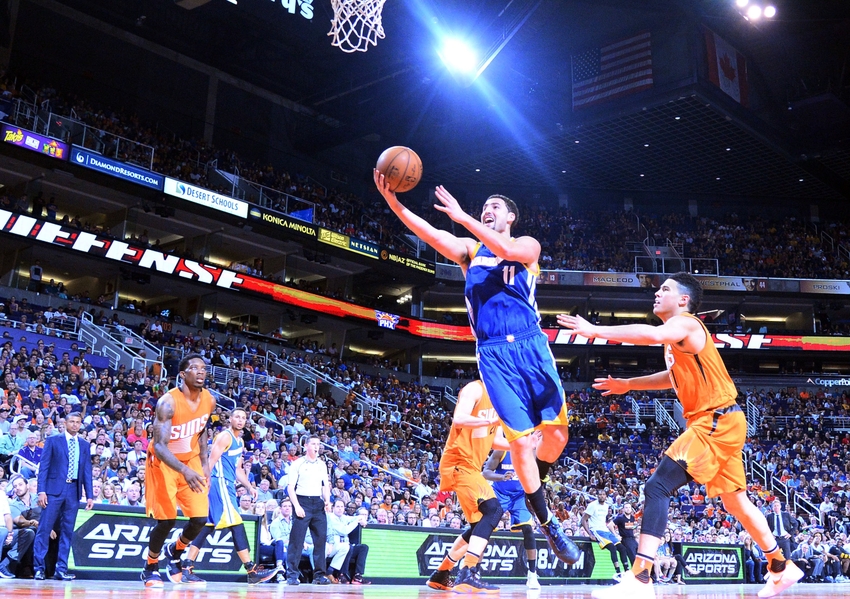 Anytime a Super Team forms there's going to be an All Star taking a backseat. This was the case when Kevin Garnett and Ray Allen joined Paul Pierce, when Lebron James and Chris Bosh joined Dwyane Wade, and recently when Kevin Love joined James and Kyrie Irving. All of those teams had to figure out who the third option was and the third option struggled to adapt early on. Is this happening with the Golden State Warriors right now?
It's too early to say if Klay Thompson will struggle the way Bosh and Love did their first year with a new team or return to being the player Warriors fans know and love. Thompson has not been himself the first six games of the season. So far Thompson is averaging 15.8 points per game while shooting 38 percent from the field. More shocking than anything he's shooting 19.6 percent from three point range.
Thompson shooting under 20 percent on threes seems almost incomprehensible considering how great of a shooter he is and most of his shots are wide open. To his credit, Thompson said Kevin Durant isn't to blame for his struggles.
Thompson has gone from the number two option to a distant third. Stephen Curry and Durant are becoming the new duo and Thompson has to find his way. Thompson's attempts aren't that far behind what they were last year as he is averaging 16.5 shots compared to 17.3 last season.
The third option of Super Teams is always the guy who gets criticized. They are usually former All-Stars who have to find a way to fit into the new offense. Thompson is finding out that he has to sacrifice more than he maybe originally thought.
Even with him being the third option he's still getting open shots. The question now is whether Thompson is back to his bad habit of letting his bad shooting get in his head and affect other parts of his game. Early in his career when he would struggle shooting he would let it affect his defense and every other aspect of his game. It's easy to see Thompson is in his own head because he's adjusting to being the third option on a great offensive team.
Warriors coach Steve Kerr needs to find ways to get Thompson in rhythm. This could entail bringing him off the bench. This sounds crazy and it's early for this, but when he's playing with Durant and Curry he's the number 3 option and won't get in rhythm. Durant gets shots the first 6 minutes while Curry facilitates. Then when Durant goes to the bench Curry starts shooting. Where does this leave Thompson?
Maybe coming off the bench for Curry will allow him to be the number one scorer because he will be playing with some sort of combination like Andre Iguodala, Draymond Green, Zaza Pachulia and Ian Clark. He would be the number one option in this case.
Obviously this would be a drastic chance and it would take Kerr experimenting, but it's an option if Thompson keeps struggling. Six games into the season the Warriors are still figuring out how to gel with each other. Even if Thompson's numbers won't touch what they were last season, he won't keep shooting 20 percent on threes.
He will get it going eventually, but until then it's a fair question to wonder if the Warriors will have a Love problem.
This article originally appeared on