Golden State Warriors: Stephen Curry Is The Greatest Shooter Ever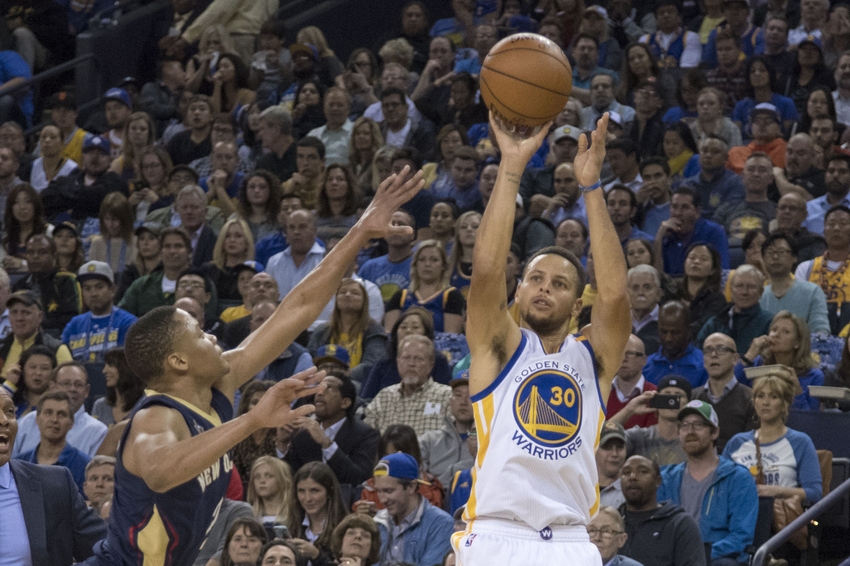 Stephen Curry unleashed shot after shot from behind the arc, setting the NBA record for 3-pointers in a game. His place in NBA history as the greatest shooter of all time is one that's increasingly hard to disagree with.
Last week one of the NBA's greatest marksmen hung up his jersey, as Ray Allen officially retired after a 19-year career. Among other accolades, Allen retires as the NBA's career leader in three-pointers made.
And yet no one is confused about who the best shooter in league history is. It's not Ray Allen — it's the baby-faced assassin, Wardell Stephen Curry. The center of recent success for the Golden State Warriors, Steph Curry is without a doubt the best shooter in the league.
And he is only cementing his status as the greatest shooter in league history.
Allen retired with 2,973 three-pointers made across 19 seasons, 400 more than second-place (Reggie Miller) and 800 more than third (Jason Terry). As his eighth season begins, Curry is well past halfway to Allen's record, with 1,625 long-distance field goals.
Even modest predictions see Curry passing Allen in less than five seasons.
But Curry's place in NBA lore is based on more than career totals. On every level, Stephen Curry is rewriting the history books. For a single season, Stephen Curry holds three of the top four seasons in NBA history.
His greatest season, the 2015-16 year, saw Curry beat his old mark of 286 by 116 made threes.
On a single-game basis, Curry came into the season tied with the immortal Kobe Bryant and the seemingly unknown Donyell Marshall.
Twelve three-pointers was the threshold, one Curry himself attained during the high drama of an overtime victory against the Thunder last season.
The bar was raised yet again Monday night, when Curry broke his own record to drop 13 three-pointers on the New Orleans Pelicans. In front of a raucous home crowd, Curry hit a trio of shots from long range deep in the fourth quarter to set the record and put the Pelicans down for good.
Not one for mere volume, Curry is efficient like no other player in history. An elite shooting season is characterized as averaging 50 percent from the field, 40 percent from behind the arc, and 90 percent from the stripe. Curry is hitting those numbers for his career.
Factoring in a rookie wall and returns from injury, his first few seasons in the Bay were a learning experience, a time to test himself against the athleticism and speed of his opponents. Even so, the brilliance of his past few seasons brings all of his career numbers in line.
Stephen Curry can hit a three-pointer from anywhere inside half-court with regularity, and curling off of a screen he may as well be automatic. His signature move is a thing of beauty, a pump fake followed by a sidestep, one dribble, and a perfectly arcing basketball.
Even Curry's worst nights are meaningful simply because they highlight his greatness. Friday night he shot 0-for-10 from beyond the arc, breaking a streak of 157 consecutive games with a three-pointer made. NBA fans must simply marvel at how long the next streak will last.
Stephen Curry still has plenty of milestones to clear, from reaching Allen's place atop the mountain, to overtaking his coach Steve Kerr as the most accurate shooter of all time.
He will do so for the foreseeable future flanked by the league's second and third best shooters in Klay Thompson and Kevin Durant. The Golden State Warriors have an embarrassment of riches.
With the single-game mark under his belt, fans will be clamoring for more. But now, a win that wasn't decided until the closing minutes is officially in the books. Publicly, that's the event Monday night that matters to him.
Privately? His unbridled joy and adrenaline when shot No. 13 goes in communicates he knew he was at the record, and that he wanted the record. Who can blame him? It's one more impressive feat overcome on his path to being the greatest shooter of all time.
This article originally appeared on