Andre Iguodala lets everyone know when he beats Steph Curry in golf
Steph Curry, Andre Iguodala and the Golden State Warriors are on pace to win more games in one season than any other team in NBA history, yet they can't stop talking about a completely unrelated sport: golf.
Curry and Iguodala have never been shy about their enthusiasm for the incredibly frustrating sport, having played Augusta National — one of the most exclusive clubs in the world — just a few weeks ago. In a recent interview with Gary Williams of Golf Channel, they took their love for the game to another level.
"We always joke that we talk more about golf than we do about basketball, and X's and O's and stuff like that," Curry said. "We both love it. We're both watching Golf Channel and all the different tournaments all year long."
Given the fact that NBA games are typically played at night in prime time, there are plenty of opportunities for Iguodala and Curry to catch up on the events. Iguodala even admits that he probably shouldn't be watching it as much as he does.
"I'm watching a lot of golf," Iguodala said. "Probably more than I should be. My TV is on Golf Channel 80 percent of the time the TV is on. [Aside from when] I have to watch a game to scout other teams, I'm watching golf. I'm in a golf fantasy league, as well, so I'm pretty locked in."
On the course, Curry is better than Iguodala. That's easily quantifiable in golf, given it's strictly a game of numbers. Iguodala won't deny that either, saying Curry is "a lot better." But when Iguodala gets the better of Steph and beats him, it doesn't go down quietly.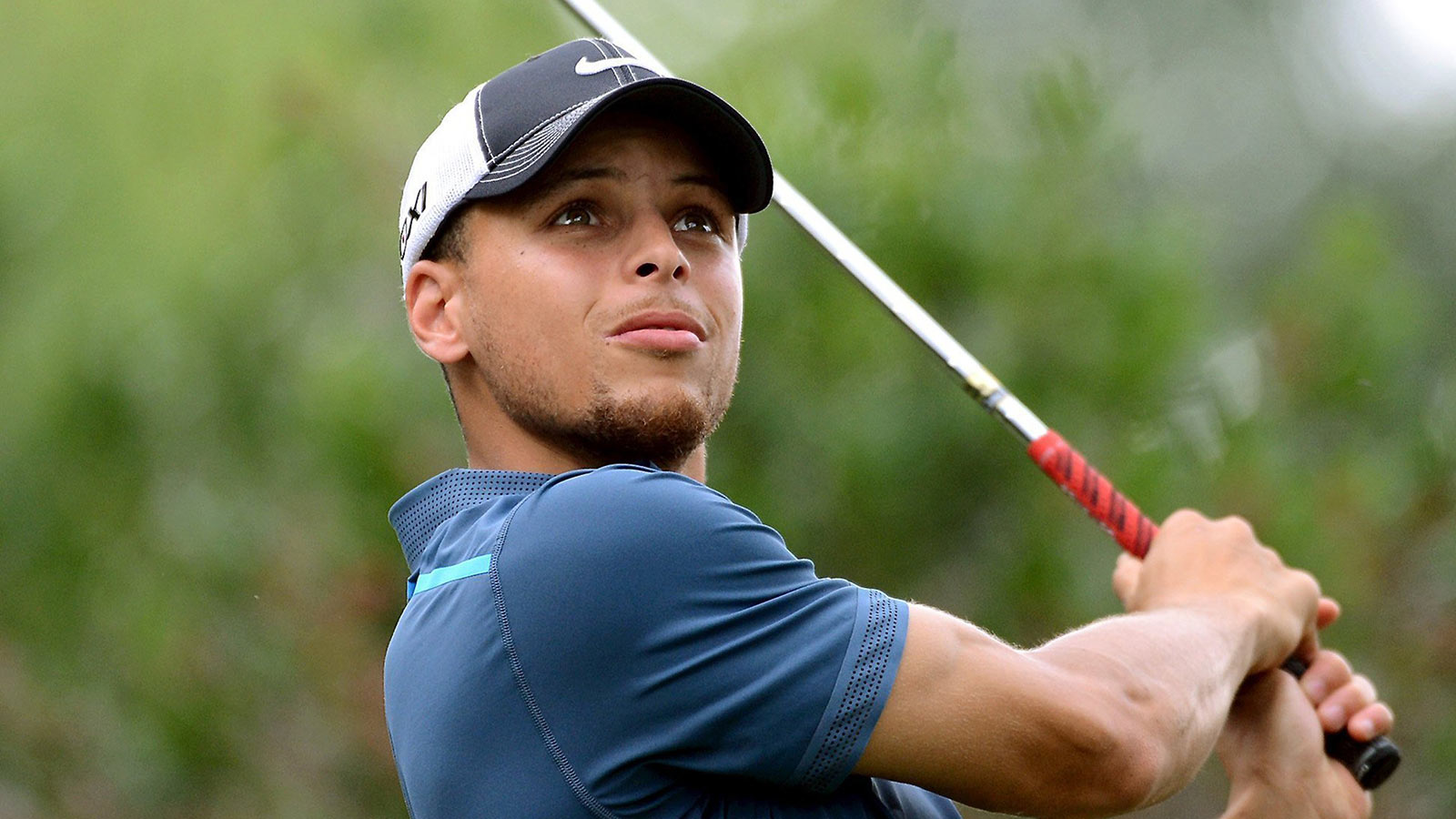 Based on what Curry said, it sounds like Iguodala lets the whole team know.
"He doesn't really blast it out there, but when we get back around the team the next day after a round, either Draymond [Green] or Klay [Thompson] or somebody will come up to me and say 'Hey, Andre beat you yesterday?'" Curry said with a laugh. "And I gotta own up to it."
Kids everywhere look up to guys like Curry and Iguodala, but they have their own idols when it comes to golf, too. Some of the tour players they try to emulate are Rory McIlroy — for his glowing swagger — Henrik Stenson, Adam Scott and of course, Jordan Spieth.
"I like Rory's whole swag, his demeanor," Iguodala said. "He walks different than everybody. When you look at him and see him walk you say, 'OK, that's the guy.'"
Scott's swing grabs Curry's attention, as it should. It's as close to "perfect" as it gets.
"Adam Scott is the guy I look at most," Curry said. "His swing is so beautiful and the arc is so perfect."