20 blatant excuses for the Warriors' ongoing playoff collapse
This isn't over yet. But things are looking awfully bleak for the Golden State Warriors, who trail the Oklahoma City Thunder 3-1 in the Western Conference finals.
The Thunder deserve a ton of credit for completely outplaying the Warriors. That doesn't mean they'll get the respect they're due, however. We're already starting to hear some pretty flimsy excuses for why Golden State is on the verge of elimination.
Go ahead. Pick your favorite. Before too long, you'll probably hear all of these from Warriors supporters anyway.
His knee, his elbow, his everything — Curry's not himself. And without him, the Warriors are doomed.
Hey, remember when Kerr missed half the year? Remember how his spine was leaking? There's no way he's completely focused on the task at hand. The dude is in pain.
Green is an emotional guy — the heart and soul of this Warriors team — and he's been thrown off his game this postseason thanks to all the awful officiating and the drama. Can you blame him? (Yes.)
If the Warriors had a center who was playing decently, maybe things would be different.
Seriously, how did Adams turn into an indestructible basketball force overnight? Who is this guy? Is this some weird prelude to Space Jam 2?
Oracle Arena used to be a lot louder back in the good old days.
"We're better than everyone" is never a good look.
Hahahahahahahahaha. What the hell, Warriors?
He also can't find his feet sometimes. It happens.
Golden State's cool. But the Lakers? That's a truly premiere franchise. And Walton's a star. He can't help thinking about Hollywood.
"Max contract Harry B" is going to look amazing in purple and gold.
The NBA regular season is grueling. It took its toll on the Warriors, and they're paying the price.
The Warriors have played 35 playoff games over the past two seasons. That's almost an extra half of a season!
And that's the Warriors' job. No one else's.
Oklahoma City has attempted 128 free throws this series. Golden State has attempted 99. The defense rests, your honor.
Why are the @warriors dressed like they're about to give the greatest youth ministry sermon of all-time?? pic.twitter.com/ynEHLcNdFJ

— Philip Lewis (@Phil_Lewis_) April 21, 2016
Sometimes, your shots just don't fall. The Warriors are going cold at the wrong time. They can't control that.
Maybe he just wanted to live up to Phil Jackson's lofty expectations.
.@KlayThompson explains why he looked miserable in that viral ANTA sneakers photo: https://t.co/EKkSmoDW5M pic.twitter.com/FksLi595BB

— SoleCollector.com (@SoleCollector) December 20, 2015
There's no way LeBron can beat the Warriors, so the league has to make sure the Thunder advance.
The Warriors were prepared for Donovan to do his Brooks impression. OKC changing its approach is cheating.
This is all a ruse, you guys. Golden State needed to go down 3-1 in order to prove how awesome they are.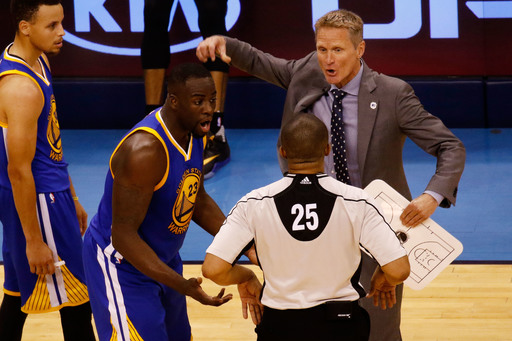 Never seen anything like SCurry? Remind you of Chris Jackson/ Mahmoud Abdul-Rauf, who had a short but brilliant run in NBA?

— Phil Jackson (@PhilJackson11) February 28, 2016