Golden State Warriors Media Day: 3 Storylines to Keep an Eye On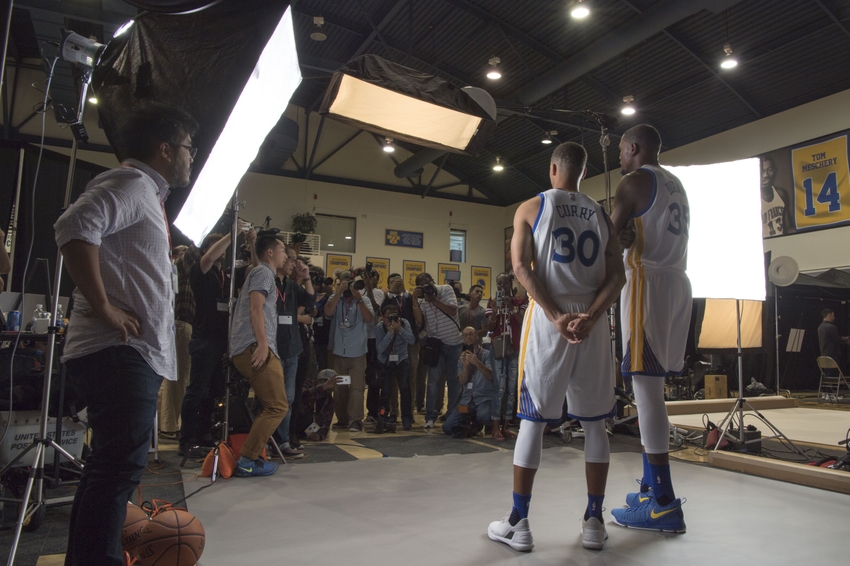 Golden State Warriors Media Day established three interesting storylines to keep an eye on as the 2016-17 NBA season begins to unfold.
The 2016-17 NBA season got that much more interesting with Media Day kicking off around the league, officially marking the start of the NBA calendar year. There was a great deal of information to keep track of all day Monday, including news of older players choosing to retire, pictures of younger players excited to start their careers, and videos of front office personnel and coaches ready to begin the season-long grind that will either lead to a tough playoff run or a highly coveted spot in the lottery.
And while Media Day for the Golden State Warriors was much of the same, their Media Day was a unique kind of circus, a juggling act of reporters, photographers, bloggers, and cameramen all vying for time to see one man: Kevin Durant.
Of course, Stephen Curry, Klay Thompson, and Draymond Green still made headlines, as did other guys like new starting center Zaza Pachulia, new backup big man David West, and the always entertaining Andre Iguodala.
Sifting through all the ruckus, here's three storylines DubNation (and other NBA fans) should definitely keep an eye on going into the season.
1) Golden State's Response to Colin Kaepernick's Silent Protests During the National Anthem
While the issue of social injustice and racial profiling is certainly a conversation to be had nation wide, it was only a matter of time before the Colin Kaepernick situation embedded itself into Golden State's season with Oakland being in such close proximity to San Francisco (or Santa Clara?).
When asked about it, Curry said he plans to stand for the National Anthem, saying that while he respects what Kaepernick is doing, the conversation has already been started.
"I respect everybody's voice, everybody's platform. And the opportunity to — and right to protest what they feel in their heart is something they want to change," said Curry. "So I respect what Colin is doing, I respect the message that he's fighting for. And I hope all the spotlight is on that particular message and the things that we can do to make changes that are blatantly obvious that need change."
Thompson echoed his backcourt mate's thoughts on the matter, saying he also plans to stand for the Anthem, especially after representing the United States in the Olympics this summer. Durant and Green expressed similar notions, and both did not give any indication that they would sit for the National Anthem, though David West did say the team would talk about it.
"Guys shouldn't be forced or obligated to do it," West said. "But guys who want that space should feel free in that space to do what they feel like is right."
Regrettably, no one asked what Iguodala's thoughts were on the matter. Shame.
2) Fan/Media Backlash Over Kevin Durant's Decision to Join the Warriors
Though not as annoying as internet trolls who continuously remind people that the Warriors blew a 3-1 lead in the NBA finals last year, the backlash over Durant's decision to leave the Oklahoma City Thunder for the Golden State Warriors has been monstrous.
Things got interesting when Durant was asked whether he regretted criticizing LeBron James' decision to leave the Cleveland Cavaliers to join the Miami Heat. Put simply, Durant admitted that a lot of things can change in six years.
"I mean, that was six years ago," said Durant. "Everybody changes in six years, you know, it's just part of growth. Opinions change. Experiences change. So I don't regret what I said. I'm not going to change what I said. But I am here now. And it was a long time ago."
Iguodala also had the opportunity to chime in on the backlash Durant has had to face since making his decision in free agency, saying that it's inevitable for other people to criticize decisions to which they can't relate.
"You've got so many people that feel like they have an opinion, not the actual media, but the fans, and also some media now. It's easier to voice that. So you have backlash, regardless," said Iguodala.
"If he stays at OKC and doesn't win a Championship he's a bad guy. If he comes here and wins a Championship, he's a bad guy. At the end of the day you have to do what's best for you, and enjoy the game of basketball."
3) Team Chemistry/Goals
Technically, this storyline can be separated into two distinct storylines, but I decided to put them together because a team can't have great chemistry if each player has different goals.
While some have speculated that the Warriors could possibly break their regular season wins record with Kevin Durant now being added to the mix, it became clear as crystal that the team would be more focused on winning a title than breaking a record. Take Klay Thompson, for instance.
"It's not our main goal [to beat 73], but if it's there at the end of the year, you might try to win as many as you've can," said Thompson.
"You want to go 82-0, and that's not realistic, but I think every team wants to do that. But you don't try and say you want to win this many games. You just want to try to win every game."
Draymond Green got the chance to share his stance on the team beating 73 as well, saying that the main goal is another ring, not another record.
"To be quite frank with you, I don't want to win 74 games or 75 games. It's brutal," said Green. "Obviously our goal every year is to come out and get the No. 1 seed. And the most important goal is to win a Championship. I think there definitely may be bumps in the road, it's not going to be all great like a lot of people think it is."
"I know it's going to take some time for us to adjust. I'm looking forward to that."
"I look forward to the challenge ahead of us and I look forward to trying to win a Championship."
More from Blue Man Hoop
This article originally appeared on