Golden State Warriors: Kirk Lacob On Tech And The Historic Offseason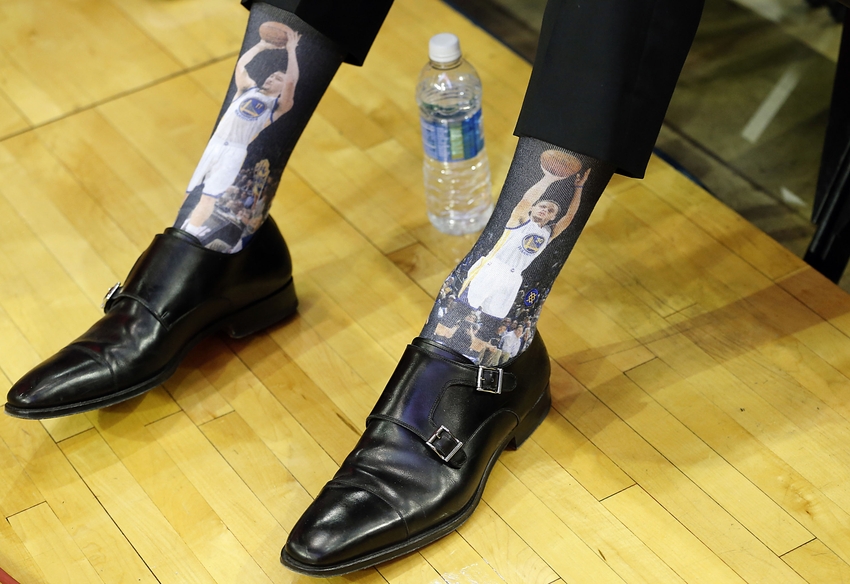 We interviewed GS assistant GM Kirk Lacob and discussed technology and the historic offseason from the Golden State Warriors
The 2016-17 edition of the Golden State Warriors has looked like a well-oiled machine throughout the preseason and early in the regular season – save for an embarrassing loss to the San Antonio Spurs on opening night.
They've looked unstoppable on offense and unbreakable on defense. Kevin Durant's transition to the new system, teammates and staff has been as seamless and unnoticeable as Ben Affleck's conversion to Batman.
With so much going on inside the organization for now three seasons since their championship contending ways began, assistant general manager and Vice President of GSW Sports Ventures, Kirk Lacob, has seen everything go down. From the drafting of Draymond Green to the signing of Durant and everything else in between, Lacob was been there for it.
Lacob isn't the type of guy to feel stress from the pressures of helping put together a championship team with expectations that reach the clouds. Instead, he finds everything fun and appreciates the camaraderie he has with his peers, such as Andre Iguodala. The two men have interests outside of basketball in the always evolving industry of technology, and all the serious about making their mark in the field.
More from Sir Charles In Charge
"We talk all the time, but if we talk tech, it's organic." Lacob said. "It will just come up in conversation. I think the tech summit continues to grow each year and that's great. I would love to see it continue to evolve. The NBA can play a leading role in many tech advancements."
The two men have interests outside of basketball in the always evolving industry of technology. No one knows what the next big hit will be, because it just happens. Who seen the "Pokemon Go" game becoming a global phenom like it did? Could've been expected because it's Pokemon and litanies of people love anything associated with the brand. The game literally gave people everywhere the chance to become Ash Ketchum to a certain extent.
"It's pretty remarkable." Lacob said. "I am not surprised that it became a smash hit because I remember how popular Pokemon was when I was growing up. They did a really good job designing an inclusive and expansive user experience. I have played the game and enjoyed it."
What's the next big technology breakthrough? Nobody knows. Lacob would love to know so he could make his move and the financial investment right away. As for now, it's all about continuing his time investment with the most exciting team in basketball right in the Bay Area. Especially after finishing the regular season with the best record in league history, by going 73-9.
"It's cool." Lacob said. "I can look back at some point in my life and remember what it was like to be a part of something so special. That being said, it's not something I think about as we prepare for a new season. We want to continue to try to get better, no matter how successful we have been in the past."
The 2015-16 Warriors were truly something special. They started the season 24-0, which is a record across all major sports in North America; had a 54-game winning streak at home, an NBA record; won a league record 34 away games and accomplished so much more that made that team memorable. The one flaw to their miraculous season is giving up a 3-1 lead to the Cleveland Cavaliers in the 2016 Finals.
Becoming the inaugural team to blow such a decisive lead in a championship series exposed the team to a certain extent. Their flaws were manipulated and taken advantage of by the Cavs and their magical season ended in disappointment. Their loss meant some changes had to be made for the 2016-17 season, but the change the team made was a drastic one.
On July 4th, 2016, Durant announced his decision to change work locations and go from Oklahoma City to San Francisco. The move had be rumored throughout the season and it finally came to fruition on America's Independence Day. The day Durant gained independence from Oklahoma.
Many people learned of the move via Twitter or from The Players Tribune, where Durant announced the change. It was reported that he called both Golden State and Oklahoma City on his decision, but for Lacob he figured out the news through social media.
I always strive to be a part of strong team that enjoys their work and enjoys working together." Lacob said on his goals inside and outside of basketball
"I read it on Twitter like most people." Lacob said. "I was excited, of course, and knew that we had do some work on our side to fill out the roster and finish putting together a team that everyone would love playing with."
From Durant's announcement in early July to letting his presence known on the Warriors very early into the season, his relationship with Lacob will continue to grow. It's a process like anything else, but with both being down to earth men anything is possible.
"He's a really cool guy." Lacob said. "Just a total basketball junkie. He's easy to get along with and I'm looking forward to getting to know him better and watching him play."
With Lacob noting Durant's relaxed attitude, he just adds to the known laid back nature of the organization. A care-free attitude with the only thing mattering is another championship in the Bay Area. Outside of that locker room, they're believed to be the bad guys of the league. They could careless about what people outside of their circle think of them. Winning cures everything and they've proved it before and will most certainly do it again.
"We just want to do the best that we can and put ourselves in the best position possible to win a championship," Lacob said.
The Golden State Warriors have constructed a championship core mainly through the draft with Curry, Thompson and Green. Drafting players has always been a strength for the team, and a possible key cog to their rotation could be former UNLV Rebel and second-round pick Patrick McCaw.
During the pre-season McCaw he excelled making a difference with his play with outbursts of 11, 13 and 18 points, along with clutch shots.
More from Sir Charles In Charge
On a team this loaded McCaw's opportunity could come now or maybe down the line. It's always hard for rookies to receive playing time on championship teams. The good part about this situation for McCaw is he's learning in a winning situation from the best-of-the-best.
"I don't know what others saw in him or not, but we saw a guy who can really play the game." Lacob said. "He is very versatile and can do everything on the court – pass, dribble, shoot, play defense – while having a very high IQ. We are excited to see him get out there and learn the nuances of the pro game."
McCaw just made into the NBA, after being drafted in the middle of the second-round, and having to battle other hopefuls in summer league, training camp and pre-season for his spot. If he wasn't drafted or failed to make the team then he might've needed to make join the D-league in order to keep his NBA dream alive. Doing so if needed would've been a step in the right direction, even though his salary would've been drastically lower.
Salaries in the NBA's farm system are known to be very low and it's known that a pay-scale interest would make the league more appealing. Especially with the cap spike, the developmental league could use the extra money. Instead, some players decide to take their talents overseas in more competitive leagues other than the NBA and earn themselves a high salary.
"Of course, a higher pay scale would incentivize players to join the league." Lacob said. "I would love to see the league continue to grow in importance and in level of play."
Back on the Bay Area as the season progresses, Lacob wants to continue to being a member of a close knit group. Teams like the Warriors don't happen very often so an opportunity to bask in greatness only comes to a select few. It's a balancing act with Lacob's personal interest and work with the Warriors, but he's been making it work.
"I always strive to be a part of strong team that enjoys their work and enjoys working together." Lacob said on his goals inside and outside of basketball. "I want to continue to be a part of a successful group and try to push the boundaries of the sport and the industry."
Taking chances and doing something different is what makes people special and memorable. That's what's Lacob wants to do and plans on accomplishing, as the team he helped construct plays at a high level.
This article originally appeared on