Golden State Warriors: Kevin Durant Is Their Best Shot At MVP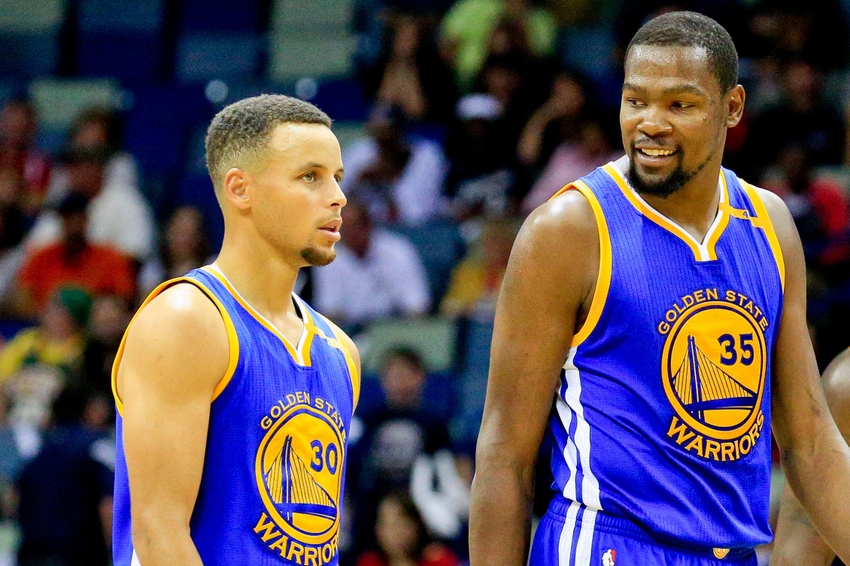 Early in the 2016-17 season, Kevin Durant has emerged as the Golden State Warriors' alpha over Stephen Curry. Here's why he's the Dubs' most likely shot at a third straight MVP.
It's too early in the 2016-17 NBA season to be making any declarative statements about any team, let alone a super-team like the Golden State Warriors.
As their soul-crushing demolition of Russell Westbrook and the Oklahoma City Thunder proved, the Dubs are a fully operational battle station capable of obliterating entire planets at their best.
As their hangover-induced head-scratching loss to the Los Angeles Lakers showed, they've still got a few exhaust ports that provide openings for kill shots capable of bringing down the whole main reactor.
For better or for worse, the Warriors are the Death Star. But who will play the role of Darth Vader to make sure this story has a happier ending for the new evil Empire?
If the first two weeks of the season are to be believed, that player is Kevin Durant.
As soon as the Dubs signed the NBA's best available free agent, their title odds — and expectations — shot through the roof.
They were adding the 2014 league MVP — still at the height of his powers after averaging a 28-8-5-1-1 stat line last year — to a core that already included the NBA's reigning two-time MVP and two other All-NBA players.
The question was, how was the necessary sacrifice going to be distributed among Golden State's four star players? And perhaps just as importantly, how would the offense shake out with both Stephen Curry and Kevin Durant capable of filling the alpha role?
Again, six games is a microscopic sample size in the wake of an 82-game season. As we saw with LeBron James' Miami Heat powerhouse, super-teams are fully capable of overcoming slow starts to make — or win — the Finals. It took a whole season and an entire run to the championship round before Dwyane Wade realized it was time to hang up his cape and let the newcomer Robin take his place as Batman.
KD and Curry's skills are far more complementary than LeBron's and Wade's games were, and they're a terrific fit for an offense that thrives on shooting, floor-spacing and high basketball IQ distribution. But so far, it's been Durant who has been unafraid to step on anyone's toes as the team searches for its offensive equilibrium.
Through six games, KD is averaging a team-leading 30.0 points, 8.0 rebounds, 3.3 assists, 2.3 steals and 1.3 blocks per game while shooting a blistering 59.3 percent from the floor, 42.9 percent from downtown and 85.1 percent from the foul line.
Compare that to Curry, whose numbers have dropped to 23.2 points, 6.0 assists and 3.0 rebounds per game on mundane .443/.352/.867 shooting splits, and it's clear that at the very least, the league's unanimous MVP is still working out some kinks with his new star teammate.
Whether he's still exorcising his NBA Finals demons, getting acclimated to playing alongside Durant or just providing a preview of Golden State's new pecking order now that KD has joined the party, Curry has yet to reach the 30-point threshold in 2016-17 a season after averaging 30.1 points per game.
KD, meanwhile, has played the role of leader in every game but one.
In their opening night beatdown at the hands of the San Antonio Spurs, KD was the lone bright spot, finishing with 27 points, 10 rebounds, four assists, two blocks and two steals on 11-of-18 shooting.
He led the way against the lowly Pelicans and Suns too, putting up a 30-17-6-2-2 stat line against New Orleans and a 37-4-4-4 line in Phoenix.
Curry carried the load in Portland with a 23-point third quarter explosion, but Durant picked up the mantle in an emotional game against his old team, decimating OKC with 39 points and seven rebounds on 15-of-24 shooting from the floor and 7-of-11 shooting from downtown.
Even in the Warriors' humiliating loss in L.A., KD was once again the silver lining, with 27 points on 10-of-16 shooting…in the same game Curry's 157-game streak with at least one made three-pointer came to an end (0-for-10).
The early struggles, coupled with voter fatigue and KD joining the party, makes Curry a long shot for the MVP three-peat — even if he doesn't continue to defer to Durant as he has through the first two weeks.
Draymond Green and Klay Thompson's scoring numbers are both down as well, and Thompson (19.6 percent) joins Curry (35.2 percent) in Strugglesville from three-point land.
But just like we agonized over the Durant-Westbrook pairing in OKC, the trendy opinion will soon be that Durant's dominant playing style has shackled Curry a bit — an opinion that will be exacerbated by Westbrook's upcoming Herculean exploits in his first season without KD, as he flirts with Oscar Robertson territory.
Or, on the converse side, if Curry's inefficiency continues (unlikely), we could even see Steph fill the Westbrook role as the unfairly criticized sidekick.
Curry took more shots than an efficient Durant and shot horribly…..start the outrage like you guys would with Westbrook

— NBA All Access (@nballaccess) November 5, 2016
As long as the Dubs are winning games and rolling over Western rivals like they did against the Thunder, Durant's potential alpha role will be glorified and appreciated.
But as disappointments like the Lakers and Spurs games show, his fellow superstar's struggles can be stretched into a narrative where they become an adverse side effect of Durant's dominance.
With quality MVP candidates around the league like Westbrook, LeBron James, Kawhi Leonard and even James Harden and Anthony Davis, having two superstar players may cost the Warriors votes and their chance at a third straight MVP.
If this current pecking order continues, however, the Dubs could very well see Kevin Durant claim his second MVP Award in a wide open season — provided Curry and Thompson find their three-point stroke, the Warriors win another 60+ games, and they stop losing to teams like the Lakers, of course.
This article originally appeared on