Could a team of Kentucky's current NBA players beat the Golden State Warriors?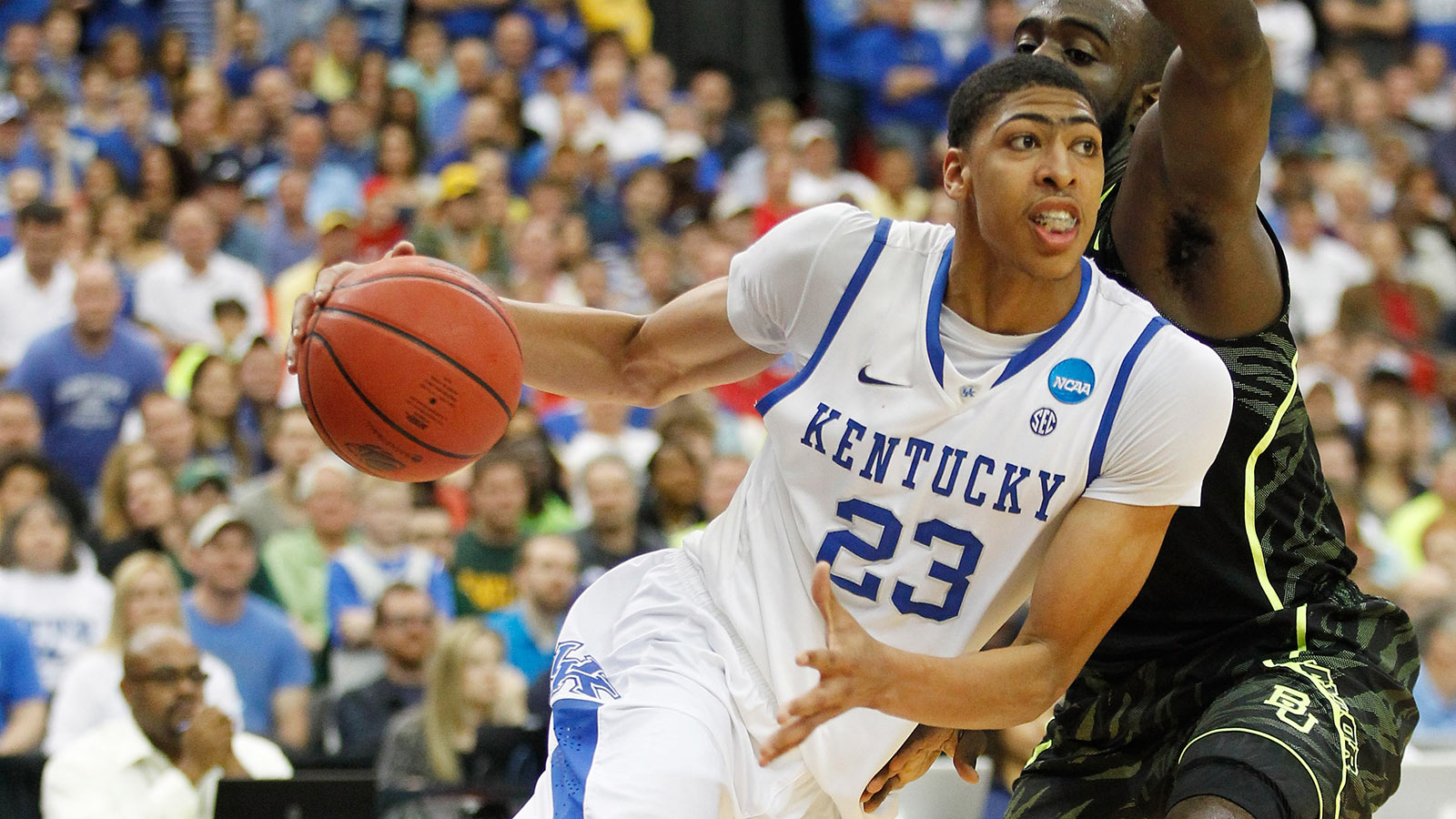 Imagine a world where the University of Kentucky wanted to prove its basketball greatness so much that an undefeated collegiate season wasn't enough. Now, coach John Calipari has bigger plans for his program, bringing together all Wildcat alums currently in the NBA and challenging the 58-13 Golden State Warriors to a game of the decade, for which UK has two weeks to prepare. A team led by the Harrison twins couldn't beat an NBA squad, but maybe one with DeMarcus Cousins and Anthony Davis could.
Now that you know the scenario (and I assume you read that entire bit in Don LaFontaine's voice), let's get down to business. It's the group with the best record in the NBA against the hypothetical Wildcats, a team that exists only in our dreams; HypoUK, how dominant you could become.
First, let's just apologize to the guys who didn't make the cut: Sorry to Archie Goodwin (hasn't shown enough), James Young (same thing), Darius Miller (apparently not in shape), Julius Randle (injured) and Nazr Mohammad (your veteran presence couldn't sway the selection committee).
Now, to the actual roster:
Coach
John Calipari
Starters
G: Eric Bledsoe
G: John Wall
F: Michael Kidd-Gilchrist
F: Anthony Davis
C: DeMarcus Cousins
Bench
F: Terrence Jones
G: Brandon Knight
G: Rajon Rondo
F: Tayshaun Prince
G: Jodie Meeks
F: Patrick Patterson
C: Chuck Hayes
F/C: Nerlens Noel
THE OFFENSE
Coach Cal can run his offense through the big men. He can let Wall operate high and prod the defense. He can watch Eric Bledsoe slash. Basically, anything works.
Calipari can go to his bench if he wants shooters and pick Meeks or Patterson to go out there and spot up, a move he'll have to make considering there isn't much 3-point shooting on this roster, especially in the starting lineup. Still, could the Warriors stop a big man combination of Cousins and Davis?
Just think about it: Wall dribbles at the top of the key, both bigs come up to meet him right above the 3-point line to set screens. One pops; one rolls. Even if Golden State owns the best defensive big man combination in basketball (Draymond Green and Andrew Bogut), how many teams are capable of stopping that action with Cousins and Davis?
Those two guys may be the most lethal pick-and-roll threats in the league. Period. Either one rim-running is horrifying and virtually indefensible, and Davis' remarkable improvement as a jump shooter (he's basically LaMarcus Aldridge-accurate from mid-range now) makes things even tougher on the defense.
That's not even all the offensive talent for HypoUK, either. We haven't even gotten to Terrence Jones, who can help on both sides of the floor. Or Brandon Knight, who is one of the league's better scoring point guards and would be the third-best one on this roster. Or Rajon Rondo, who isn't what he once was, but is still an incomprehensible fourth option at point guard for HypoUK. How does Kentucky produce all this talent? Pretty much no other college can even produce a roster of current NBAers. How is this possible?
Of course, the flaw here is 3-point shooting — or a lack thereof. Patterson and Meeks can space the floor off the bench, but other than that, you're not going to see HypoUK rain in many 3's. But considering the possibilities of dominating around the rim — especially if Calipari can scheme to pull Bogut away from the paint on ball-screens — €"a failure to make shots from the outside may not matter.
THE DEFENSE
No one is scoring against that starting five, right? And if we think about how it could fake match up against the real Warriors, it's kind of a perfect lineup.
To contain the Warriors' No. 1-ranked offense, you have to cut off the snake at the head. That means making sure Stephen Curry is as uncomfortable as possible. Get the ball out of his hands, and you're hardly guaranteed success, but at least you have a shot.
HypoUK could mix and match Bledsoe and Wall on Curry. Both those guys are long, ferocious on-ball defenders who can pester dribblers into automatic discomfort. Plus, they work so well with the bigs.
Man, those bigs …
Hold on while I try to control myself.
Nope, can't do it: OH MY GOSH THEY'RE SO GOOD.
A Cousins/Davis combination down low has to be good for 55 wins over a full season automatically. Fill out the rest of your team with All-Stars or guys close to it, and only the basketball gods know how many victories you're piling up. Meanwhile, Davis' and Cousins' physical gifts would allow HypoUK to play a hyper-aggressive style against Curry. They could trap him constantly and close out hard on shooters, knowing there is always rim-protection in the game, even when the backups are there. Yes, Nerlens Noel is becoming that effective of a defender.
Then, there's Michael Kidd-Gilchrist, who is just a bit short of his becoming-the-best-defender-in-basketball-history goal, but who is darn suffocating on that end. Throw him on Klay Thompson, let him bounce off every screen with him, man his length and generally annoy every person in his path. There are few pros more irritating on defense than MKG.
Need defensive help from the bench? Just get Rondo to play hard for 15 minutes or throw Noel, who's becoming one of the NBA's most unheralded top defenders, on the floor. Use Chuck Hayes as a post-up defender if you need him for a few minutes or let Patterson and Tayshaun Prince make smart, proper defensive plays. HypoUK would have a legitimate chance to take the air out of the Warriors' attack.
THE END RESULT
So, let's say UK's defense stifles the Warriors just enough that Curry doesn't get incomparably hot. (We can't actually make that statement for sure, but we'll promote it anyway, because, you know, why not? You can't prove me wrong.) Let's also say Thompson doesn't go off with MKG and those insane arms defending him.
Cousins and Davis provide a major size advantage on a lineup that plays Green at the 4. And c'mon, it's Cousins and Davis. COUSINS and DAVIS. COUSINS AND DAVIS! It's two of the six or seven most talented players in the league. And even when one of those guys is out of the game, you have Noel cleaning up messes.
There are three likely ways Golden State wins this game:
1. Curry and Thompson get so hot that HypoUK's defense doesn't matter.
2. Meeks and Patterson don't make shots, leaving UK with little-to-no shooters on the perimeter, allowing the Warriors to double every time a former Wildcat gets the ball inside, suffocating their offense.
3. Golden State's continuity and time together wins out.
We're only giving the Fake Wildcats a couple weeks to prepare. They may not pull together. It's totally possible the chemistry the Warriors have grown for years is too tight for Kentucky to unravel. It's also possible the more talented team wins, which is something that tends to happen in basketball games.
If Vegas were setting the line, Kentucky would be the favorite, and since there's a somewhat decent chance this game is never getting played, that means Kentucky can add another win to its résumé.
Disagree? Well, you can't prove it.