Golden State Warriors: Alpha Dog Rankings for 2016-17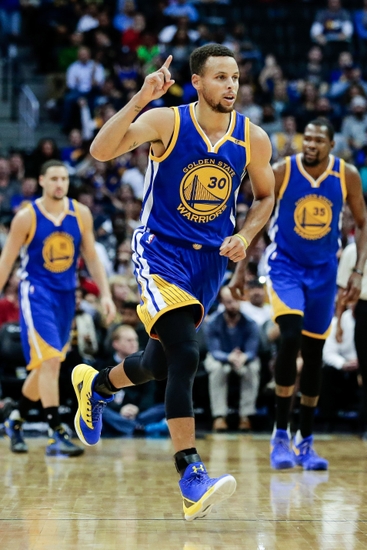 The new make up of the Golden State Warriors has a great core and what fun would it be to not rank them among one another. The basis of the alpha dog rankings will be on statistics and role on the team. Lets get it started!
Honorable Mentions: Patrick McCaw and Ian Clark
Patrick McCaw was an unheralded rookie out of UNLV. When no one would have expected it to happen, this young player worked his way into the rotation with game-changing skills on the defensive end and a serviceable three-point shot coming off of the bench.
While the shooting is good, the reason I have listed McCaw as an honorable mention is his stiffling defensive ability and impact as an energy guy playing with second units. The work ethic, physical tools, and impact he has shown thus far also places him on this list. His counterpart, Ian Clark also has made this list for the Golden State Warriors.
Clark, much like McCaw has shown improvement as a ball-handler, defender, shooter and has made a huge impact with energy, effort, and toughness that is much needed for the Golden State Warriors as they try and mold their new bench unit together.
Both of these young guards are gym rats with winning attitudes. They are mature for age and have shown flashes of prowess on a side of the ball that Golden State needs to improve. All these things point to Clark and McCaw seeing a lot more time on the floor and becoming leaders for this team.
Andre Iguodala (Small Foward)
4.7 Points Per Game (8th)
3.0 Rebounds Per Game (5th)
3.6 Assists Per Game (4th)
24.8 Minutes Per Game (5th)
Andre Iguodala has deceiving numbers. They really do not tell the full story as to how important he is. As an experienced veteran who has an all-around skill-set, It is no wonder he is called the Swiss army knife. While he is not quite as elite as the younger counterpart, Draymond Green, he is still really really good.
Especially when you consider that he could easily be a starter, but has been given the responsibility of being a leader and fall-back option of the Golden State Warriors' second unit. Iguodala rebounds well, is responsible for handling the ball, and locking down opposing threats on the defensive end of the floor.
The veteran still has some of the juice in him as well. He still can create off the dribble or hit corner threes when you need a big shot or two and you can't get the ball to either of your main scorers. His minutes are good for 5th best on the roster and that says alot about how much of an Alpha Dog he is on the roster. Iggy is invaluable and he will remain in such a light going forward as the team will need everything he brings to the table.
Draymond Green (Power Forward/Center)
10.9 Points Per Game (4th)
9.8 Rebounds Per Game (1st)
6.9 Assists Per Game (1st)
33.4 Minutes Per Game (3rd)
Draymond Green was an obvious choice for the Alpha Dog Rankings. For starters, Draymond Green leads the team in four statistical categories (check them out here). When it comes to producing Rebounds, Steals, Assists, and Blocks, the numbers have this guy at number one on the Golden State Warriors vastly talented squad.
He is easily the most unselfish and intelligent player on the Warriors' roster and he does all the little things that facilitate a winning culture. These things are rebounding with toughness, playing elite on-ball defense, playing elite help-defense, setting up teammates, and playing with a fierce competitive edge and leaving it all out on the floor win, lose, or draw.
Draymond Green is only 6-foot-7 and manages to pull down almost 10 boards a game while averaging 2.27 steals and 1.7 blocks. Draymond also anchors the Golden State Warriors defense and lights a competitive, tough, and relentless fire under his teammates with his leadership and emotion. Any team would be absolutely blessed to have this kind of player. He is the heart and soul of the Dubs and no one can do it better than him.
Klay Thompson (Shooting Guard)
18.5 Points Per Game (3rd)
3.0 Rebounds Per Game (Tied for 5th)
2.4 Assists Per Game (5th)
34.2 Minutes Per Game (2nd)
Klay Thompson is one half of the best shooting backcourt in NBA History. Let's also not overlook the fact that he is deceptively athletic and is an elite defender at his position. The moment is never to big for Klay Thompson and he elevates the Golden State Warriors on both ends of the floor with his old school competitive mentality and otherworldly performances that he is more than capable of putting on at a moments notice.
Klay is infamous for torching the Oklahoma City Thunder in game six of the Western Conference Finals. He is the ultimate complimentary superstar in today's game and he literally blows the game open for this Golden State Warriors team. He is steady.
This is evident by the fact that he plays the second most minutes on the team and has an extremely efficient Assist/Turnover Ratio (see A/To here). He isn't flashy but he will put the team on his back if he is needed to and he won't turn the ball over in the process. While Thompson is not the most talented Warriors' star, his work ethic will not go unnoticed by me. He has improved as a leader and two-way superstar year in and year out.
This year he had to adjust thus far but has started to get back on track and there is no reason to believe he will not continue this trend. If you don't believe Klay Thompson belongs on this list, just ask his Golden State Warriors' teammates what they think of him! This guy could be a number one option anywhere, but luckily for the Warriors he chooses to elevate them to another level with his humble play that produces crazy numbers.
Kevin Durant (Small Forward)
27.9 Points Per Game (Tied for 1st)
8.0 Rebounds Per Game (2nd)
4.1 Assists Per Game (3rd)
35.1 Minutes Per Game (1st)
Kevin Durant has made his mark upon this list. He is obviously the newest Warrior addition and he has asserted his role as high volume scorer to compliment more high volume scorers. His defense has improved, but that is just really a bonus when you talk about the true reason that Golden State has decided to integrate him into their system.
Kevin has been great with bringing a consistent scoring punch with any lineup you put him with and I also have to give him props for really cutting down on the turnovers. Durant has also made some strides as a secondary play-maker on the wings which has allowed the Warriors to play Stephen Curry and Klay Thompson off of the ball where they are extremely lethal as well.
The 2011 MVP has stepped up his game and transcended to new levels of reliability with this Golden State Warriors team and the numbers have shown just that. He is tied for 1st in scoring and he is second in rebounding. In addition he plays with almost every possible lineup which puts him at first in minutes played this season.
While he is not the main "Alpha Dog", Durant is definitely affecting positive change for the Golden State Warriors by doing his part and then some when called upon. Just for emphasis on how much Kevin Durant has done thus far, His elite Isolation game and versatility has made the team even more unstoppable than before. As long he can pick and choose his spots, the direction going forward is definitely looking good for the Dubs.
Stephen Curry (Point Guard)
27.9 Points Per Game (Tied for 1st)
3.6 Rebounds Per Game (4th)
6.0 Assists Per Game (2nd)
33.1 Minutes Per Game (3rd)
Stephen Curry is the heralded origin of what looks like will become a Golden State Warriors franchise. Curry, much like Draymond Green has had leadership, focus, competitiveness, and killer instinct in his blood since day one. It just took a brave decision by a once stagnant franchise to give him the reigns and let him sail the ship.
And I must say, the baby-faced assassin is doing his job as the main franchise player. You can bring up his injury history and mediocre NBA Finals performances to your own satisfaction, however, the fact still remains that Stephen Curry is a top 3 player on the planet and the Golden State Warriors don't ever become this powerhouse that they are without his otherworldly talent, commitment, and work ethic.
He has improved his dominance and reasserted it for now three years and has put the good of the Golden State Warriors' franchise before his own personal accolades or desires. He wants championships and nothing else but that. To have a franchise player with that mentality to go along with a skill-set that buries defenses alive and makes your system what it is could very well be an indicator that if becoming a dynasty is almost guaranteed with a player such as Stephen Curry.
He has sacrificed a lot to make KD feel welcome and he is still putting up MVP numbers with the greatest of ease and efficiency. This season alone he has already broken two records and 20 games haven't even passed.
Curry is the best player on the Golden State Warriors' roster clearly without any possible debate and with this new supporting cast growing by the day, that will not change anytime soon. he leads his team in two statistical categories and is still the best shooter to ever play. The number one Alpha Dog could not be anyone else.
More from Blue Man Hoop
This article originally appeared on