Golden State Warriors: About Klay Thompson's Career Night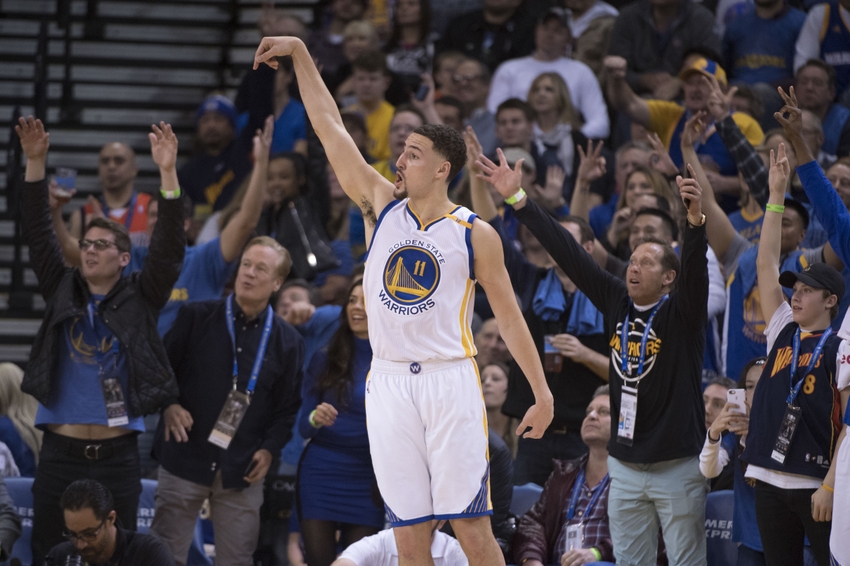 Here's everything you need to know about Klay Thompson's career 60-point night and the Golden State Warriors' historically frightening offense.
When Kevin Durant joined Stephen Curry and the Golden State Warriors, the pitter-patter music of Klay Thompson's rain-making started to sound more like a third fiddle.
With two former MVPs on the roster and Draymond Green being a jack-of-all-trades, the other Splash Brother was pigeonholed as the guy who would probably sacrifice to make this super-team work.
After Monday's career-high 60-point performance, it's safe to say that narrative has been buried under an avalanche of Klay Thompson three-pointers.
In the finest offensive performance of his career, not to mention the NBA's highest scoring performance so far in 2016-17, Thompson not only put the concerns about his early shooting slump to rest, but also reminded people that his production can come within the natural flow of the offense.
Facing an Indiana Pacers team on the second night of a back-to-back, the Dubs showed no mercy from the opening tip. They jumped out to a 38-27 lead heading into the second quarter, powered by Klay's 17 first quarter points.
For a guy who had dropped an NBA-record 37 points in a single quarter before, Klay's opening period against Indiana was solid, but nothing to write home about. As Stephen Curry's reaction will tell you, that storyline changed pretty quickly.
With Thompson dropping another 23 points in the decisive second quarter, the Dubs blew the game wide open. Klay went full supernova, putting up 40 points at the half to give the Warriors a 30-point lead
Not only did Thompson have half of his team's 80 points at the break, but he was also 10 points shy of the entire Pacers team by himself. Shooting 15-for-22 from the field and 5-for-9 from three-point range, Thompson racked up his 40 first half points in an astonishingly low 18 minutes.
Despite the 30-point lead, Klay Thompson didn't cool down in the third quarter, putting up another 20 points to surpass his old career high — plus Stephen Curry and Kevin Durant's shared career high of 54 points — en route to 60…with 1:50 left in the third period.
Head coach Steve Kerr erred on the side of caution, forgoing Klay's shot at history (and possibly Kobe Bryant's 81-point masterpiece) by subbing him out and letting him and the starters rest for the entire fourth quarter.
The game was out of hand at that point, with the Dubs owning a 33-point lead heading into the fourth quarter. It was disappointing Thompson didn't get a chance to check back in and build on his historic night, but the final numbers are jaw-dropping nonetheless.
Finishing the game with 60 points on 21-of-33 shooting from the field (63.6 percent) and 8-of-14 shooting from downtown (57.1 percent), Thompson made a regular season career-high 10 free throws too. He also became the first player in the Shot Clock Era to reach 60 points in under 30 minutes.
According to Warriors PR, Thompson enjoyed the highest scoring game by a Warrior since Rick Barry scored 64 points back in 1974. Klay joined Barry, Wilt Chamberlain and Joe Fulks as the only players in franchise history to reach the 60-point plateau as well.
Speaking of Wilt, Thompson's point production Monday night was on par with Chamberlain's legendary 100-point game:
These are all absurd milestones to reach in a single game, especially when you consider only one of his 21 field goals were unassisted. Filling your role doesn't get much better than that, especially when said role is far more vital to a championship-caliber team than it's been made out to be.
It's a pity we didn't see what Thompson might have done with extra playing time in the fourth, but his 60 points through three quarters were the second-most in the last 20 seasons, with the lone exception being Kobe Bryant's 62-point outing en route to his historic 81-point night.
Golden State's offense is now 2.7 points per 100 possessions better than the NBA's best offensive rating that's ever been recorded, per ESPN's Kevin Pelton, and it's not surprising to hear that considering the Warriors' third-best offensive player just went off for 60 points.
Thompson was mired in a shooting slump early on, prompting a ton of conjecture about how the latest super-team experiment was destined to fail and WAY too many premature conversations about putting Klay on the trade block. But even after his rough start, Thompson has bumped his averages back up to 22.5 points per game on .481/.392/.877 shooting splits.
There's a reason the Warriors love their second Splash Brother, and there's a reason those trade "rumors" were complete rubbish to begin with. With a sharpshooter like Thompson flanking Curry and KD on the wing, opposing defenses don't have a chance, and the best part is, none of it feels forced.
On a night where he scored 60 points on 33 shots, the Warriors tied a franchise record for most assists in a single quarter (15) and finished the game with 45 assists on 54 made field goals for a whopping 142 points.
Klay Thompson was 100 percent right: He's not sacrificing s**t.
This article originally appeared on