Glenn Robinson III's Emergence is Raising the Indiana Pacers' Ceiling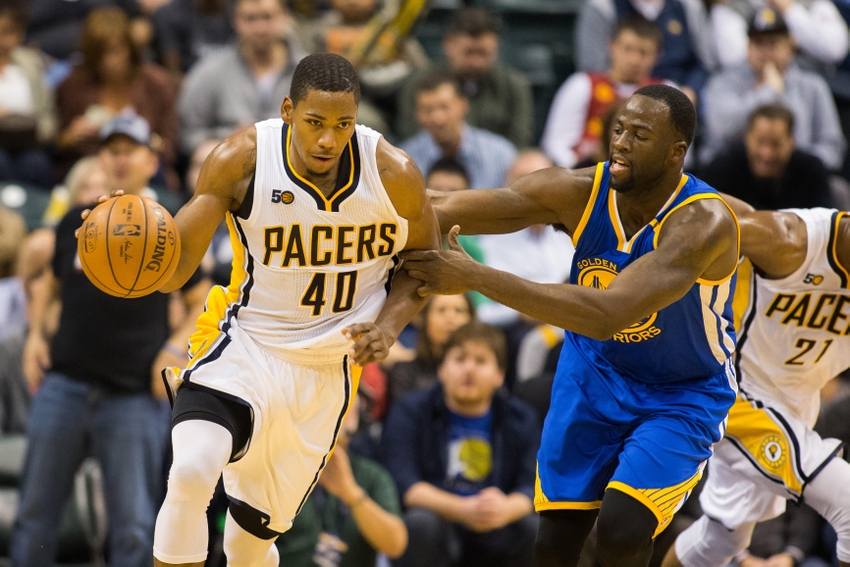 Larry Bird has been looking for his next big prospect ever since losing Lance Stephenson. He might have found one in Glenn Robinson III.
With the 40th overall pick in the 2010 draft, Larry Bird chose Lance Stephenson — a passionate, energy-filled two-guard from the University of Cincinnati. Bird banked on Stephenson's raw talent, which once had him as a high ranked prospect coming out of high school, especially coveted by the Kansas Jayhawks.
The only attention Stephenson garnered in his first two years in the league was the notorious choke sign he directed at LeBron James during the 2012 East semis. It wasn't until the next season that — with Danny Granger hurting — Stephenson got his chance to be an impactful player.
Playing alongside George Hill, Paul George, David West and Roy Hibbert, Stephenson didn't need to do too much. He just needed to be useful, and be the one crazy guy that every championship team seems to have.
Stephenson proved Bird right in his third and fourth seasons as a key cog in a very good starting lineup that was this close to topping James's Miami Heat. Bird rewarded Stephenson for proving him right, offering him a long-term deal that would pay Sir Lance A Lot an annual salary of almost $9 million per year.
Stephenson instead left for Charlotte, taking the short-term money and the chance to earn a higher-paying deal sooner rather than later.
Ever since then, Indiana has been searching for the next Lance Stephenson. Rodney Stuckey was signed immediately as his replacement, but he was an established vet at that point. Bird was searching for another overlooked player that could prove him right.
Bird finds his next diamond in the rough
So, in the summer of 2015, Bird pulled out his hard hat, flashlight and pick ax and started mining his way through the free agency class. Three weeks into his journey, Bird unearthed a gem. He called it "GRIII," short for "Glenn Robinson III."
Robinson III is the son of the former Purdue star and 1994 no. 1 overall pick Glenn Robinson, and he himself had an impactful two years at another Big Ten school — Michigan — before declaring for the 2014 NBA draft.
Robinson — like Stephenson—was picked 40th overall. His first employer — the Minnesota Timberwolves — weren't as invested in Robinson as the Pacers were Stephenson. He was waived in March of his rookie year and was soon claimed off waivers by the Philadelphia 76ers. He played the remaining month or so of the season with them and was not extended a qualifying offer.
"I've been (trying to acquire) him for a year. He's very impressive to me. He's long, strong and big," Bird told the IndyStar in Oct. 2015.
Robinson got quite the deal. Not only did he get to return back to the state he grew up in, he gained the interest and trust in Larry Bird. He finally found a team that believed in him. Bird believed in him so much that he gave Robinson a three-year deal.
He was nothing more than a fringe rotation guy last season. He showed some good signs, scoring in double figures here and there on efficient scoring. Robinson just looked like someone trying to stay out of the way, letting the big dogs eat.
Coming into the year, Nate McMillan set a nine-man rotation that didn't include Robinson. McMillan said on Media Day that it would be hard to play 10 guys and that the bottom six players on the roster would have to battle for minutes if he were to expand the rotation.
Turns out, McMillan thought Lavoy Allen deserved to be that 10th man, as he has played in every game thus far.
With C.J. Miles backing up Paul George, Robinson didn't seem to have a spot. But, with injuries to both Miles and George, McMillan was forced to give Robinson legitimate time. And it was the best thing that could have happened to the Pacers.
In the five games, Robinson III has started in place of George, he has scored 15+ points in four of them. He has shot 49 percent (11.4 attempts) from the field and 52 percent (4.2 attempts) from three. He has also brought down 6.4 rebounds per game.
Most importantly, Robinson III is just looking more confident than ever. In Indiana's last game against Portland, Robinson was curling off screens and pulling up from both the mid-range and behind the arc with no hesitation. He is taking and making good looks.
Glenn Robinson III vs Monta Ellis
The question that has been raised — with George's return looming — was whether Robinson should become a starter in place of Monta Ellis. McMillan showed some interest in seeing what Ellis would look like off the bench earlier in the season in a game against the Sixers. Ellis had a good showing, tallying 19 points, six rebounds, five assists and four steals. That was the only game in which Ellis came off the bench, however, as McMillan "just felt it was best to start Ellis."
Still, McMillan should try starting Robinson over Ellis when the team is fully healthy. So far, the Pacers went back to their old rotation where Ellis starts, Miles backs up George and Robinson gets inconsistent minutes. It seems more likely that even if Ellis does start that either Rodney Stuckey or Aaron Brooks lose their minutes in favor of Robinson.
More from 8 Points, 9 Seconds
Even then, Robinson may not produce off the bench like he has with the starting unit. When George returned from his ankle injury for one game against Atlanta, Robinson went scoreless in just 10 minutes of play. McMillan rode his starters most of the way, with Stuckey getting the most time off the bench with just 17 minutes.
It just may be that Robinson's situation is like Harrison Barnes's with the Warriors. Steve Kerr realized he was just better as a starter than a reserve, even though Andre Iguodala was far more talented. With them, though, the team probably wouldn't be much better or worse if the roles were reversed, with Iguodala starting over Barnes. With the Pacers, though, starting Robinson over Ellis would actually solve two issues the starting unit has: defense and shooting.
Robinson doesn't have the benefit of being a name or talent like Ellis, so he has to work a lot harder to stay on the floor. That usually comes on the defensive end, which has become a strength of his. He still has lapses but with his physical attributes, all he really needs to do is try and he will make an impact on that end. And not only has his shooting been good, he's not going to take much away from the other guys to garner some respect from the defense.
Since November 20, when GRIII first started this year, 35.6 percent of his possessions have been catch-and-shoot threes. He has shot 47.6 percent on such possessions. Nearly half of his possessions overall have come on catch-and-shoot attempts when including two-point shots, where he is shooting about 43 percent.
Whether Robinson starts or not, he has certainly earned a spot in the rotation. If he can keep up this play, and be the Pacers' new Lance Stephenson, their ceiling for this season looks to be a little bit higher. He gives the Pacers another productive player either off the bench or (hopefully) in the starting unit. And, really, a team can never have enough guys that can both shoot and defend.
It's been an up-and-down start, but the Pacers are starting to come together a bit and unearthing the gem that is Glenn Robinson III makes it a little bit easier to be optimistic moving forward.
This article originally appeared on