Glenn Robinson III Makes His Case for Minutes with the Indiana Pacers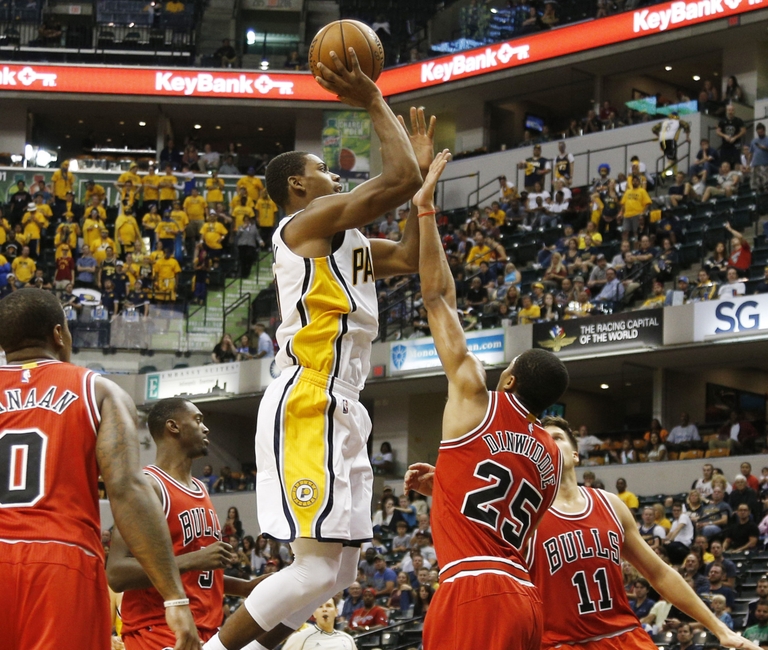 It may be a small sample size, but Glenn Robinson III has looked impressive so far in the preseason for the Indiana Pacers.
It's only preseason. There have only been three preseason games. It would be irresponsible to begin this discussion any other way.
That being said, Glenn Robinson III is making a great case to be an addition to the Indiana Pacers rotation this season.
GRIII has looked like a long wing with 3-point range — something the Pacers are extremely short on at the moment. Robinson is averaging 13.3 points to go along with 4.6 rebounds and 4 assists. He's been extremely efficient from the field as well, shooting 60% overall and 66.6% from deep on 3 long-range attempts per game.
For what it is worth, he's the Pacers third leading scorer at the moment, only behind Jeff Teague and Al Jefferson.
If he wants those minutes, though, he has to change coach Nate McMillan's mind.
McMillan has already announced his potential nine-man rotation, consisting of starters Jeff Teague, Monta Ellis, Paul George, Thad Young, and Myles Turner, along with reserves Aaron Brooks, Rodney Stuckey, C.J. Miles, and Al Jefferson. He did add that an exceptional performance could force him to expand his rotation to 10 men.
GR3's performance so far in the preseason has been exceptional, and the pace that the Pacers have played at so far might demand an extra body in the rotation. Additionally, somebody will get hurt at some point. And the recent seasons of C.J. Miles and Rodney Stuckey suggest it might not be long before McMillan needs to rely on someone who he wouldn't give minutes to if everyone was 100%.
If Robinson can continue to hit the deep ball and at least looks attentive on defense, it will be a major boon for a Pacers team that is almost certainly facing tight spacing.
Ultimately, it's important to remember that, again, it's only preseason.
There have only been three preseason games. Nobody is really trying or in good form yet.
However, the Pacers could absolutely use a locked-in, respectable 3-point shooting Glenn Robinson III — and there's nothing wrong with crossing your fingers and hoping.
More from 8 Points, 9 Seconds
This article originally appeared on