Glenn Robinson III is a Silver Lining in the Indiana Pacers Playbook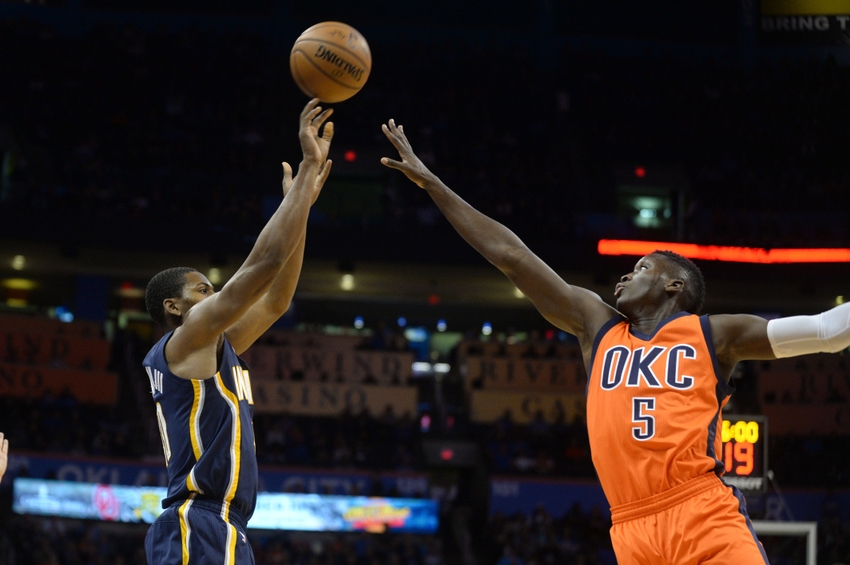 The Indiana Pacers have found themselves shorthanded early in the season, with 6 players already missing time this season. But there is good to be found in all that bad news.
It's hard to find many "benefits" to having your best player miss games. It gets even tougher when it's the top 2 players on the depth chart at any given position. This is the dilemma the Indiana Pacers have found themselves in, as both Paul George and C.J. Miles have been out for most of the last 3 games (C.J. started and played 9 minutes against the Suns before spraining his knee).
More from 8 Points, 9 Seconds
This left the Pacers with exactly 1 healthy small forward, Glenn Robinson III.
GRIII has carried a very famous name throughout his NBA career but has yet to see any translation on the court. Early in his 3rd year, Robinson is on his 3rd team and has yet to see significant minutes anywhere.
After a strong summer league, he looked poised to challenge for a spot in the Pacers 10 man rotation but ultimately came up short. After picking up spot minutes throughout the first few weeks, Robinson has been forced into big minutes, playing 25 minutes against the Phoenix Suns, nearly 45 in a win over the Oklahoma City Thunder, and 37 against Kevin Durant and the Golden State Warriors (with a swollen, black eye no less).
The results have been mixed, but that's not necessarily a bad thing.
While there have been times he struggled, he's showing flashes of being a good NBA player. He's 4 of 10 from behind the arc during that stretch. That's a good sign if he wants to become the 3 and D Wing he talked about this summer. In the last three games, he's averaging 11 points, 6.3 rebounds, and an assist.
He has also shown the ability to play through obvious pain after getting his head pinned to the court against OKC, where he picked up the first double-double of his career. He's always possessed very good athleticism and has flashed that finishing on the break and on the offensive glass.
Most encouraging, Robinson has been active on defense. He was included in the starting lineup that posted the Pacers most impressive showing of the season.
One reasons the Pacers won? Starters (Ellis, Robinson III, Teague, Turner, Young) played 34 minutes and posted 112.3/83.0 ratings.

— Ben Gibson (@8pts9secs) November 21, 2016
Most encouraging, Robinson has been active on defense. He's still been beaten (you're not going to guard Kevin Durant and NOT get beaten a few times), but he's had cleaner rotations and looked engaged and aggressive.
GRIII won't be on anyone's All-Star ballot this year, and almost certainly won't be knocking C.J. Miles out of the rotation. However, if he can be a reliable 10th guy — someone who can be the "next man up", play defense, hit a few shots, and not kill the team in his minutes — a few missed Paul George games (only a few!) could wind up having a legitimate positive effect on the team.
This article originally appeared on