Giannis Antetokounmpo is Officially an NBA Superstar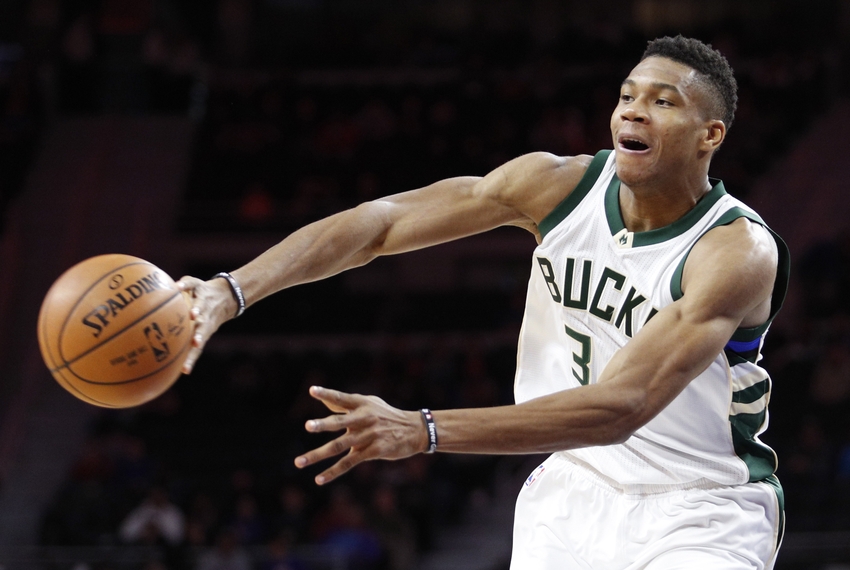 After improving on his success from last season, Giannis Antetokounmpo has officially reached the status of an NBA superstar.
It's been a middling start for the Milwaukee Bucks. Though they've competed well against some formidable competition in recent games, including down to the wire games against Golden State and Toronto, the Bucks enter this week one game under .500 and are outside of the Eastern Conference playoffs.
When the team's had success, it's come at the hands of one man: Giannis Antetokounmpo.
Though he came into the season with sky high expectations, Antetokounmpo has exceeded them easily.
At first glance, it may seem easy to dismiss Antetokounmpo's early success because it's only been 15 games. However, when combined with the work he put in after the All-Star break last season, the evidence is clear: Giannis Antetokounmpo is officially an NBA superstar.
Antetokounmpo's path to stardom has been years in the making. With each successive season, Antetokounmpo has gotten significantly better at both ends of the floor.
However, his first major step forward came around the All-Star break last season.
Back in February, Antetokounmpo took over as the team's primary facilitator. Until that point, the Bucks struggled to find a consistent creator. This caused the team to go through stretches of poor shooting, taking them out of games and leading to some significant blowouts.
Michael Carter-Williams struggled as the primary facilitator, turning the ball over at a high rate and taking touches away from Antetokounmpo, Jabari Parker, and Khris Middleton. He also failed to provide the offense with any kind of floor spacing, something the team sorely needed with Antetokounmpo and Parker struggling to hit their jumpers.
When Carter-Williams was on the floor with them, it allowed teams to collapse into the paint and close down the lanes that Antetokounmpo and Parker liked to attack because the Bucks shooters posed no threat. This forced the team into taking either low percentage jump shots, or attack the lane anyway and hope that they drew a foul or got a difficult shot to go in.
Jerryd Bayless, the back-up to Carter-Williams, helped the team's spacing issue because of his ability to hit threes. However, he was also ineffective as a facilitator.
This led Coach Jason Kidd to decide to hand the keys of the offense to Antetokounmpo, and the move paid major dividends.
Immediately, the team became much more efficient on offense, primarily because of Antetokounmpo's distribution skills.
In the 28 games after the All-Star break, Antetokounmpo averaged 18.8 points, 8.6 boards, and 7.2 assists per game. A stat line like that is rare for any player, let alone someone who's only 21.
In addition to this, Antetokounmpo shot a very efficient 50.9 percent from the field, and turned the ball over just 2.8 times per game, only a slight increase from before the break. Thus, not only had he improved on his averages significantly, he had done so while improving his efficiency.
If Antetokounmpo had replicated these stats this season, most fans would have been thrilled. However, Antetokounmpo has achieved an even greater level of success this year.
Through 15 games, Antetokounmpo is averaging 22 points, 8.3 rebounds, and 6 assists per game. In addition to this, he's averaging 2.1 blocks and 1.9 steals per game. These numbers put Antetokounmpo in AT LEAST the top 25 in the NBA of each of these categories. They're also all career highs.
These stats, however, only tell a small part of the story. Antetokounmpo is making an impact in every possible way.
First, Antetokounmpo has become one of the game's most efficient scorers despite struggling from three-point range.
Antetokounmpo has shot an incredible 51.4 percent from the field, good for 20th best in the NBA. When taking big men out of the equation, this puts Antetokounmpo behind only Kevin Durant and George Hill, and ahead of the likes of Stephen Curry and LeBron James in field goal percentage.
Much of Antetokounmpo's success comes from his ability to attack the rim. His unique combination of length and athleticism allows him to create for himself better than almost any player in the league.
When small forwards guard him, Antetokounmpo uses his superior length and strength to beat his opponents. When teams switch power forwards on to him, he beats them with his quickness and deft touch around the rim. This makes Antetokounmpo a nightmare for any team to defend, especially when he attacks in transition.
Teams are forced to decide whether to put their superior athlete on Antetokounmpo while (typically) conceding the height advantage, or put a taller player on him with inferior foot speed. Even when defenders give Antetokounmpo five or six feet of space, he's still able to get by them and create a high percentage shot because of his length and smooth touch around the rim.
Giannis has made a focus of getting right to the basket, with 54.7 percent of his shot attempts this season coming from within three feet of the basket, and he's shooting an incredible 71.4 percent on these attempts. These are numbers typically only seen by the league's best low post bigs, not someone who primarily operates as forward.
He's also getting to the line at a career high rate, taking 6.3 free throws per game.
Antetokounmpo has also shown some ability to stretch the floor. Though he's shooting a horrid 18.8 percent from three so far this season, Antetokounmpo has shot 40.7 percent on shots greater than 16 feet. He doesn't take many deep jumpers, as only 11.1 percent of his shots have come from this distance. However, Antetokounmpo has demonstrated an ability to hit some deep jumpers, especially when he gets into a rhythm on offense.
In many ways, Antetokounmpo's play is that of an old school player. He's not yet found a consistent shot from three-point range, but he can still dominate by attacking the basket and occasionally hitting an open mid-range jumper.
Antetokounmpo has also shown an ability to distribute the ball with great efficiency. Because he has such a superior ability to attack the basket, defenses are often forced to double or triple team him when he drives to the lane. When this happens, it opens up space for others, creating more open looks for shooters and additional lanes to cut to the basket. He also gets assists because of his ability to read the floor and anticipate where the open guy will be.
Antetokounmpo's six assists per game put him 16th in the league in assists. In addition to this, his assist to turnover ratio is a career best 1.70. Thus, he's improved his efficiency while having the ball in hands more.
A full display of Antetokounpo's offensive talents came against the Toronto Raptors. Though the Bucks lost, Antetokounmpo kept the team in the game by recording 29 points and 11 assists, including making some clutch shots in the final minutes.
In addition to improving his offensive skills, Antetokounmpo has also taken a giant leap forward on defense. His one-on-one defense has improved as he's learned how to better position himself on defense. He's not Kawhi Leonard in one-on-one situations, but he does enough to make shots difficult without getting into the kind of foul trouble that plagued him earlier in his career.
His real impact on defense, however, has come from ability to help other defenders. Antetokounmpo has figured out how to position himself perfectly on defense. He sits about 2-3 feet in front of the baseline. This is just close enough to the paint to allow him to cut off passing lanes and block shots while still remaining within guarding distance of his man.
His defensive impact has been felt tremendously. His double teams have generated numerous turnovers and resulted in shot block numbers typically only seen by centers. This gives the Bucks an additional threat to break up drives to the lane and create opportunities in transition.
Overall, the Bucks are a positive 3.4 points per 100 possessions with him on the floor and is 13.4 points better with him on the floor than off it. This shows just how much of an impact Antetokounmpo is having.
Given his early season success, there is no doubt that Antetokounmpo has officially joined the league's best. He's one of the most efficient scorers in the league who can also create shots for others. He's also a tremendous help defender who can hold his own in one-on-one situations.
With more time to develop and work on his shot, it's not difficult to imagine Antetokounmpo becoming one of the best three players in the league in two or three years.
At long last, it looks as if the Milwaukee Bucks have finally gotten the superstar they've waited for. And, as President Obama said in his recent visit to Greece, "We are all cheering for Giannis Antetokounmpo."
More from Behind the Buck Pass
This article originally appeared on