Gerald Henderson: Mr. February?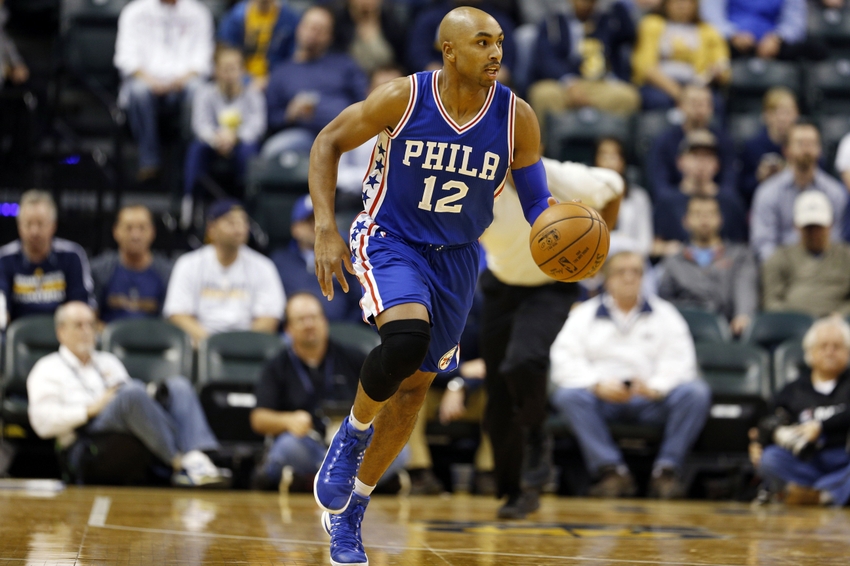 Is Gerald Henderson in the Philadelphia 76ers' plans going forward, or could they have other plans? The 76ers have been no strangers to the trade deadline.
Gerald Henderson thought he was Kobe Bryant on a few occasions during The Philadelphia 76ers' Wednesday night game against the Indiana Pacers. Realistically, the only commonalities he shares with the future hall of fame Laker is the fact that they're both shooting guards and they are from the Philadelphia area.
Henderson's efforts, including a potential game-winning, clutch three pointer, was an indicator that he's capable of helping the Sixers win some games, but does his solid start have a deeper meaning?
After seven games this season, Henderson is averaging 10.4 points, while shooting 49.2 percent. He has shown the willingness to score in crunch time, which has been vividly displayed over this past week. From a heartbreaking turnover into the hands of Cleveland's Iman Shumpert, which ended the Sixers' fairytale chance against the Cavaliers, to being one Paul George baseline jumper from being the hero Wednesday night, his willingness to be a veteran presence is exactly what the 76ers need, right?
More from The Sixer Sense
Yes, Philadelphia needs shooters. Henderson is shooting 40.0 percent from the 3-point arc. Yes, they need defensive stoppers. His sneaky athleticism has been displayed not only on the offensive end, but also on the defensive side. But, does Bryan Colangelo view the shooting guard as a long-term, piece? Will he still be a Sixer after February 23, 2017, at 3:00p.m., the day of the trade deadline?
This past offseason, the Sixers signed Henderson to a two-year, $18-million contract. Today's salary cap situation is proving that his deal is a decent one, especially if he continues to score 14.8 points per 36 minutes (he has averaged 15.7 points per 36 minutes through his eight-year career, which explains that it's no fluke).
This deal may prove to be attractive to other teams looking for a player like Henderson.
It was redundantly noted, during the Sam Hinkie regime, that the Sixers needed more veterans, to the point where that word, or simply "vet," became annoying to Sixers fans. It was usually accompanied by doubters of the "process" (not Joel Embiid), who were most likely comfortable with Doug Collins. It has also been said by Bryan Colangelo himself that the Sixers are in desperate need of a "winning culture." Being that the "culture" has been so victorious so far, would trading Gerald Henderson be against Bryan Colangelo's mindset and plans?
We are going to learn a lot about the son of Jerry Colangelo through the remainder of this year, and into 2017. Is he willing to part with a 28-year-old (29 on December 9) for assets? The Sixers also signed Jerryd Bayless this year to a three-year, $27-million deal. If his wrist ever heals, he would be more than capable to fill in for Henderson. Last season, Bayless shot 43.7 percent from three and scored 10.4 points per contest in less than 30 minutes per game.
Eventually, Henderson's play may help result into a Sixers win, but would it be an even bigger victory if he became a beneficial February trade piece?
It's not like the Sixers have anyone seemingly sitting out by choice, nor is Philly rumored to trade any centers in the near future, right? On a serious note, whatever happens with the Nerlens Noel fiasco should have no impact on whether or not the Sixers decide to build with, or move Gerald Henderson.
At this point, anything in return for Noel, who has proven to be an elite defensive specimen, would be better than the alternative of him leaving this offseason for nothing. Henderson, though, may be in the process of building a new identity in Philly, thus potentially surprising Philadelphia's front office, along with others.
This article originally appeared on