Game recap: Indiana Pacers 122, Philadelphia 76ers 115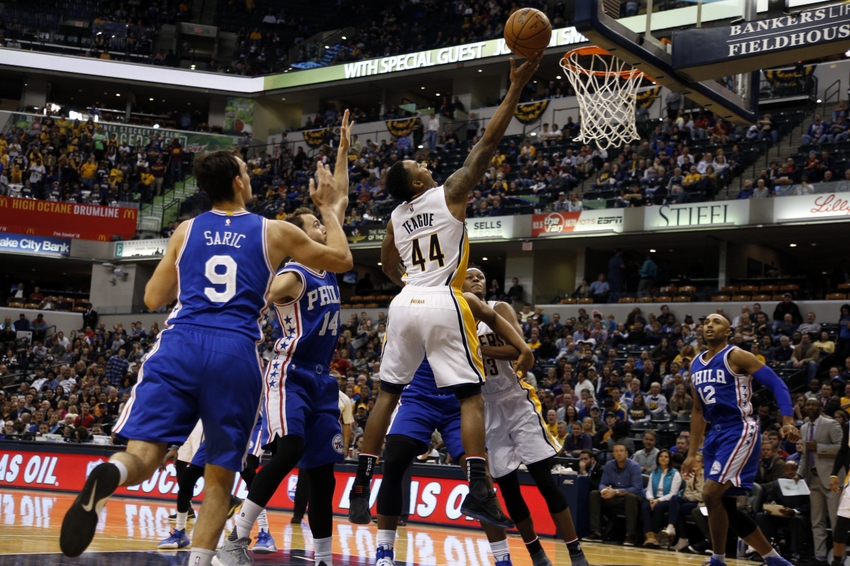 The Philadelphia 76ers were defeated 122-115 in heart-breaking fashion by the Indiana Pacers on Wednesday, Nov. 9 at the Bankers Life Fieldhouse.
It happened again.
Despite leading for much of Wednesday night's road game against the Indiana Pacers, the Philadelphia 76ers blew a fourth-quarter lead and were defeated 122-115 in overtime.
Gerald Henderson made the Sixers' play of the game when he sank a go-ahead 3-pointer with 6.3 seconds remaining in regulation and temporarily put Philly up 109-107.
Unfortunately for the Sixers, Indiana's Paul George answered immediately with a baseline mid-range jumper to tie the game up with 3.9 seconds left.
Jahlil Okafor (15 points, 3 rebounds, 1 steal, 1 assist) had a chance to win the game for Philly as time expired in the fourth quarter, but he missed a fadeaway baseline-jumper and the game was sent into overtime, where the Pacers simply took over.
Wednesday marked the fourth time this season that the 76ers blew a late fourth-quarter lead. The Sixers are now 0-7 on the year, while the Pacers improve to 4-4.
Indiana was paced by Paul George (28 points, 8 rebounds, 3 assists) and Jeff Teague (30 points, 9 assists, 2 rebounds) during their victory, while Myles Turner contributed 15 points and 9 rebounds.
More from The Sixer Sense
Robert Covington led the Sixers with 23 points (8-16 field goals, 5-9 3-pointers) and seems to be finding his shooting-stroke after a rough start to the year. Covington also had 6 rebounds, 1 steal, 1 block and 1 assist in the defeat.
Gerald Henderson had 17 points with 5 rebounds while Dario Saric notched a double-double with 14 points and 12 rebounds (also 3 assists). Hollis Thompson had 19 points, 6 rebounds and 3 assists off the bench.
The Sixers remained competitive on the evening despite not having rookie sensation Joel Embiid with the team, who did not make the trip to Indiana. Embiid stayed in Philly because, after missing his first two seasons with a foot injury, the team wants to ease him into NBA-action in an attempt to avoid re-injury.
Richaun Holmes played 28 minutes in Embiid's absence and scored 7 points (3-4 FG, 1-2 3P), grabbed six rebounds and had two steals with blocked two shots.
While Embiid was not present for Wednesday night's tilt against the Pacers, he will almost certainly be active when the two teams face-off for the second time in three days on Friday night (Nov. 11) in Philadelphia.
On Friday, the 76ers will get a chance to review Wednesday's game film, make adjustments and attempt to get revenge on the Pacers in front of their home crowd at the Wells Fargo Center.
This article originally appeared on