Game Preview: Sacramento Kings at Atlanta Hawks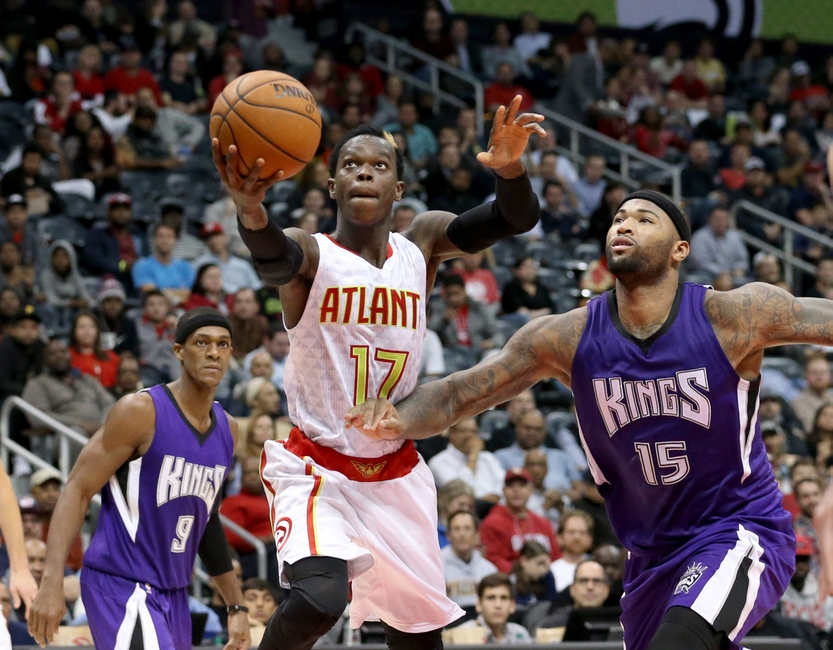 The Atlanta Hawks will look to continue their winning ways as they host the Sacramento Kings on Monday Night.
The Atlanta Hawks head into their third game of the regular season with a 2-0 record. They'll host the Sacramento Kings, who enter the game with a record of 2-1. The two teams face off Monday night with tip-off set for 7:30pm EST.
The Hawks have looked very impressive in their first two games with suffocating defense and plenty of unselfish plays offensively. Prior to the season, there was concerns buzzing that the addition of Dwight Howard and the loss of Al Horford would mean for more stagnant ball-movement. As it has shown thus far, that's far from the case.
The Hawks have been a top defensive team ever since Mike Budenholzer took over as head coach. The addition of Howard in that department, was a major upgrade for the shot-blocking and rebounding categories. So far, he has lived up to the hype averaging 13 rebounds and three blocks per game.
It's still very early in the season, but this game can be intriguing when looking at specific match-ups.
Let's take a look at some keys to the game for the Hawks.
Continued Dominance
The Hawks have defeated the Kings nine-straight game at Philips Arena, and even though they've got off to a solid start to the 2016-17 season, there's no escaping the fact that this is a very different team from years past.
It's still imperative to continue their dominance of Sacramento in their home building. In last year's meeting, Paul Millsap had his hands all over the game finishing with 23 points and 16 rebounds as the Hawks won 103-97.
Chances are he'll be the leader once again this time around as he's shown thus far. Millsap is averaging 22.5, 5.5 rebounds, and five assists per game. More importantly, he is scoring in a variety of ways whether it's back to the basket post-ups, catch-and-shoot three's, or taking his man off the dribble in isolation situations.
New Identities
Just like the Hawks have taken on a new look personnel wise with the addition of Howard and promoting Dennis Schroder to the starting point guard position, the Kings new head coach Dave Joerger is attempting to change the identity of a Kings team that is acclimated to failure.
There are still times where the Kings revert back to their hectic ways offensively and try to get back into games with one-on-one sets. Joerger commented on this problem:
"There is still some times when we struggle, when we revert to playing isolation basketball," the coach said. "What happens is we try to dribble into crowds and then we end up with no play. It just takes time."
The Kings proved that they are starting to handle adversity well under Joerger's watch. Their one win over Minnesota this season came after trailing by as much as 18 points, but the Kings were able to pull it out 106-103. For the Hawks, it means if they're able to get out to a big lead, it'll be important to keep their foot on the gas pedal and not get complacent offensively.
The new identity of the Hawks has seemed to transition well. Despite Howard not being able to handle the ball like Horford on the perimeter, Budenholzer has been putting him in plenty of on-ball screen situation that seem to open up countless options.
No matter how well teams try and prepare to defend Howard in these situations, the Hawks have a counter whether it be shooters sitting on the perimeter or the ball-handler with a free look at the basket off of the penetration.
Both teams have seen success with their "new identities." Something has to give when they face off against each other Monday night.
Marquee Matchup: Dwight Howard vs DeMarcus Cousins
DeMarcus Cousins is arguably the best center in the league today. Not too long ago, that title belonged to Howard, so watching these two face off will be quite the treat. At a glance, Cousins will give Howard problems with his versatility offensively.
Two seasons ago, Cousins started mixing in three-point shooting to his offensive repertoire. He is 3-for-8 in the three games this season, but has the ability to find his touch from deep throughout the game. Cousins won't settle from deep. Once he knocks down one or two, he uses it to his advantage and looks to take his man off the dribble.
Howard hasn't seen a versatile center as Cousins in the first two games. Joel Embiid gave Howard problems at times, but his minutes limit ultimately benefitted Howard.
Howard is averaging a little over six shot attempts per game this season. It isn't a bad thing necessarily because he isn't forcing any shots.
The rebounding matchup between these two will be one to watch. Howard and Cousins are elite rebounders that use brute force to control the glass, so expect constant physicality when the ball is in the air.
For Howard, his best bet is to make Cousins run as much as possible. Whether that mean in transition or just making him work hard to defend pick-and-rolls, if Howard can wear down Cousins on the defensive end, it should benefit the Hawks late in the game defensively.
Keys to Victory
Continue to be elite defensively:
Being at the top of the league defensively is nothing new for the Hawks. Last season, they were second in defensive rating (101.4) and sixth in opponent's points per game (99.2). Howard's shot-blocking and ability close down the glass and limit the opposition to one shot should help both of those rankings.
Bench production:
According to NBA.com, the Hawks bench leads the league in points scored in the paint per game with 22. Two players in particular in Thabo Sefolosha and Tim Hardaway Jr. have been spectacular in their reserve roles.
Sefolosha's defensive prowess is a given, but his all-around game is looking solid so far averaging 12 points, 5.5 rebounds, and three assists per game. Hardaway Jr. exploded in the season opener against Washington finishing with 21 points and doing so by scoring at every level on the floor.
Other players such as Mike Muscala and Malcolm Delaney have also done well with maintaining energy and production when the starters get their call for rest. It's no secret that the elite teams of the NBA rely on quality play coming off the bench. This group will continue to take another step in that process against the Kings.
Play through Millsap
This is Millsap's team. With that being said, the Hawks must continue to look for him offensively. Giving him the ball doesn't necessarily mean for him to score. Millsap has shown plenty of signs throughout preseason and the first two games that he can create plays for his teammates pretty much at will.
Willie Cauley-Stein will be the one matching up against Millsap. While his length and athleticism usually gives him the upper-hand, Millsap's savvy and ability to use his body will bother the young 23-year-old.
This article originally appeared on