Game Preview: Philadelphia 76ers vs. Houston Rockets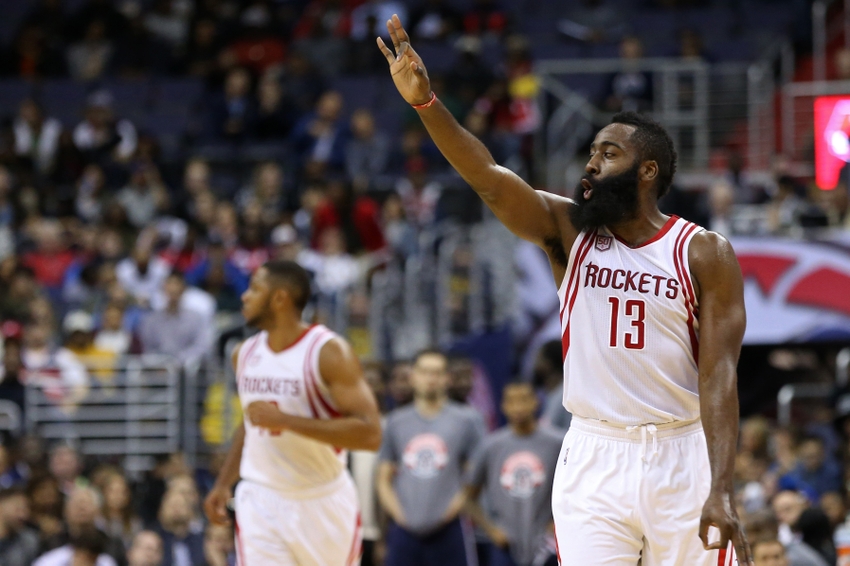 The Philadelphia 76ers will hit the road for a second consecutive road game. Tonight the team faces off with the Houston Rockets at 8pm at the Toyota Center.
The Philadelphia 76ers (1-8) welcome the return of Joel Embiid tonight as they face the Houston Rockets (5-4).  The Rockets, coached by former 76ers assistant coach Mike D'Antoni,  have made legitimate strides in their first season of the post-Dwight Howard era.
Joel Embiid sat out the second game of a back-to-back in the team's loss to the Atlanta Hawks on Saturday. But he'll likely be thrust once again into the team's featured role offensively, with Jahlil Okafor coming off the bench. Both should see minute restrictions somewhere in the vicinity of 24 minutes. That should translate into some minutes for Richaun Holmes. To some extent, Ersan Ilyasova could continue to see legitimate minutes at the five.
This is a Sixers team that has struggled to finish out close games all season.  Even moreso, the team really hasn't displayed the all-around firepower needed to compete at a high level.. With that said, Embiid has shown himself to be someone single-handedly capable of keeping them close in games at times.  The Rockets, albeit more balanced that last season, can be a bit one-dimensional at times as well.
James Harden will be the clear and unquestioned focal point of everything Philly does on the defensive end tonight.  The Rockets' newly-positioned point guard has only increased his immense level of production.  Not only does he score, but he commands positioning on the floor.
Harden is averaging 30 points and 13 assists per contest through 9 games–and no, that's not a typo. The Houston guard has been given even more freedom under the Dwight-less system with Mike D'Antoni, and has been the cog through which nearly every aspect of the Rockets' offense runs.
Guarding him on the perimeter is going to the the most pressing issue for Philadelphia, and perhaps the one they are least prepared for. Outside of Gerald Henderson there's a stark lack of defensive assets that are ready to compete at a high level with James Harden on the perimeter, both in the starting rotation and on the bench.
We just saw Robert Covington slump his way through yet another game Saturday, where even his body language on the defensive end was subpar, and the likes of Sergio Rodriguez, T.J. McConnell, and Hollis Thompson aren't likely to find much success guarding arguably the league's most potent perimeter weapon.
With the team struggling greatly to hold the likes of Kent Bazemore, Tim Hardaway Jr., and Kyle Korver in check during there last meeting, there's reason to have some very serious doubts coming into this game from a matchup perspective with Harden–something Brett Brown will have to game plan around.
Outside of Harden, the Rockets are going to place a handful of shooters who help keep D'Antoni's run-and-gun offense afloat alongside Harden. Eric Gordon has reemerged as a legitimate threat on the wing working off of Harden, and Trevor Ariza remains the consistent 3-and-D threat that he has been throughout his career.
Down low, Embiid should have little problem competing with the likes of Nene, Clint Capela and Montrezl Harrell underneath. While those are all tough physical matchups, no player exceeds the talent of Joel Embiid.  Embiid–at 7-foot-2 and 250 plus weight–should have little trouble against a group with such limited offensive weaponry outside the paint.
The Rockets' bigs do run the floor extremely well, however, especially in regards to Capela and Harrell. That's something that Okafor, when inserted into the game, is going to have to work around given his defensive deficiencies.
Ryan Anderson is probably the second biggest concern offensively outside of James Harden, and someone Brett Brown should be able to come up with a decent game plan for. He's a legitimate 20-point threat every night on the court.  Many fail to realize the fact that these Sixers match up well defensively.
Dario Saric and Ilyasova both have the energy and range of motion to stick with him on the outside, and their rim protection underneath with Embiid is ideally enough to keep him from doing significant damage on the low block.
Offensively, the Sixers should have ample room to run the offense through Embiid and the low post. One-on-one, Embiid has significant advantages over the starting five man in Nene.  Reserve Ryan Anderson provides little to no concern alongside him. Capela and Harrell are more intimidating rim protectors off the bench, but nothing that should worry fans given Embiid's physical nature and early performances against the likes of Steven Adams, Dwight Howard, or Myles Turner this season.
The Rockets' overarching defense around the court isn't all that intimidating either, and the passing lanes or open shots the Sixers weren't able to find against a stout Atlanta Hawks defense could very well be more abundant tonight. Philadelphia does not typically boast the type of offense to handle a full-out shootout. But based on how these two teams are constructed, tonight may play right into the hands of anyone brave enough to take the "over".
This should be a fun game to watch with a much more plausible path to victory than we saw with Embiid in Atlanta. The Philadelphia 76ers face hurdles which they must overcome tonight.  Not the least of which is one with a rather lengthy beard.  Overall, however,  we should see the Sixers remain much more competitive tonight.
More from The Sixer Sense
This article originally appeared on