Game Preview: Philadelphia 76ers v.s. Atlanta Hawks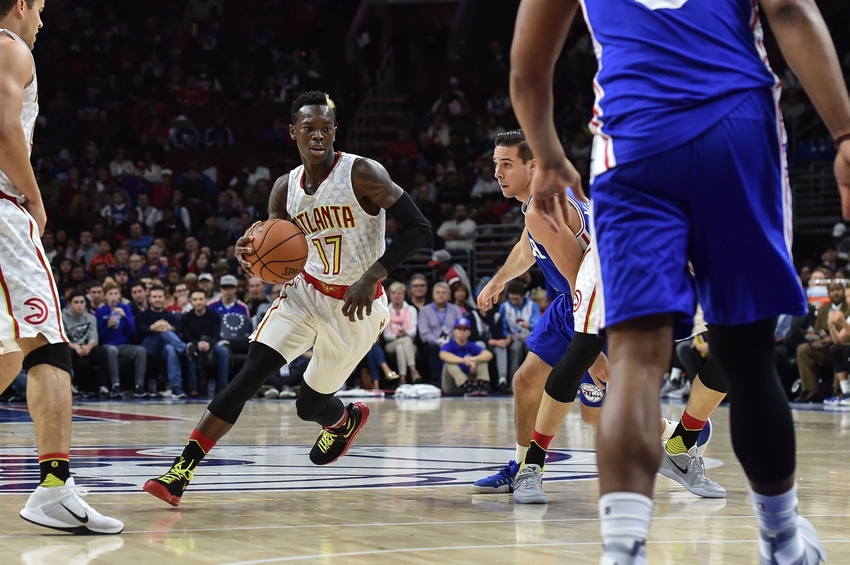 The Philadelphia 76ers will travel to face the Atlanta Hawks at 7:30 ET on Saturday, November 12th at Phillips Arena.
The Philadelphia 76ers (1-7) finally ended their historic drought in the months of October and November, pulling out a narrow overtime victory in the second game of a home-and-home with the Indiana Pacers, 109-105. Now, they'll be hitting the road to face the Atlanta Hawks (6-2), who have emerged as one of the most effective two-way teams in the Eastern Conference thus far.
Joel Embiid said he would travel with the team, but the expectation seems to be that he will likely rest. The Sixers, who have struggled to defend the rim without Embiid this season, could struggle to contain Dwight Howard if their rookie five man doesn't suit up. That would leave Jahlil Okafor, who played just two minutes in the team's Friday night victory, as the starting center.
This is a Hawks team that has quickly overcome some of the concerns that circulated around the organization after losing Al Horford, with Dwight Howard fitting seamlessly into his role as the team's much-needed rim protector and Dennis Schroder providing a legitimate upgrade as the full-time starter at the point.
Howard has put up 6 double-doubles through 8 games this season, and is averaging upwards of 15 points and 12 rebounds per game thus far. The Hawks have been able to work him into a rather inclusive offensive scheme that thrives on ball movement, avoiding the type of isolation-heavy perimeter play that plagued Howard's ineffective play alongside James Harden during his tenure with the Houston Rockets.
With Okafor and Holmes likely to be the primary defenders on Howard all night, it'll be worth watching how Brett Brown decides to handle that matchup. Howard is a far superior player on both ends of the floor, and has the physical presence to push around a weak defensive presence in Okafor. This is a Hawks team that thrives shooting the ball, and double-teaming Howard could lead to some open opportunities on the perimeter for Atlanta if Philadelphia doesn't plan accordingly.
The Sixers will need to find ways to exploit the Hawks' stellar defense, as Atlanta has found themselves ranking as the league's most effective defense so far in 2016. Howard's rim protection has been a facilitating force in establishing that, while players like Paul Millsap, Kent Bazemore, Mike Scott, and Dennis Schroder give Atlanta an nice amount of versatility across the spectrum.
This is a highly flexible Philadelphia rotation, though, and that's something they'll need to utilize to their fullest advantage. Dario Saric and Ersan Ilyasova have become increasingly effective floor spacers from the power forward position, while Sergio Rodriguez's exceptional court vision has been one of several bright spots in the Sixers' otherwise-rough start to the season.
Robert Covington had a strong showing against the Jazz recently, but seemed to take another step back once again last night. He went 2-for-9 from beyond the arc, and tallied just 10 points in 40 minutes of play. His ability to hit shots on the wing is a critical piece of this Sixers' offense, especially without Embiid to rely on as a go-to scorer. He'll be worth watching as somebody who could determine just how effective the Sixers' offense becomes.
Gerald Henderson has been a key contributor late in games for this Sixers team, as his veteran presence is among the most consistent in a fairly young backcourt. He'll be matched up with the likes of Kyle Korver quite a bit, a unique defensive challenge and one that's essential to shutting down the pace-and-space flow of this Atlanta offense.
Korver is somebody who can explode in quick bursts giving his accuracy from deep, and his movement off the ball makes him one of the more occupying defensive matchups you'll find. Henderson's aptitude in staying with Korver on every play will play a larger factor than some may realize.
This is a tough matchup for the Sixers to draw on a night where Embiid is likely to sit out, and one they'll likely be facing an uphill battle in regardless. We've seen Philadelphia come extremely close to beating the likes of the Cleveland Cavaliers and Oklahoma City Thunder this season, so there's definitely a chance if they are able to limit mistakes and find ways to succeed defensively, especially in their matchup with Dwight Howard down low.
They got off to an 8-0 run to kick off their first meeting with Atlanta, and that's something they'll likely need to mimic tonight. The Sixers have to gain some momentum early and find ways to keep it going throughout the night, which is where they struggled in their blowout loss to the Hawks earlier in the season.
The Hawks are clearly the better team here, so it's a matter of the Sixers–who have been much more competitive this year than in years past–being able to keep the game close and execute down the stretch if they do find themselves in position to pull off the upset. The Hawks still lack a go-to scorer late in games, and have thrown away valuable opportunities is the later stages of games before.
That's something the Sixers would have to exploit in order to pull out their second win of the season.
More from The Sixer Sense
This article originally appeared on