Game Preview: New Orleans Pelicans Versus Minnesota Timberwolves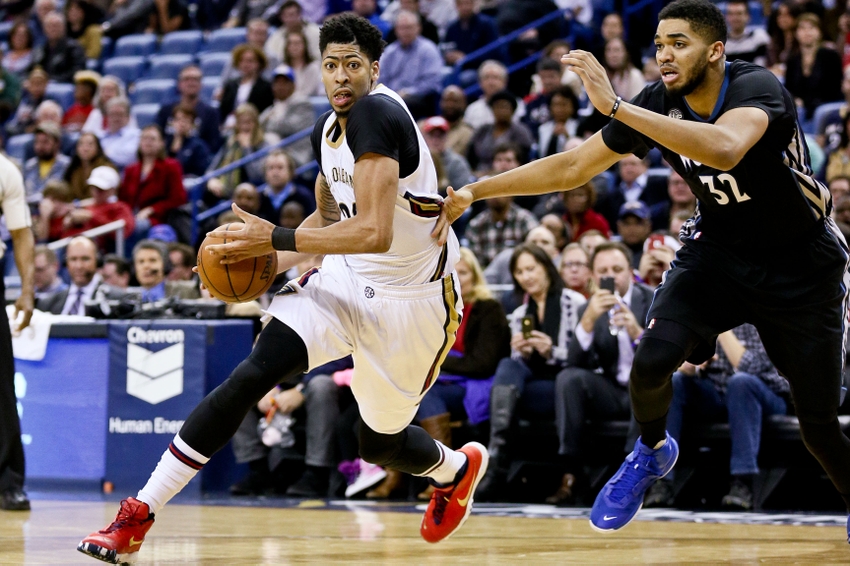 The New Orleans Pelicans will look to keep the winning streak going tonight, as they battle the young, athletic Minnesota Timberwolves.
Out of nowhere, the New Orleans Pelicans have won five of their past seven games.
If there was any chance of turning the season around from an 0-8 start, it had to come from a run like this.
Now, the Pelicans are just looking to keep it going as long as they can. Last night was a dominating win against a very talented Atlanta Hawks squad. New Orleans shot the lights out and never let off the gas against Atlanta, who could not find any rhythm in their shooting.
It will not likely be that easy tonight against the Minnesota Timberwolves.
Unlike the teams New Orleans has beat so far this year like Boston, Charlotte, Atlanta and Portland, Minnesota is struggling out of the gates.
Their last game was a devastating loss to the Celtics, where the bench unit of the Wolves gave up a 19-0 run that cost them a contest they held a large lead in. Minnesota currently sits with a 4-9 record and a very similar story to the Pelicans.
Expectations were high to start the year for the T-Wolves. Many thought they could rise up the standings and compete for an eighth seed in the West. However, a lack of consistency and struggles with late game execution have cost Minny.
Only four players on the Timberwolves are averaging more than seven points per game, quite a similar dilemma to the Pelicans. While Karl-Anthony Towns and Andrew Wiggins are carrying the scoring load, others are struggling to find comfort in Tom Thibodeau's system.
Still, New Orleans will have a challenge against a talented T-Wolves team. Minnesota's a great defensive squad inside the paint, meaning the Pelicans will have to make their jumpers. Hitting their shots against the Hawks sure helped them win, but they will need to shoot well to beat the T-Wolves.
Minnesota loves to press the break off of defensive rebounds, using Towns' size and the athleticism of guys like Zach LaVine and Shabazz Mohammed to break defenses rushing back. Guys like Kris Dunn and Ricky Rubio are great at breaking down halfcourt defensive weaknesses and will look to pick on New Orleans' strategy of switching.
The key for the Pelicans will once again come from the tandem of Anthony Davis and Jrue Holiday. Minnesota will have good individual defenders, but the combo has looked as comfy as ever. If those two can carry the team and get everything rolling, New Orleans should be fine.
This is one of the teams the Pelicans can pass in the pursuit up the West's Standings with a win. While the unexpected wins against top teams are fun, New Orleans needs to beat the teams they are better than, to become a true force.
Who, When, Where and How to Watch
When and Where: The game will be played at 8:30 PM CST in New Orleans.
How To Watch: The game will be broadcast on ESPN
Injuries: 
New Orleans: Anthony Davis (Right Knee Bruise) and Terrence Jones (Illness) are Probable. Quincy Pondexter (Left Knee) and Tyreke Evans (Right Knee) are out. Alexis Ajinca (Shoulder) is questionable.
Minnesota: None to Report
Probably Starting Lineups:
New Orleans: PG Tim Frazier, SG E'Twaun Moore, SF Dante Cunningham, PF Anthony Davis, C Omer Asik
Minnesota: PG Ricky Rubio, SG Zach LaVine, SF Andrew Wiggins, PF Gorgui Dieng , C Karl-Anthony Towns
Other Players to Watch: 
New Orleans: Jrue Holiday, Buddy Hield, Terrence Jones, Solomon Hill and Langston Galloway
Minnesota: Shabazz Mohammed, Kris Dunn, Nemanji Bjelica and Cole Aldrich
What's Next for the Pelicans?
The Pelicans will travel to Portland for a game Friday Night against the Trail-Blazers. New Orleans will look to take a 2-0 series lead against Portland this year. Tip is scheduled for 9:00 PM CST.
Is the Buddy Hield Panic Legitimate?
With the New Orleans Pelicans finally getting their groove, the panic has shifted to the first round draft pick's struggles early into the season.
Let's just say the media has not been too kind to Buddy Hield's first season of NBA Basketball.
In his first 14 games of the season, Buddy is averaging just 8.7 points, 2.6 rebounds and 1.2 assists in 19 minutes per game. His shooting numbers have been painful, as he averages 38% from the field and 24.6% from behind the arc.
With Jrue Holiday's return and the pushing expectations of the front office, Hield has been pushed far back in the depth chart. Buddy has yet to play at least ten minutes in a game, since Jrue Holiday's return.
With Tyreke Evans' return soon on the horizon, those minutes could be cut into even more. The sixth pick in last year's NBA Draft will find it extremely difficult to see minutes on the floor sooner than later.
It is safe to say that panic is starting to ensue with Hield.
How can a player with such hype and scoring promise already become a bench warmer?
Many thought the promise of Buddy could pan into a starter next to Jrue and a capable scorer with AD. Others thought time would be something that would need to be an investment, yet his scoring could be a key factor off the bench.
Instead, the Pelicans have found themselves caught in an old saying:
"You can't have your cake and eat it too."
The New Orleans Pelicans drafted Buddy Hield, while signing Langston Galloway, E'Twaun Moore and Tim Frazier. This was with the idea of each playing a key role on the team.
Add Jrue and Tyreke to the mix and it is easy to see how the math of minutes does not add up. Unfortunately for Hield, his rookie inexperience and shooting woes add up to him being the odd man out.
Moore's capability to do everything well works with the starting unit.
Tim Frazier's aggression to score and strong passing vision makes him a key point guard.
Langston Galloway's shooting has been a driving force for the Pelicans' wins so far this year.
While Hield did have some good games early in the season, it's washed away by his lackluster defense and struggles to grasp the offense. New Orleans had to decide whether winning or raw development mattered most.
Right now, they've chosen winning. That is not the best news for Buddy Hield this year.
Many are comparing him to the success of Jamaal Murray, the number seven pick in the draft. Murray is having a fantastic season on the Denver Nuggets, showing the promise he had in college. Fans are wondering where that same success is with Hield.
Unfortunately for all involved, the path Alvin Gentry and the Pelicans are taking will likely not give Hield the chance to develop and show that promise, until later down the line. With the minutes going elsewhere and New Orleans' eyes set on a possible playoff run, Hield's progress in the NBA is on the backburner. It is a risky decision to say the least.
Those wondering why Buddy Hield is not showing success will have a hard time finding answers in a year, where Hield is being sent to the bench in exchange for a better chance at winning now. The New Orleans Pelicans want to fight for the playoffs. However, their first round pick is the casualty to that philosophy. The only hope long term is that Buddy Hield works hard and finds his path in the NBA smoothly and effectively after this season. Fans can only hope that will be on the New Orleans Pelicans.
This article originally appeared on