Game Preview: New Orleans Pelicans Versus Milwaukee Bucks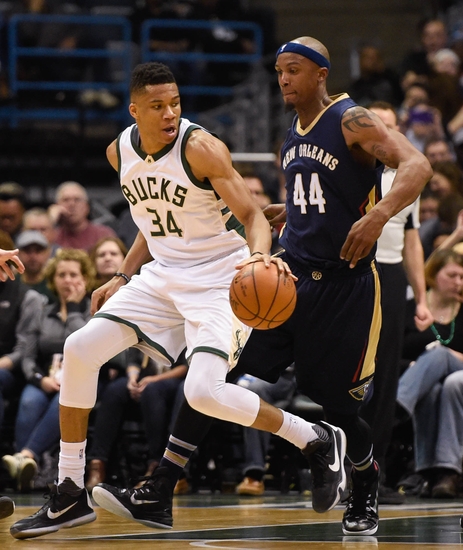 The New Orleans Pelicans will do battle against their first Eastern Conference Foe of the season tonight, in the Milwaukee Bucks.
While their performances have been exciting, the New Orleans Pelicans enter November with a record of 0-3.
They hope to spook the Milwaukee Bucks at home, for their first win of the young season.
Their past tests have consisted of the two Elite Western Conference teams and a young, rising Denver Nuggets squad.
The Milwaukee Bucks are no pushovers, yet their story is a bit different from their past three opponents.
Milwaukee is currently going through a rebuild of their own, moving pieces around and finding what works best with their core players.
More from Pelican Debrief
Those core players are their two athletic wings in Giannis Antetokounmpo and Jabari Parker. Antetokounmpo, who started his career as a mix of small forward and power forward, has been moved to play point guard. While the team does not have a true point, they mix Giannis and Matthew Dellavedova at the position.
Jabari Parker, who came into the NBA as a small forward, is now the starting power forward in his third NBA season. The team's odd mix of being long, yet able to play small brings these two growing stars into interesting roles.
The Bucks really are an odd mix of young players, relying heavily on youth and speed in transition. If you take out the long range shooting, Milwaukee is very similar to New Orleans in the gameplan.
Still, this may be the best chance for a Pelicans win so far. The Bucks are now 1-2 to start the year, with a loss to the Detroit Pistons Sunday. After a gauntlet of solid teams, this game is the chance to reverse fortune.
The Milwaukee Bucks will be able to play strong transition defense against New Orleans, however a guy like Tim Frazier could have a big day against the slower bigs inside. He has shown his speed to get by his defender and score at the rim. He will need to do that for the Pelicans tonight.
Anthony Davis will have to deal with the Bucks interior size and athleticism. Guys like John Henson and Miles Plumlee will contest him at the basket often. However, neither are defensive juggernauts and will deal with one of the best players in the paint alive. Their lack of experience could be a weakness Davis can exploit.
The Pelicans and Bucks split the season series last year, yet New Orleans has won nine of their last eleven matchups between the two teams.
It's a duel the Pelicans have taken full advantage of in the past. New Orleans would benefit greatly from beating the Milwaukee Bucks to begin November.
Who, When, Where and How to Watch
When and Where: The game will be played at 7:00 PM CST in New Orleans
How To Watch: The game will be broadcast on NBATV.
Injuries: 
New Orleans: Jrue Holiday (Personal Reasons), Quincy Pondexter (Left Knee) and Tyreke Evans (Right Knee) are all out. Langston Galloway (Left Foot Infection) is probable.
Milwaukee: Jason Terry is day-to-day with personal matters.
Probably Starting Lineups:
New Orleans: PG Tim Frazier, SG E'Twaun Moore, SF Solomon Hill, PF Anthony Davis, C Omer Asik
Milwaukee: PG Giannis Antetokounmpo, SG Matthew Dellavedova, SF Tony Snell, PF Jabari Parker, C Miles Plumlee
Other Players to Watch: 
New Orleans: Buddy Hield, Terrence Jones, Dante Cunningham and Lance Stephenson
Milwaukee: Greg Monroe, John Henson, Rashad Vaughn and Mirza Teletovic
What's Next for the Pelicans?
The Pelicans are back on the road for a back-to-back once again, as they play against the Grizzlies in Memphis.
Trying to Solve the Dilemma of Defending Giannis the Point Forward
This may seem odd to those who do not keep up with the Milwaukee Bucks, but Giannis Antetokounmpo is the starting point guard.
That's right, THAT Giannis Antetokounmpo.
The 6'11" freak of nature continues to make the transition to point guard from late last season. Bucks Head Coach Jason Kidd became creative with the move, after Michael Carter-Williams running the offense fell short.
While Matthew Dellavedova can play point, the Bucks want Giannis to use his size and athletic build to give massive problems to opposing guards. Milwaukee has a full team of long and built players, that use their wingspan to cause havoc on defense.
Antetokounmpo is still having growing pains at the position. Through three games, Giannis has 16 assists, averaging just over five a game. It's decent for what he brings to the game, but it is lacking for a floor general. Add the fact he's averaging over two turnovers a game and there arises some concerns with his play style.
The Bucks seem set on being a lottery team once again, while using this season as a parameter for the long haul. In a way, they represent a similar rebuilding process to the Pelicans. They have two young stars to build a team around, that fits their style of play. Instead of the conventional roster construction, they would rather create a unique look to become an NBA powerhouse of the future.
However, tonight's game will be about each team finding confidence for this current season. The Bucks have one victory on a buzzer-beater, while New Orleans is still winless. This one can mean a lot to either team.
And while the Giannis matchup can scare most teams, New Orleans will look to counter the mismatch. The Pelicans are known for switching regularly on defense. While Tim Frazier is oversized by Giannis quite a lot, the rest of the Pelicans can help him out in that regard.
On the offensive end, Frazier has shown that he can really exploit Giannis, more so in this game with his passing. The Bucks have bigs inside that will make it tough for Tim to score at the basket. However, if he can blow by Antetokoumpo to set up his teammates, he could have a massive amount of assists.
This also may be a huge game for Omer Asik. The Bucks lack outside shooting all over the board. Therefore, they'll be looking to attack the basket early and often. This means New Orleans will need any kind of interior defensive presence they can get.
Asik is that. His opponents inside will not be as big of a threat to stretching the floor on him. The Bucks' bigs do not have the shooting that matches the Warriors and Spurs. If he can fill his lane on offense and stay tough on defense, he could be a strong answer to Giannis' drive-first mentality. Consequently, if the Pelicans can limit Giannis, they can shut down the Bucks' offensive gameplan and likely win the game.
The New Orleans Pelicans are hitting must-win territory early in the season. With three straight losses, the momentum is running away from the young squad already. However, if they can counteract the unorthodox point guard of the Milwaukee Bucks, they could take a big advantage in the contest. A win to get away from the national media scrutiny and early jitters might be just what the Pelicans need to save their season, before it gets out of hand.
This article originally appeared on