Game Preview: New Orleans Pelicans Preview Versus Sacramento Kings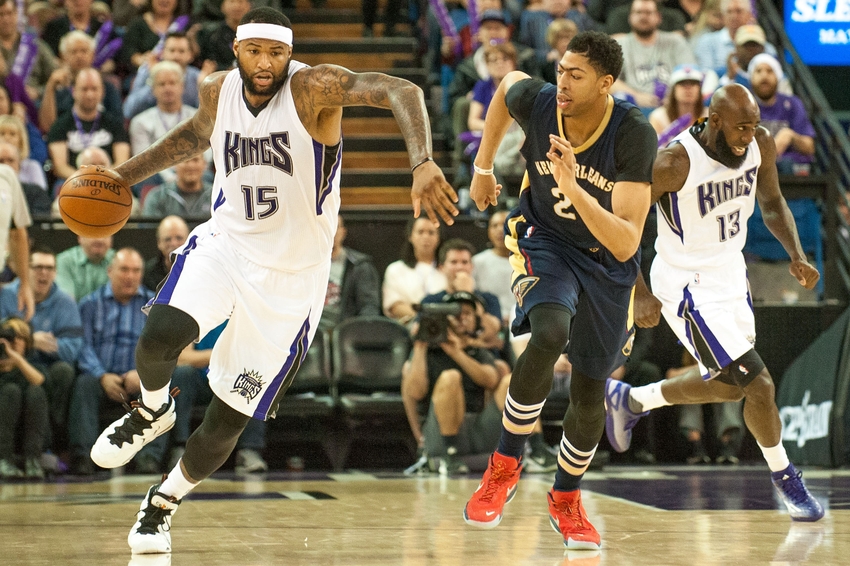 The New Orleans Pelicans will look for a quick rebound from their seventh straight loss as they travel to Sacramento to play the Kings.
The New Orleans Pelicans held their own for the second straight time this year against the Golden State Warriors.
However, last night still ended with a loss.
This marks the seventh straight defeat to start the season. The team and fan base are facing tough times in what is now seen as a full-on rebuild.
Everyone with a Pelicans' rooting interest is desperate for a victory. Tonight may be the team's best chance so far.
New Orleans will battle the Sacramento Kings on the second game of a back-to-back. Quite a challenge for the Pelicans.
Still, this is a team New Orleans has quite the good record against in recent history. The Pelicans swept the Sacramento Kings last year, even with one of the worst seasons in franchise history.
Something about playing the Kings is welcoming for New Orleans.
San DeMarcus Cousins, Sacramento does not have many well-known players on their team. They have a lot of youth in odd places. While the Kings have started the year 3-5, it's not out of the realm of possibilities for the Pelicans to steal a win.
The importance of the Pelicans win grows with each passing game. The team is now 0-7. It's no longer about turning this season into a playoff campaign. It is about salvaging any positives this season can have.
Anthony Davis is running out of patience with the franchise. His frustration is something national media is non-stop talking about. He wants to win. One of the most talented players in the NBA is not going to wait around for success in this league.
Is the panic too much? Who knows. Some believe the injuries of key players is the reason for the poor start. Some say it is the coaching and management of the team. Others say it is the tough schedule.
No matter the reason, New Orleans needs to keep its moral in place and win soon. This could be one of their best chances in a long while. It would be in their best interest to capitalize.
Who, When, Where and How to Watch
When and Where: The game will be played at 9:30 PM CST in Sacramento.
How To Watch: The game will be broadcast on NBATV.
Injuries: 
New Orleans: Jrue Holiday (Personal Reasons), Quincy Pondexter (Left Knee) and Tyreke Evans (Right Knee) are all out.
Sacramento: Rudy Gay (Ribs) is expected to play. Anthony Tolliver (Knee) is out.
Probably Starting Lineups:
New Orleans: PG Tim Frazier, SG E'Twaun Moore, SF Solomon Hill, PF Anthony Davis, C Omer Asik
Sacramento: PG Ty Lawson, SG Aaron Afflalo, SF Rudy Gay, PF Kosta Koufas, C DeMarcus Cousins
Other Players to Watch: 
New Orleans: Buddy Hield, Terrence Jones, Dante Cunningham and Langston Galloway
Sacramento: Matt Barnes, Garrett Temple, Willie Cauley-Stein, Ben McLemore
What's Next for the Pelicans?
The Pelicans will get a day off before heading to Milwaukee to play the Bucks Thursday Night. Tip is scheduled for 7:00 PM CST
Anthony Davis Could Find Hope for the Season Against an Old Friend
This has been an extremely tough season for Anthony Davis.
An 0-7 start in a year hyped for his progress and where he's putting up the best numbers of his career has to have him frustrated.
It does not take a psychologist to see that.
Let's forget about the affiliation with the Pelicans for a second. Anthony Davis is a 23 year-old man averaging 30 points per game in seven games, with over 11 rebounds as well. Those are ridiculous numbers. Yet, the last time Davis felt a regular season victory was in April.
That gets to someone, especially someone younger. This team made him "The Face of the Franchise" with his new contract. Not having the right pieces around to win, when you're doing everything right has to be driving him mad.
For AD to focus on ball and the future, he needs hope that his team can win a game. Something to block out the media's constant roar about the winless start. He needs a reason to smile. After Steph Curry set a record for three-pointers made on the Pelicans in a game New Orleans fought tooth and nail for, he needs a pick-me-up.
Tonight, Davis plays the NBA fan's ultimate pick-me-up in DeMarcus Cousins, or as he's know around the league as "Boogie".
Boogie is a fantastic player. He's also a bit of a goofball. Boogie has his team off to a 3-5 start, including a win against one of the East's best teams in the Toronto Raptors. While Boogie's frustration with his team in the past has been obvious in his expressions, he's still out there giving Sacramento everything.
He also seems to be a bit happier in 2016. While Sacramento is still not a contender, they seem to be trying as much as they can. Going out and finding unorthodox pieces to fit around him is a work in progress. Still, it's some kind of effort.
There was a time DeMarcus Cousins looked like he did not enjoy basketball anymore, while playing in Sacramento. It does not look like that at the moment. His turnaround might be something Davis'notices.
Anthony Davis and DeMarcus Cousins both went to the University of Kentucky for college ball. Over their time in the NBA and at Kentucky, the two have become friends. They can be seen talking and laughing, either when their teams play or when the two are together at an NBA event.
Even if Davis does not see something deep in Cousins' team, seeing his friend in a good mood might help him fend off the bad vibes of this season.
It will not cure the Pelicans issues. Nor will it make this team any better. It is possible they could win against Sacramento. That alone would help Davis' psyche. However, it might just help to see Boogie again and find a reason to laugh.
Morale is underrated in the NBA, especially on a struggling young team trying to find their identity. If you lose the superstar, you lose everything. If the New Orleans Pelicans can not give Davis a reason to smile on Tuesday night, he might be able to find it in his old friend.
No matter how Pelicans fans feel about the season, it is easy to agree no one wants to see Anthony Davis unhappy. He is the shining light in a franchise that has been muddied by poor decisions over the years. If anyone's joy can give New Orleans fans some kind of happiness, it is AD. Here's to hoping he finds some light tomorrow in a dark start to the year.
More from Pelican Debrief
This article originally appeared on