Game Preview: New Orleans Pelicans head West to take on the Golden State Warriors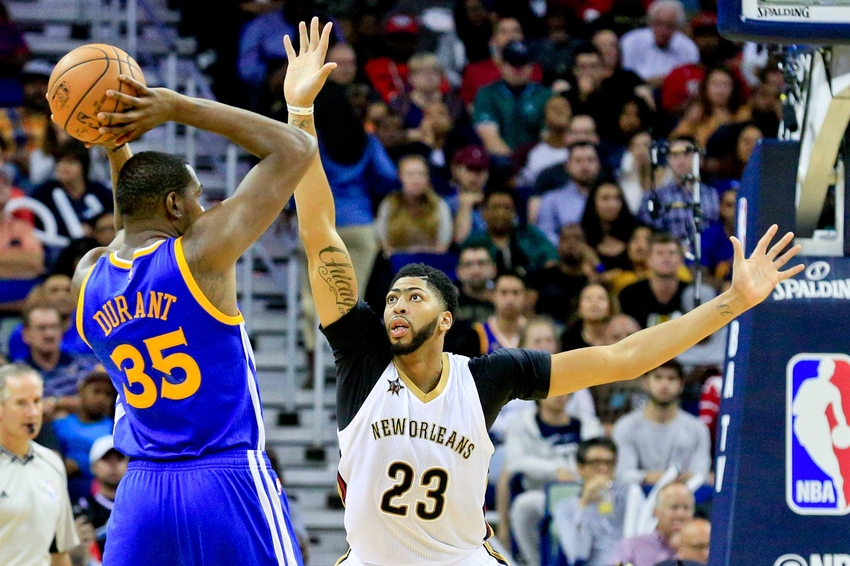 Still looking for their first win of the adolescent season, the New Orleans Pelicans head West to the Bay to take on an embittered Golden State Warriors team.
Wounded Warriors, eh? The New Orleans Pelicans have already had the misfortune of facing the league's most dominant superpower twice this year coming out of embarrassing Warriors' blowout losses. First, an opening night loss to their Western Conference rival the San Antonio Spurs. Now, a loss on Saturday night to the Baby Lakers and former Warriors assistant Luke Walton.
A fully healthy and in-rhythm Dubs team is one mess; an angry and enthused Death Star Dubs team is wholly another. Granted, this Warriors team isn't the sort of squad to thrive off of anger or malcontent. Rather, they take the pain and emotion of loss and dig further into their unique combination of style and chemistry. That's what the Pelicans have to fear tonight.
On paper, this year's Pelicans are a decent matchup for the Warriors. The versatility they've added on defense is perfectly suited to match up with the Dubs' cavalcade of scorers. They hold a trump card in Anthony Davis that is among the most dominant individual match-ups when Draymond Green moves over to center in small lineups. The Pelicans' shooting is more capable of hanging on this year, even if the numbers don't back that up.
In the teams' first match, Kevin Durant's scoring burst in the first quarter threw the pace of play into the Warriors' favor, and the combination of Anthony Davis and Tim Frazier weren't enough to put the Pels back into a position to win the game. Davis was incapable of staying with Durant when the Warriors went small, and like most teams, the Pels didn't have enough defenders to keep up with the Warriors' various offensive options.
Tonight, at Oracle, the Pelicans will face an uphill battle on their way to win number one. Their best chance is a balanced attack on both ends, and especially to control the pace of the game. These Pels have the upside under Alvin Gentry to play as quickly as any team in the league, and the ability to toss it to AD in the post when things slow down. Cross your fingers.
Who, When, Where and How to Watch
When and Where: The game will be played at 9:30 PM CST in Oakland.
How To Watch: The game will be broadcast on Fox Sports New Orleans or NBA League Pass.
Injuries: 
New Orleans: Jrue Holiday (Personal Reasons), Quincy Pondexter (Left Knee) and Tyreke Evans (Right Knee) are all out. Dante Cunningham is questionable with a lingering Hip injury.
Golden State: Patrick McCaw (Ankle, Personal) is questionable. Rookie Damian Jones (Pectorals) is out, as he has been all season.
Probable Starting Lineups:
New Orleans: PG Tim Frazier, SG E'Twaun Moore, SF Solomon Hill, PF Anthony Davis, C Omer Asik
Golden State: PG Stephen Curry, SG Klay Thompson, SF Kevin Durant, PF Draymond Green, C Zaza Pachulia
Other Players to Watch: 
New Orleans: Buddy Hield, Terrence Jones, Dante Cunningham, and Lance Stephenson
Golden State: Andre Iguodala, Shaun Livingston, David West, and Ian Clark
What's Next for the Pelicans?
Another back-to-back, but with not too bad a travel schedule. The Pelicans take on the Sacramento Kings in the Kings' new arena tomorrow night.
Does Lance Stephenson matter in the grand scheme of the New Orleans Pelicans' season?
The Pelicans, sources say, will participate fully in Lance Stephenson's injury rehab and told him they're open to re-signing him once healed

— Marc Stein (@ESPNSteinLine) November 7, 2016
The team did what it had to, releasing a player who could no longer contribute on the court (with a roster full of injured players already) in favor of one who could. There were games (like the loss to Memphis last week) in which Stephenson's tippy-toe drive-and-sometimes-kick game injected life into the Pels' offense. He produced, but posted a NetRtg 6 points per 100 possessions worse than the Pelicans as a team.
His replacement will be Archie Goodwin, a dynamite combo guard capable of getting past any defender on his way to the rim. His problem has been finishing when he gets there, drawing fouls, and shooting. He most often played point guard in Phoenix, a franchise that has developed a dominating interest in lead guards.
In New Orleans, he figures to slide largely into the role Lance occupied. He will back up E'Twaun Moore, handle the ball some, and try to electrify the second unit. Buddy Hield and Langston Galloway have earned larger minutes loads in recent games, so they too will benefit. If nothing else, Goodwin will help the team as a ball-mover and transition scorer.
With less ball dominance in the second unit, though, will the Pelicans be better? The problem with this team on offense is that too many of their players need the ball to be successful. Moore, Hield, Davis, and Solomon Hill are all key characters in the team who thrive with the ball in their hands. Goodwin just adds another name to that list.
The Warriors defensive excellence centers around their ability to swallow ounces of open space and smother simple sets. Their length and prophetic understanding of one another's habits destroy teams like the Pelicans unless they're at the top of their game. And for the Pelicans, the top of their game occurs when each player is chipping in and throwing their best skills into the stew of team play.
This sub-contest will be the key to the Pelicans keeping it close against a hungry Warriors team.
This article originally appeared on