Game Preview: New Orleans Pelicans Duel Orlando Magic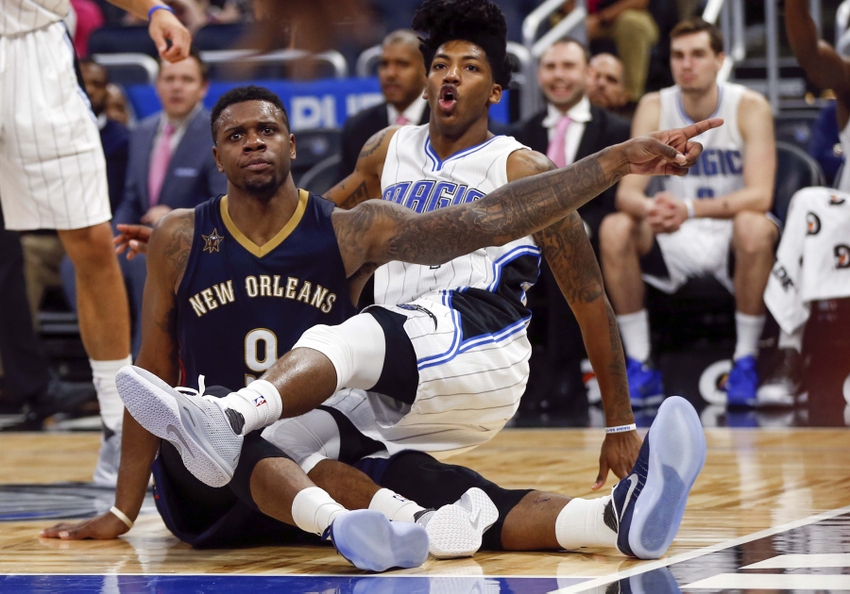 The New Orleans Pelicans will look to find their first winning streak of the season on the road, as they battle the Orlando Magic.
After celebrating a massive victory against the Boston Celtics, the New Orleans Pelicans will need to refocus fast.
The Orlando Magic will be waiting for them.
Wednesday night should be a battle between two teams, who are still looking to figure themselves out. The Pelicans are now 2-9 and waiting for the eventual return of Jrue Holiday to the team Friday. This is the last game without him.
That does not take away from the importance of this game.
New Orleans is facing a 4-7 Magic squad, coming off a loss in where they scored 69 points for an entire game. Orlando is struggling to score the basketball effectively, ranking 30th in the NBA in points per game.
The Magic play a bigger style, with rebounding specialists like Serge Ibaka, Nikola Vucevic and Bismack Biyombo anchoring their frontcourt. The Pelicans will need to stay tough inside on the boards and defensively, in order to keep Orlando's paint play in control.
However, one area the Pelicans can look to capitalize with is transition offense. Something that saw great success against the Celtics was New Orleans' ability to press the opposing defense and get to the line. That can be a key area to victory tonight, against a slower Orlando team.
The Pelicans would also like to see better performances from their starting lineup tonight, as the bench has taken the center stage over the past few games. Anthony Davis has been the lone starter to be a key contributor down the stretch.
For New Orleans to stay with a Magic team that can play physical, the starters will need to be aggressive alongside Davis and play team basketball on both ends. The defense for the starting core has been alright, but they still need to score more efficiently to become a winning team.
The biggest matchup problem for the Pelicans will be Aaron Gordon, the young wing with unrealistic leaping ability. That was showcased in last year's NBA Slam Dunk Contest and is continuing to show in his play this year.
Defensively, it will be a challenge for the Pelicans' wings to defend such a freak of nature. He can likely leap out of the building and make a dunk that changes the momentum of the game. Even with a shallow depth of defensive wings, New Orleans will need to shut him down in order to contain the crowd of Orlando tonight.
A win streak would mean a huge boost for the team morale and a reassurance to fans, who began to panic from the early season struggles.
Who, When, Where and How to Watch
When and Where: The game will be played at 6:00 PM CST in Orlando.
How To Watch: The game will be broadcast on Fox Sports New Orleans and NBA League Pass.
Injuries: 
New Orleans: Jrue Holiday (Personal Reasons), Quincy Pondexter (Left Knee) and Tyreke Evans (Right Knee) are all out. E'Twaun Moore (Toe) is probable.
Orlando: Jodie Meeks (Right Foot) is out.
Probably Starting Lineups:
New Orleans: PG Tim Frazier, SG E'Twaun Moore, SF Solomon Hill, PF Anthony Davis, C Omer Asik
Orlando: PG Elfrid Payton, SG Evan Fournier, SF Jeff Green, PF Serge Ibaka, C Nikola Vucevic
Other Players to Watch: 
New Orleans: Buddy Hield, Terrence Jones, Dante Cunningham and Langston Galloway
Orlando: Aaron Gordon, Bismack Biyombo, D.J. Augustin, C.J. Watson and Mario Hezonja
What's Next for the Pelicans?
The Pelicans will head back home for a game Friday night against the hot Portland Trail-Blazers. Tip is scheduled for 7:00 PM CST.
Can New Unsung Heroes Become Key Contributors?
The New Orleans Pelicans found their second win of the season against the Boston Celtics, greatly due to the play of Terrence Jones and Langston Galloway.
In their first win against the Bucks, it was E'Twaun Moore, Omer Asik and Tim Frazier who helped carry the load with Anthony Davis.
For the Pelicans to keep winning games, those unsung heroes need to become key contributors night in and night out.
The question then comes up….
Can They?
There are a lot of players on this team playing out of their expected roles. However, each of these guys was expected to bring a key contribution to the team.
Frazier was expected to be a floor general off the bench. Asik was meant to be a rebounding force, with defensive playmaking inside. E'Twaun Moore looked like the man who could fill a combo guard role and have great basketball I.Q. in key moments.
Terrence Jones was the hopefully young big, with athletic potential to be a force in transition. Langston Galloway has the potential to be a shooter all over the floor.
While each of these guys have had games of showcasing their skills, their problems have come with the overall performance of the first 11 games. None of these contributors have been able to balance out strong performances. Frazier has been the closest, however his matchups against other starting point guards have highlighted his weaknesses.
There is a lot of excuses to use for why the Pelicans' depth players are not following through. The team is still missing its biggest floor general, one of their most aggressive playmakers and is going through learning a system that can be challenging. One problem.
Winning teams do not make excuses.
There are certainly issues with the makeup of the roster. However, these are all NBA players who have the skill sets to be rotations players in this league. This team need to find a way to get those role players in situations that benefit them the most.
For the youngsters to be able to play well with the increase in expectations, offensive and defensive schemes need to be set in order to benefit their skills. Langston Galloway's improvement is the biggest example.
The Pelicans have suddenly asked Galloway to run the offense much less often. Instead, they are asking him to space the floor and look to find his shot more often. He's not overextending himself to get looks for everyone on the floor anymore. Instead, he's letting his teammates help him out by spacing the floor and looking to set him up.
Terrence Jones is now mainly a help defender inside, looking to grab the boards off misses and get his hand up to contest shots from drivers. Instead of asking him to play one-on-one versus mismatches, the Pelicans are willing to help him out and want him to do the same.
Omer Asik's role has greatly decreased, but when he's on the floor, his objectives are simple and clean. Rebound. Defend. Repeat. It's working, as he's putting up some of the best performances in his Pelicans' career.
These are all shining examples of small changes to expectations, that are helping a younger team compete more and more. Is the fact shots are starting to fall more often helping the situation? Of course. But that might be due to players helping each other out and sticking to finite roles, instead of pushing themselves out of their comfort zones.
This simple change can be the key for the New Orleans Pelicans' success going forward. For the role players to contribute, they need to focus on their keys and get help in their weaker areas. It is what turns a roster of talented players into a true "team". It's slowly coming along, but New Orleans is starting to look like a cohesive group of players, working together towards the goal of winning every game they step on the floor to play.
This article originally appeared on