Game Preview: New Orleans Pelicans battle Trailblazers once again
After beating the Trailblazers only five days ago and winning both of their games since, the New Orleans Pelicans enter Friday's game with a chance to continue their solid play against a team whom they have a clear advantage over.
Does embarrassment affect professional athletes? Not the season-long struggle kind of embarrassment where you go to work knowing your coworkers aren't putting forth their best effort. The single instance kind where you do something atrocious and have to live with the emotional consequences forevermore. On Wednesday night, today's New Orleans Pelicans' opponent did exactly.
You see, the Portland Trailblazers on Wednesday allowed Kevin Love to score 34 points on them in the first quarter of a blowout loss. Ouch. He broke the NBA record for points scored in a first quarter, and neared Klay Thompson's mark from a third quarter last season that had already felt like an insurmountable number at 37. Perhaps not.
How do you bounce back from a disastrous defensive performance like that one? Sure, you can tell yourself it was a hot shooting night from an all-time great shooter, but at some point a team has to blame itself for allowing an opponent to get into a groove and make so many shots in one short stretch. The Blazers are in that boat heading into tonight's game, and will be treated with the chance to defend a similarly streaking Anthony Davis.
Davis scored 45 points on Wednesday against the Timberwolves, getting the best of Karl-Anthony Towns and Gorgui Dieng consistently. Mason Plumlee and Ed Davis are much less fearsome a frontcourt duo, and will have their hands full trying to corral Davis across the court. On the other end, they lack the skills to punish him as offensive players. Like most nights in Portland, the result of the game will derive from the star guard tandem's ability to get into the paint, make plays, and shoot from deep.
Trying to adjust on the fly to Dante Cunningham's injury, a hot night from either of Portland's guards may be enough to overcome Davis and the Pelicans. There's only so much that can be done facing a team whose strength is guard play when the Pelicans' own guard rotation is so inconsistent and in turmoil.
If someone can step up in three-guard lineups (Langston Galloway, Buddy Hield, E'Twaun Moore) or Solomon Hill plays up to his potential, the Pelicans will obviously have a decent chance to win the game. If both of those things fail, Portland may just find their way back to .500 early in the season.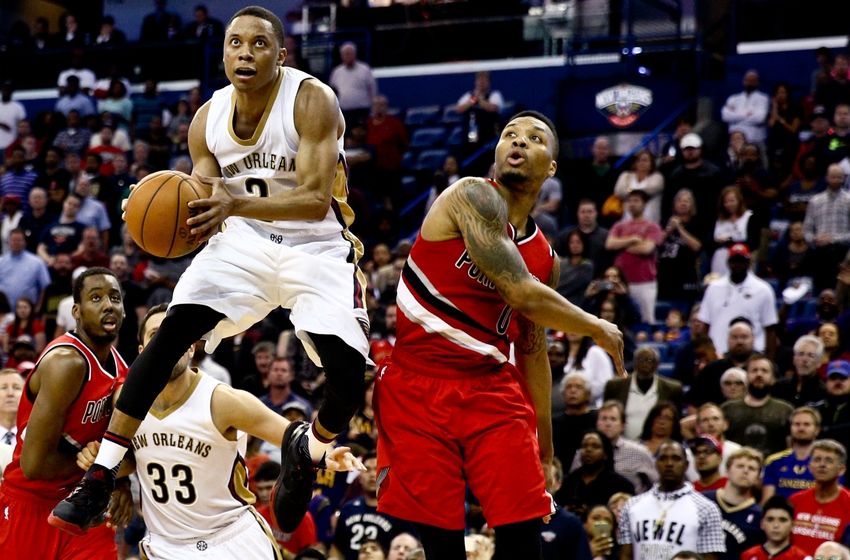 Who, When, Where and How to Watch
When and Where: The game will be played at 9:00 PM CST at the Moda Center in Portland.
How To Watch: The game will be broadcast on Fox Sports New Orleans and NBA League Pass.
Injuries: 
New Orleans: Alexis Ajinca (Shoulder) is QUESTIONABLE. Quincy Pondexter (Left Knee), Dante Cunningham (Right Knee Fracture) and Tyreke Evans (Right Knee) are OUT.
Portland: Al-Farouq Aminu (Calf) and Festus Ezeli (Knee) are OUT.
Probable Starting Lineups:
New Orleans: PG Tim Frazier, SG E'Twaun Moore, SF Solomon Hill, PF Anthony Davis, C Omer Asik
Portland: PG Damian Lillard, SG C.J. McCollum, SF Maurice Harkless, PF Ed Davis, C Mason Plumlee
Other Players to Watch: 
New Orleans: Jrue Holiday, Buddy Hield, Terrence Jones, Langston Galloway, and Anthony Brown
Portland: Allen Crabbe, Evan Turner, Meyers Leonard, and Noah Vonleh
What's Next for the Pelicans?
The Pelicans have an off day to continue enjoying a long Holiday Weekend before playing the Dallas Mavericks 6:OO PM on Sunday night.
The battered Blazers will force the Pelicans to play small
In a 91-minute sample size so far, the Pelicans are a preposterous plus-40.7 points per 100 possessions when both Tim Frazier and Jrue Holiday are on the court, per nbawowy.com. It's safe to say these dual-point guard lineups are a weapon for Alvin Gentry at this point.
This is interesting in itself, as Frazier was probably the last guy expected to have a consistent spot in these lineups. At the beginning of the year, the versatility of E'Twaun Moore and the size of Buddy Hield made those two likely participants, and yet the agility and playmaking of Frazier has instead proven itself to be more valuable. Finally, it seems Langston Galloway is the third such guard in these lineups currently.
Again per nbawowy, Galloway is the guard who has been on the court the most next to Holiday, a product of his coming off the bench to match minutes with the goggled point guard. Galloway sports an insane 68% effective field goal percentage, which adjusts normal shooting rates for the value of three-point shots, in the minutes he shares with Holiday. Further, his true shooting percentage is 71.2%. That number attempts to encapsulate all of threes, twos, and free-throws into one percentage.
If Galloway can defend bigger players and stay attentive, it appears he may have earned that third slot for quite a few minutes per game when the Pelicans go small with Jrue Holiday. Sometimes it's just a matter of putting the ball through the hoop more than your teammates (especially when your teammates rarely do so).
Finally, a Blazers team without Al-Farouq Aminu and with too many wing minutes to go around will push the Pelicans to adjust their rotations on the wing as well with Cunningham out. Solomon Hill will likely start games unless Alvin Gentry prefers to begin games using smaller lineups. For Hill, the Blazers wing group of Allen Crabbe, Evan Turner, and Maurice Harkless will be a tough opening challenge.
For all the hand-wringing over Hill in the early part of the season (most of it warranted; he's been terrible on offense), the Pelicans are still about the same team statistically with him on the court as they are when he's not playing. Perhaps all he needs is a return to the starting lineup to regain consistency in his shooting stroke and to better find holes to attack the defense. Hill has flashed signs of ballhandling and playmaking, especially in transition, but at this point it's up to him to find his spots.
For the next 4-6 weeks while Dante Cunningham recovers, that progress on his part may be the key to the Pelicans continuing their hot streak, as well as maintaining the ability to successfully play small.
More from Pelican Debrief
This article originally appeared on