Game Preview: New Orleans Pelicans Battle Hornets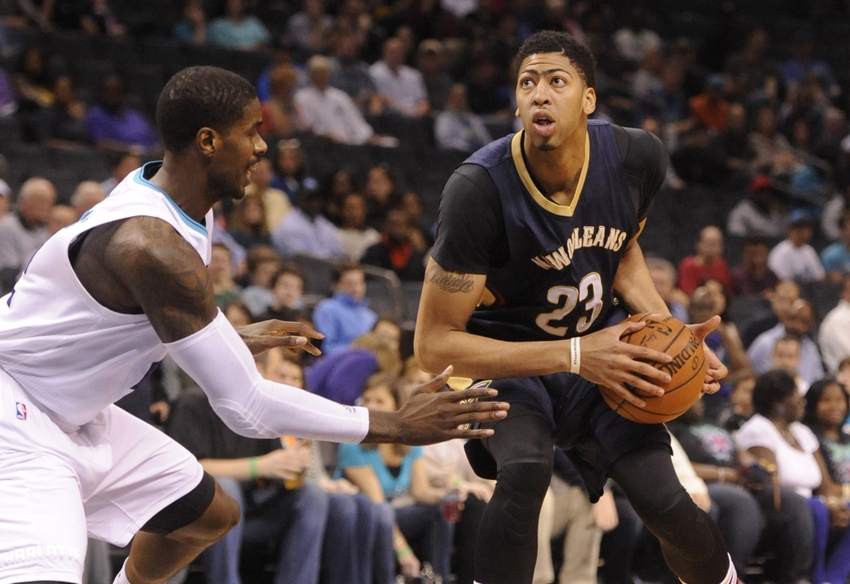 Coming off a big win against the Blazers last night, the New Orleans Pelicans will look to make it two in a row against the Charlotte Hornets.
Last night's win for the New Orleans Pelicans was a season saver. Beating a strong Western Conference foe in the Portland Trail-Blazers has to bring morale back up.
Still, there is not much time to celebrate. There is another game to get ready for tonight. And it is against a very familiar foe…
The Charlotte Bobca….I mean the Charlotte Hornets.
For the Pelicans, this a game against an Eastern Conference squad who is also a semi-rival, as Charlotte and New Orleans have shared the "Hornets" over the team's histories.
This game has a lot of different meanings in that respect. For the Pelicans, however, this game is just another contest to try and inch closer towards the rest of the Western Conference.
With a tough 3-10 start, New Orleans has fallen fast down the West's standings. However, there's a cluster of other teams that have had the same struggles. With last night's strong play from New Orleans, hope can still be on the horizon.
That's greatly due to Jrue Holiday's return. In his first game back, Jrue put up 21 points in just 23 minutes on the floor. His minutes showed more than just his scoring, as his defensive impact completely changed the complexion of the game.
Anthony Davis was unstoppable shooting the ball with his buddy Jrue sharing the court. The revival of the Pelicans' energy is clear as day. Everyone on New Orleans found life once again, with his return.
Still, this was only one game. The team now needs to prove they are ready to show this kind of change for the entire season. This is the second of a back-to-back against two very good teams.
The Charlotte Hornets are now 8-3 on the season, with statement wins against the Indiana Pacers, Utah Jazz and Atlanta Hawks. Kemba Walker has been unstoppable, putting up 25.8 points per game on 49.1% shooting from the field.
Defensively, Charlotte is sound as well, giving up the eighth least amount of points per game through eleven games. This is going to be a challenge for New Orleans, who is still struggling to put up points consistently.
For the New Orleans Pelicans, every win is important. Each victory gets them closer and closer to their early season goals. Tonight is just as key as last night's game, for this team's morale and expectations.
Who, When, Where and How to Watch
When and Where: The game will be played at 6:00 PM CST in New Orleans.
How To Watch: The game will be broadcast on Fox Sports New Orleans and NBA League Pass.
Injuries: 
New Orleans: Quincy Pondexter (Left Knee) and Tyreke Evans (Right Knee) are out. Alexis Ajinca (Shoulder) is questionable.
Charlotte: Jeremy Lamb (Hamstring) is questionable.
Probably Starting Lineups:
New Orleans: PG Tim Frazier, SG E'Twaun Moore, SF Dante Cunningham, PF Anthony Davis, C Omer Asik
Charlotte: PG Kemba Walker, SG Nicolas Batum, SF Michael Kidd-Gilchrist, PF Marvin Williams, C Cody Zeller
Other Players to Watch: 
New Orleans: Jrue Holiday, Buddy Hield, Terrence Jones, Solomon Hill and Langston Galloway
Charlotte: Frank Kaminsky III, Ramon Sessions, Marco Belinelli and Roy Hibbert
What's Next for the Pelicans?
The Pelicans will take a long break, before getting back on the court Tuesday night to face the Hawks in Atlanta. Tip is scheduled for 6:30 PM CST on NBATV.
Jrue Holiday's Return Changes the Game for Pelicans
Yes, it is only one game…
However, Jrue Holiday changes the entire game for the New Orleans Pelicans. That means the short term of last night's game and the long stretch of the upcoming season.
There are many people who will look at Jrue's effect from Friday's game as a one-time effect. A big part of the equation returns and the team is inspired to play to their fullest potential.
It certainly a theory. Yet, Jrue Holiday is so much more than just the second best player on the roster. If Anthony Davis is the heart and soul of the Pelicans, then Jrue Holiday is the man in charge of the controls in this operation.
In last night's game, Jrue showed the true colors of what makes him irreplaceable in his role, even with Tim Frazier's solid play. On the offensive end, Holiday keeps the ball movement flowing.
Compared to past games, the ball traveled much greater distances between players. Holiday never stopped moving on offense and was always looking to get open to either set up an open jumper or find the next open man, for the rhythm to stay steady.
While Frazier has handled the passing well, he likes to set up key one-timer plays, whether they be from the pick-and-roll or driving to the basket. Holiday, on the other hand, can turn his attacks into sustained offensive sets. If he does not get his look the first time, he can move the ball to the right player in the right spot for the next best look in the play.
His best moves in the game involved finding open players out on the corner wings, something Frazier has done okay with as well. However, Holiday's ability to do it all, including getting Anthony Davis the ball in tight passing windows, opens the floor up even more.
The opposing defense needs to be on its heels for everything, opening the entire floor for Jrue to facilitate. It widened the battle plan for New Orleans in a way the offense had not seen in a long time. For a team that only averages 101 points per game, a total of 113 against a playoff contender out West seems like a solid opening game.
While his offensive addition is huge, the defensive plus Holiday brings is much bigger. Frazier is a smaller guard, who tends to get bullied and struggles to deny passing lanes for opposing points. In the case of Jrue, Blazers' guard Damian Lillard had problems all night setting up good looks for his teammates.
When Lillard had the ball, Holiday kept his hands in the way of wherever Damian wanted to pass. Lillard loves to get C.J. McCollum the ball in tough spots, so Jrue kept his eyes and hands all over those lanes. It halted the Blazers' offense and resulted in plenty of poor shots late in the clock.
When Lillard was moving off the ball, Jrue kept his defensive intensity in play. Damian averages 45.5% from the field this season, yet shot a measly 8-24 for the game tonight. This is in large part due to Holiday's hounding off-ball defense, making Lillard work even harder to get the ball and leaving him less energy to smoothly bury his looks.
When he was not contesting Dame, Jrue was looking for steals on lazy passes. The one steal from last night's game came from a lob pass off Meyers Leonard. Jrue cut off the pass and went in transition to set up a great look from Solomon Hill outside the arc. While the shot did not fall, his eyes constantly being on the ball almost gave the Pelicans a big swing in the game.
Put all of those keys together and you have Jrue Holiday's true impact on the game. It is easy to see just how much he changes for New Orleans' gameplan. It is much more enjoyable to see it in action. Now, the truth of the matter is these keys will still take time to flourish. Jrue's been off the court for a while, so it will be some time before he's 100%.
While time is something Holiday will need, the New Orleans Pelicans are already in much better shape than the first 10 games of the year. Jrue's return changes everything for a team that desperately needs their floor general controlling the game and keeping everything flowing smoothly. This is a team that, no matter what kind of impact people predict, is going to have more success with Jrue Holiday's return to the everyday lineup.
This article originally appeared on