Game Preview: New Orleans Pelicans Battle Division Rival Dallas Mavericks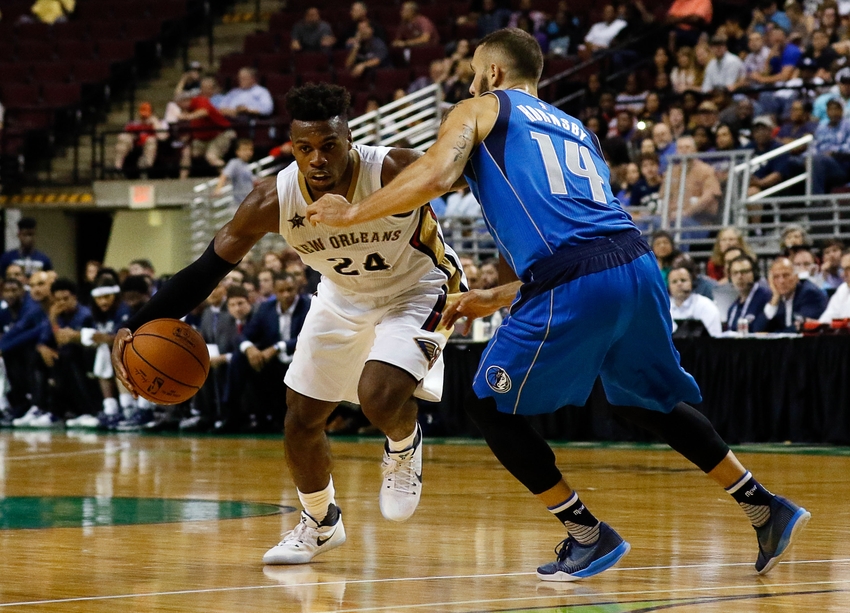 The New Orleans Pelicans will look to rebound from a loss Friday night, as they head off to Dallas to play a struggling division rival in the Mavericks.
Many thought the eight game losing streak that started the New Orleans Pelicans' season would not be matched by any other Southwest team this year.
However, the Pels' opponent will come into tonight's game with an eight game losing streak of their own.
New Orleans will battle the Dallas Mavericks, who come in with a measly 2-13 record and losers of eight straight. Unfortunately for the Pelicans, Dallas is just starting to get healthy once again.
Injuries to Dirk Nowitzki, Andrew Bogut and Deron Williams have plagued the team over the first 15 games. All have returned to the lineup. Still, it has not improved the Mavericks play so far.
Dallas is 30th in the league in points per game, averaging just over 91 points. They're also 30th in the league in rebounds, grabbing only 40.4 per contest, as a team. With the season approaching a quarter of the way complete, the Mavericks are the biggest NBA disappointment by far.
This is also a matchup that benefits the Pelicans' star players.
Anthony Davis will go up against an ailing Nowitzki, who will likely struggle to keep up with Davis' speed and athleticism. After having to deal with big, physical power forwards in the past five games, this may prove a beneficial matchup for AD.
For Jrue Holiday, he will duel with the likes of Deron Williams and youngster Jonathan Gibson. Williams just returned from injury and played 14 minutes Friday, while Gibson is still learning the system in his first year at the NBA level. Holiday may also see Seth Curry, who has been shifting some point guard duties with the big hole at that position.
Compared to his previous games, this will likely be a dream for Holiday. He's been slicing up some of the best backcourt defenses in the league, over the past few weeks. Now, he'll go against a set of injured and inexperienced floor generals.
This seems like an easy win for the New Orleans Pelicans. However, if any team should understand a squad desperate for a win, it would be New Orleans. The Pels ended their eight game losing streak by beating a young Milwaukee Bucks team, with fire aggression and a "do-or-die" mentality all game. They should expect the exact same thing from their opponents in tonight's affair.
Who, When, Where and How to Watch
When and Where: The game will be played at 6:00 PM CST in Dallas
How To Watch: The game will be broadcast on Fox Sports New Orleans and NBA League Pass.
Injuries: 
New Orleans: Quincy Pondexter (Left Knee) and Tyreke Evans (Right Knee) are out. Alexis Ajinca (Shoulder) is probable. Dante Cunningham (Right Fibula Fracture) is out.
Dallas: Deron Williams (Calf) is questionable. Dirk Nowitzki (Achilles) is probable. Andrew Bogut (Calf) is probable. J.J. Barea (Calf) and Devin Harris (Toe) are out
Probably Starting Lineups:
New Orleans: PG Tim Frazier, SG E'Twaun Moore, SF Solomon Hill, PF Anthony Davis, C Omer Asik
Dallas: PG Deron Williams, SG Wesley Matthews, SF Harrison Barnes, PF Dirk Nowitzki, C Andrew Bogut
Other Players to Watch: 
New Orleans: Jrue Holiday, Buddy Hield, Terrence Jones, Anthony Brown and Langston Galloway
Dallas: Seth Curry, Justin Anderson, Dwight Powell, Dorian Finney-Smith and Jonathan Gibson
What's Next for the Pelicans?
The New Orleans Pelicans will head back home for a game Tuesday night against the young Los Angeles Lakers. Tip is scheduled for 7:00 PM CST.
Anthony Brown Will Get His Chance to Prove His NBA Worth
The Dante Cunningham injury is a tough blow for the New Orleans Pelicans.
Cunningham, who is likely out for at least a month, became a solid "Three-and-D" player for the young Pels. Along with his strong defense, he had the ability to adapt to what the team needed each night.
For at least a month, New Orleans will be without that skill set. The question now becomes what player can step into his role?
Tyreke Evans will be on the team soon, yet his skills do not exactly mesh with what Dante did for the Pelicans.
That leaves one viable option. And no, Buddy Hield at Small Forward is not that option.
It's the newest Pelican of them all. That's right.
Anthony Brown.
It's a lot to ask of the youngster. He's coming onto a team he has very little knowledge of and is being asked to take on quite an important role.
Dante Cunningham's role was so much more than just simply being a three-point threat. He was able to space the floor starting and become a defensive anchor on the bench unit. Sometimes, he can be relied on to play the power forward, when guys like Anthony Davis and Terrence Jones are not 100%.
Let's start with this: Anthony Brown will not be able to replace Cunningham. Brown is going to be his own player. However, what he can provide for this team will make the difference on how his NBA career path comes to fruition.
This is his chance. After a minor stint with the Lakers last year, he's found his spot at the pros once again. However, the Pelicans are one of the rare teams that will actually use him in a key role. That means in his time, he needs to capitalize.
Many have questioned if his three-point numbers, which in the D-League were ridiculously high, are sustainable. Others have doubted if he can defend against more athletic wings. His overall game, which includes vision, ability to take contact driving and stamina are other areas of concern.
He will likely have a simple role in his minutes. Space the floor, make your threes and hold your own. That he can likely accomplish. With guys like Holiday and Jones shining off the bench, the focus will not be on him. But in his own eyes, this is the break his career could change from.
If Brown wants to show NBA teams he's a capable player, he needs to do it over the next month. The Pelicans are a sneaky team, climbing up the ladder in the Western Conference. They will have other teams watching their games for sure. That means they'll see Anthony Brown. For him to make an impact on either New Orleans or another team, the showcase must start in this stretch. To earn an NBA contract for the long haul is the end game goal here for Brown.
Anthony Brown will get his shot over the time Dante Cunningham is hurt. Even when Tyreke Evans returns, Brown will find minutes, due to his pure small forward play. Evans will likely swing between floor general guard and occasional wing. The New Orleans Pelicans will be in full focus on getting a run to the playoffs going. For them to do that, Brown will need to play well in his role. The lights are on. It's time for Anthony Brown to make his NBA statement in the next month of play. Show the league what you've got, youngster.
This article originally appeared on