Game Preview: Memphis Grizzlies vs. New Orleans Pelicans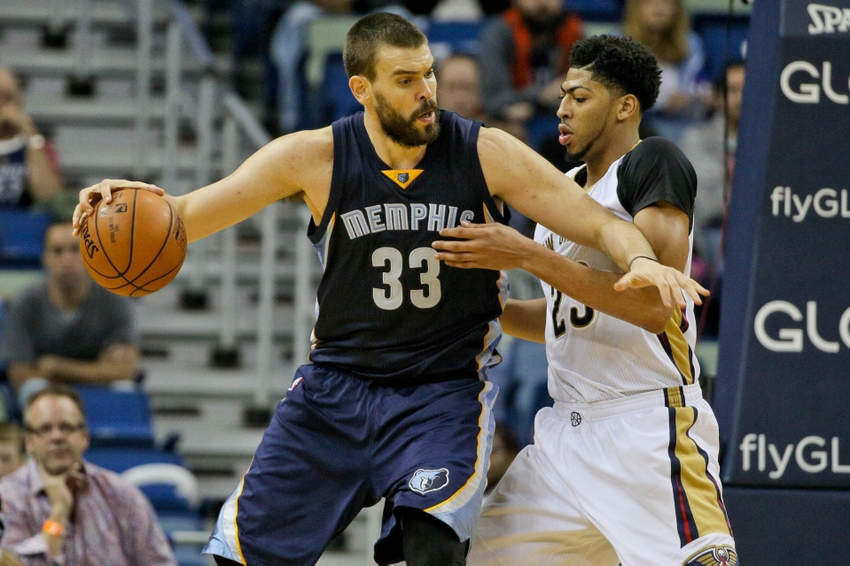 The Grizzlies dropped their second game of the season last night against the Timberwolves, 116-80. Marc Gasol and Mike Conley didn't play and are projected to return for tonight's game.
The Memphis Grizzlies got hammered without their two best players last night, but look to return to form tonight against the 0-4 New Orleans Pelicans. The Pelicans have a defensive rating of 107.3 and their offensive rating is an appalling 98.6.
The most shocking thing about the Pelicans' offensive rating being so low is the fact that Anthony Davis has looked like the transcendent superstar that we anticipated before last season. Davis is averaging a very smooth 27 points and 13 rebounds on 48 percent shooting. To go along with that, Davis has blocked 3 shots a game and is averaging 2.5 steals a game. He is doing it all on offense and he is everywhere on defense. He's at the FedEx Forum putting holes in the noisemakers as we speak (unconfirmed).
Memphis Grizzlies' Gameplan
The Memphis Grizzlies will look to attack everyone else on the roster. Center Omer Asik has lost a step and has difficulty guarding in space. The rest of the roster has obvious question marks that the Grizzlies staff will look to exploit. Most of that comes from their anemic offensive game. Tim Frazier (we don't know either) is this teams second leading scorer. Lance Stephenson may be their second best player.
Expect the Memphis Grizzlies to attack the paint early and often. With Davis on the floor, they'll involve him in ball screening actions and get him away from the paint. This will open up driving lanes for other players. Look for an old-school defensive performance from the Grizzlies, as well. Davis is a tough matchup for Memphis but they are more than capable of containing New Orleans' perimeter.
Tony Allen's return last night adds more depth to the Grizzlies perimeter rotation. With Gasol and Conley returning tonight, the core four of the Grit N' Grind Era will play together for the first time this season.
More from Beale Street Bears
This article originally appeared on