Game Day: Houston Rockets look to get back on track vs. Wizards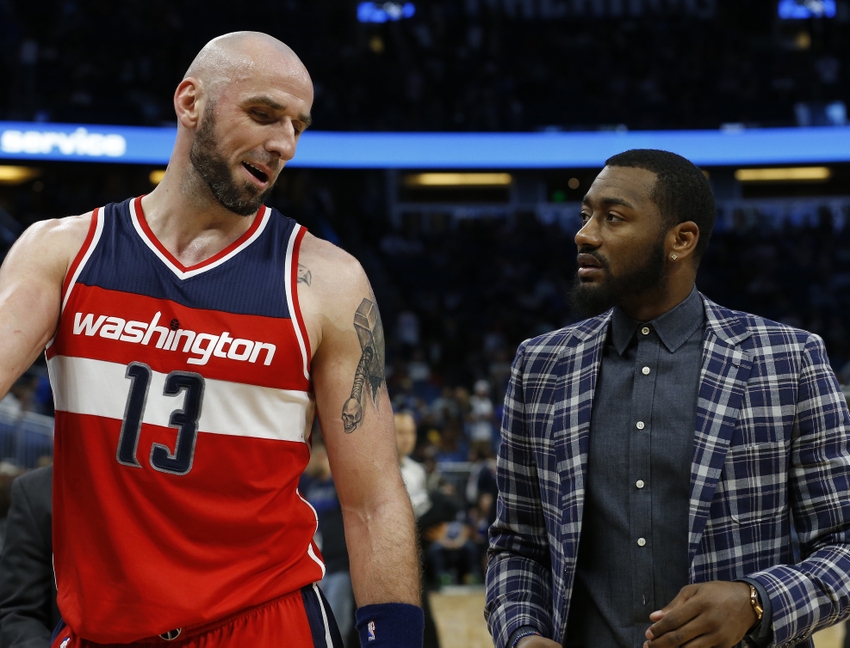 Following the Houston Rockets worst effort of the season Mike D'Antoni has elected to move Eric Gordon to the bench. Next up the Rockets face the lackluster 1-5  Wizards.
To say the Houston Rockets played horrible defense in Atlanta this past weekend would be under scoring how brutal they were. The Rockets coughed up the ball 25 times and repeatedly allowed the Hawks to move anywhere they wanted on the court.
Observing the game was frustrating because much of their demise was effort based. Red Nation knew Ryan Anderson wasn't a defensive specialist, but they didn't pay him $80 million dollars to be a spectator either.  Granted, other than K.J. McDaniels there wasn't too many players one could point to who brought much defensive intensity. Capela attempted to stand his ground, but former Rockets center Dwight Howard threw him around like a rag doll.
Head Coach Mike D'Antoni has chosen to switch up the starting line-up versus the Wizards. To wit, he'll move Eric Gordon to the bench where he was always expected to play. The odd choice to replace him however is Corey Brewer.
Jonathan Feigen of the Chronicle reported on the change:
D'Antoni will make the switch to have Brewer match up with Wizards All Star point guard John Wall, but also to have Gordon fresher to bolster the Rockets' struggling second unit.

"He'll be guarding John Wall, or that's the thought behind it," D'Antoni said. "I want Eric fresh on the second team. We have to bolster that segment at the start of the second quarter and start of the fourth. We're just looking, trying to solve some things."
In my opinion inserting K.J. McDaniels would have been a much wiser choice given his ability to defend. Pairing him with Trevor Ariza would definitely have provided a strong pairing on the wings.
Brewer has been invisible through the early season on both ends and having to match up against one of the Association's best back courts in John Wall and Bradley Beal offers a frightening vision.  In the Chronicle article Brewer spoke to his familiarity of guarding point guards like Wall.  The hope is the speedy Brewer will be able to stay in front of Wall. Also noted in the article was D'Antoni updating Patrick Beverley should be back within the next 2 weeks. D'Antoni hopes the team can utilize their existing reserves to weather the storm until PBev's return.
With that,  SCS offers the Game Day Countdown
Draft Picks
No draft picks
Incoming:
Exiting: 
Re-upping:
Houston Rockets Starting 5:
(stats from 2015-16)
Point Guard:  James Harden – 29 points, 7.5  assists, 6.1 rebounds, 2016 SCS Harden preview
Shooting Guard: Corey Brewer –  2016 SCS Brewer preview
Small Forward:  Trevor Ariza – 12.7 points,  2.3 assists,  4.5  rebounds, 2016 SCS Ariza preview
Power Forward: Ryan Anderson – 17.0 points  1.1 assists, 6.0 rebounds  Anderson Media Day
Center:  Clint Capela – 7.0 points, 0.6 assists, 6.4 rebounds,  2016 SCS Capela preview
Starting 5:
Point Guard:  John Wall – 19.9  points,  10.2 assists,  4.9  rebounds
Shooting Guard:  Bradley Beal – 17.4 points, 2.9 assists, 3.4 rebounds
Small Forward:  Otto Porter Jr. – 11.6 points, 1.6 assists, 5.2 rebounds
Power Forward:  Markieff Morris – 12.0 points, 1.4 assists, 5.5  rebounds
Center:  Marcin Gortat – 13.5 points, 9.9 rebounds 1.3 blocks
Houston Rockets Bench:
Guards:
Wings:
Bigs:
Washington Wizards Bench:
Guards: Trey Burke, Danuel House,  Sheldon McClelan
Wings: Kelly Oubre Jr., Marcus Thornton,  Tomas Satoransky
Bigs: Ian Mahinmi, Andrew Nicholson, Jason Smith, Daniel Ochefu
Walking Wounded:
Houston Rockets:
Patrick Beverley – rotoworld reports Beverley is ahead of schedule following the knee scope and anticipates a mid November return.
Trevor Ariza – face, in the game versus the Cavaliers Ariza got hit in the face late in the game. CBS lists him as a game time decision, but Ariza rarely misses time (even with worse injuries) so I'd bank on him playing.
Washington Wizards:
John Wall was rested in the Wizards last game but he'll be back in the line-up tonight.
Ian Mahinmi – had surgery mid October to repair a partially torn medial meniscus in left knee, will miss 4 to 6 weeks. Targeting late November return.
All injury news as per rotoworld  as well as CBS Sports
Venue:
Verizon Center, in Washington, DC

Radio and Television Providers:
In Houston and Area: Root Sports
Worldwide: NBA League Pass
Radio: 790 AM
Game Time: 6:00 PM CT and 7:00 PM EST
Keys For Rockets:
Defense:  Suffice to say an effort like the Rockets put out in Atlanta won't get the job done. Capela should have an easier job versus Gortat. Anderson won't be taxed with a player of Paul Millsap's ilk, but he needs to at least give the appearance he's something other than a spectator.
Don't play the record:  Sure the Wizards have won a single game, but that came against the team who just shellacked the Rockets. That said the Wizards aren't tearing up the League with the 27th ranked offense, 22nd ranked defense and 29th net ranking. Houston has the 5th ranked offense and woeful 28th ranked defense. Bottom line if the Rockets play even a modicum of defense the game is theirs for the taking.
Push the pace:  Washington rank 5th worst in the league at stopping the fast break and allowing 15.8 points. With the Rockets penchant for shooting threes in transition this could lead to a big advantage.
More from Space City Scoop
Make the proper half time and in game adjustments: If I pick three major factors as takeaways from Atlanta it was the absence of defense, turning over the ball and no adjustments being made. Clearly Coach Bud made the proper half time adjustments especially considering Anderson's 3  pointers all came in the first half and Harden was held in check. D'Antoni made no adjustments allowing his team to continue tossing up perimeter shots even when they were clear paths to the bucket.
Bottom line, in spite of how poorly the Rockets played in Atlanta, this Wizards team has not found their groove on either end of the floor. Wall can't be overlooked, but Washington's bench has been abysmal.  The Rockets need to exert effort on defense and if they do this will be an easy victory.
Want your voice heard? Join the Space City Scoop team!
Enjoy the season Red Nation and be sure to stay connected with Space City Scoop as our amazing team of writers keep you abreast of all things Houston Rockets.
This article originally appeared on