Game Day: Houston Rockets finish back to back set in New York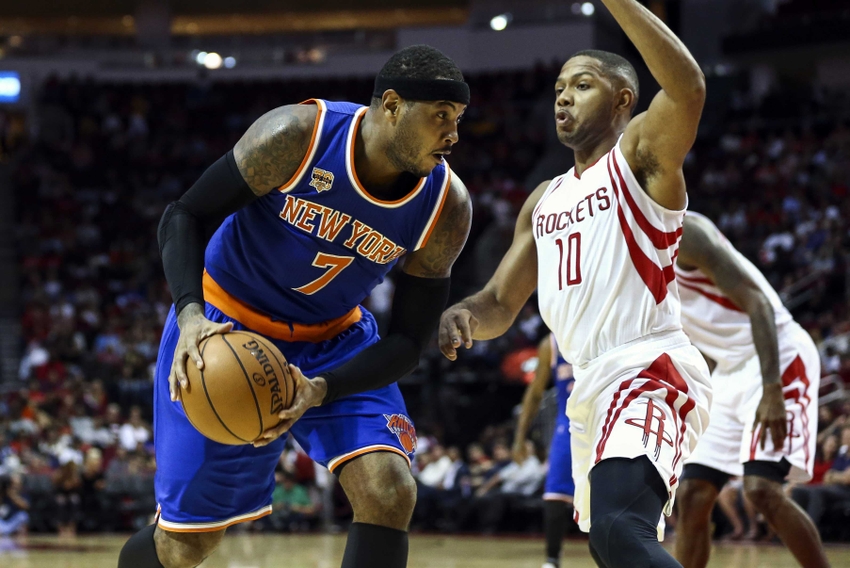 The Houston Rockets continue their 5-game road trip in New York on the back end of a back to back set.
After a loss that was much closer than the final score the Houston Rockets look to get back in the win column in New York facing the Knicks.
Looking back at the preseason match between the clubs, it was an easy win for Houston. That said, if we've learned anything from preseason it's the players are much more dialed in for games that count.
Entering the game the New York Knicks have played 3 games – losing 2 and have a single victory. Both losses to the Cavaliers and Pistons were by wide margins while the Knicks lone victory came in a bit of a shocker versus the Grizzlies.
Fortunately both teams played last night so the Knicks won't have any benefit of additional rest. In spite of that fact the Rockets will need to recover quickly and take it to the Knicks.
Hopefully lessons learned against the Cavaliers and film session will have the Rockets dialed in to play both ends to garner the win and move back above .500.
With that,  SCS offers the Game Day Countdown
Incoming:
Of note Phil Jackson hired Jeff Hornacek as the Knicks new Head Coach.
Note: Hernangomez and Kuzminskas come over from Spanish League where Porzingis played prior to joining Knicks as a rookie.
Exiting:

Re-upping:
Retired:
Houston Rockets Starting 5:
(stats from 2015-16)
Point Guard:  James Harden – 29 points, 7.5  assists, 6.1 rebounds, 2016 SCS Harden preview
Shooting Guard:  Eric Gordon – 15.2 points, 2.7  assists, 2.2 rebounds Media Day
Small Forward:  Trevor Ariza – 12.7 points,  2.3 assists,  4.5  rebounds, 2016 SCS Ariza preview
Power Forward: Ryan Anderson – 17.0 points  1.1 assists, 6.0 rebounds  Anderson Media Day
Center:  Clint Capela – 7.0 points, 0.6 assists, 6.4 rebounds,  2016 SCS Capela preview
New York Knicks Starting 5:
Point Guard: Derrick Rose – 16.4  points, 4.7 assists,  3.4 rebounds
Shooting Guard: Courtney Lee – 9.6 points,  1.7 assists, 2.6 rebounds
Small Forward: Carmelo Anthony – 21.8  points 4.2  assists, 7.7  rebounds
Power Forward:  – Kristaps Porzingis – 14.3 points, 7.3 rebounds,  1.3 assists
Center:  Joakim Noah – 4.3 points, 8.8  rebounds, 1.3 assists
Houston Rockets Bench:
Guards:
Wings:
Bigs:
New York Knicks Bench:
Guards: Brandon Jennings, Justin Holiday, Ron Baker
Wings: Lance Thomas, Sasha  Vujacic, Mindgaugas Kuzminskas, Maurice Ndour
Bigs: Kyle O'Quinn, Willy Hernangomez, Marshall Plumlee
Walking Wounded:
Houston Rockets:
Patrick Beverley – rotoworld reports Beverley is ahead of schedule following the knee scope and anticipates a mid November return.
Trevor Ariza – face, in the game versus the Cavaliers Ariza got hit in the face late in the game. CBS lists him as a game time decision, but Ariza rarely misses time (even with worse injuries) so I'd bank on him playing.
New York Knicks:
Ron Baker – ankle, CBS lists Baker as a game time decision
Injury reports as per rotoworld as well as CBS Sports
Venue:
Madison Square Garden
Radio and Television Providers:
In Houston and Area: Root Sports
Worldwide: NBA League Pass
Radio: 790 AM
Game Time: 6:30 PM CT and 7:30 PM EST
Keys For Rockets:
Focus on defense: New York isn't a team with the caliber of defense of the Cavaliers, but shouldn't be take for granted. Coming into the season Harden and company all spoke to their desire to be a top defensive team. For them to accomplish that they have to develop those habits against all teams, not just the top ranked clubs. Therefore Houston need to be as committed defensively versus the Knicks as they were the Cavaliers. And for Pete's sake if Anderson isn't going to guard and can't hit his shots get him out of the game early.
Take advantage of the THREE:  Houston rank 10th in three point shooting while the Knicks haven't found their mojo in this area yet ranking 18th.  Factor in the Knicks are the third worst team at defending the perimeter. If Houston can catch fire from the perimeter it could be a long night for the Knicks.
More from Space City Scoop
Shoot the ball: Examination of the small sample of the two teams points to a real advantage for the Rockets especially offensively. The Rockets rank 5th overall scoring 109.7 points per 100 possessions.while the Knicks rank 25th scoring 96.8 points per 100 possessions.  And while the Rockets rank dead last allowing 113 points per 100 possessions, the Knicks don't fare much better ranking 23rd allowing 106.2 points.  Net differential favors the Rockets who are a minus -3.3 but the Knicks are far worse with a minus -9.4. Suffice to say if Houston play defense well this bodes well for them to capture a victory.
Feed the Paint: Again the Rockets hold the edge in the paint where they average 46 points compared to the Knicks who average 38.
Click the following links for full team previews:
Want your voice heard? Join the Space City Scoop team!
Enjoy the season Red Nation and be sure to stay connected with Space City Scoop as our amazing team of writers keep you abreast of all things Houston Rockets.
This article originally appeared on