Frank Vogel has a lot on his plate for Orlando Magic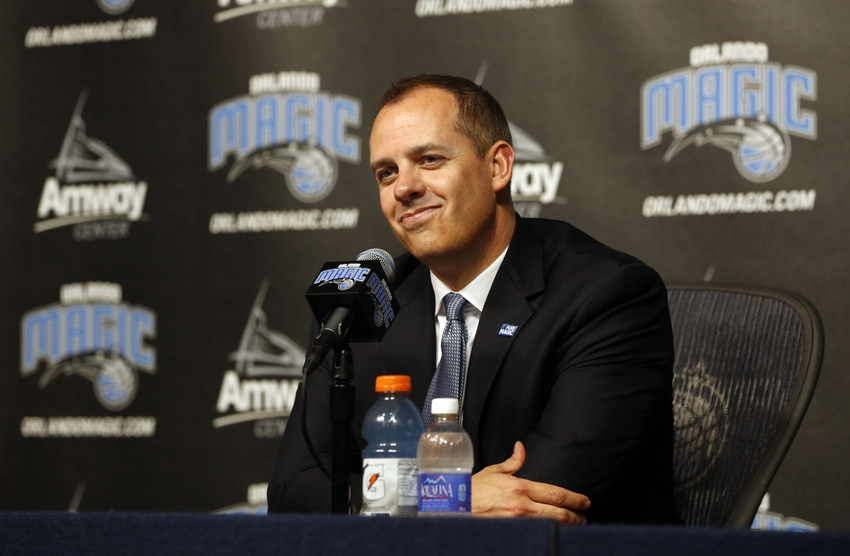 Frank Vogel comes to the Orlando Magic with a lot of experience and expectation. The truth is, he has a lot on his plate to help the team succeed.
The Orlando Magic made a number of big-money moves this summer that saw them acquire the likes of Serge Ibaka, Bismack Biyombo and Jeff Green.
But the biggest acquisition of all was arguably Frank Vogel, a talented coach who may ultimately prove to be the stick by which the franchise's rebuild is measured.
This is largely due to the fact Vogel brings the kind of experience the Magic need right now, having transformed the young, inexperienced Indiana Pacers team he adopted back in 2010 into Eastern Conference contenders by 2013.
After two and a half years of Jacque Vaughn, 30 games of James Borrego and an up-and-down season of Scott Skiles, the Magic finally seem to have found a coach capable of taking them forward. A coach who could actually stick around long-term.
That said, it is still quite difficult to assess the kind of impact he will have on the team, especially as it looks vastly different to that which won 35 games last season.
Evan Fournier's development last year may have warranted the trade that saw Victor Oladipo sent to Oklahoma City in exchange for Ibaka. But the decision to sign free-agent Biyombo confused a lot of people. Especially as the guy he will be battling to take minutes off at the center spot, Nikola Vucevic, has been the cornerstone of Orlando's rebuild to date.
Throw in the acquisitions of Green (on a $15 million deal), D.J. Augustin (who offers a similar package to back-up point guard C.J. Watson), Jodie Meeks and C.J. Wilcox (veteran wings who will likely eat into Mario Hezonja's minutes) and you begin to realize why so many people are having difficulties working out just where Orlando will wind up this year.
After all, shortly after his appointment, Vogel told John Denton of OrlandoMagic.com that he was drawn to Orlando because of its roster:
"The roster here was very, very attractive to me," he said. "I really see a lot of similarities to this team that I saw with the team that we took over in Indiana. That team had Lance Stephenson, Paul George and Roy Hibbert and it was still trying to find its way to get over that hump, but it then became a monster in the East. I see that similarity there."
The problem is his Indiana Pacers team became a monster in the NBA at a time when everyone was playing big. Now, everyone is playing small and yet the Magic have opted to move in the opposite direction.
In fact, you could even go as far as to say that defensive pillars Biyombo and Ibaka will be his Roy Hibbert and David West, the versatile Aaron Gordon his Paul George, the mercurial Hezonja his Stephenson and the selfless Elfrid Payton his George Hill.
Of course, all of these comparisons are about as loose as they come. But the quote above coupled with the moves that followed does seem to create the impression Vogel is looking to take this Magic team in a similar direction to his Pacers team, at a time when everyone else seems to be going in the opposite direction by going small.
So should we be worried?
Perhaps, as the gambles Rob Hennigan and Vogel (who undoubtedly had a sizable say in Orlando's offseason moves) made will accelerate this rebuild one way or another, for better or worse. And this season will be less about the development of the Magic's young core and more about winning – something made abundantly clear by the Oladipo-Ibaka trade.
But maybe that is not such a bad thing. As Magic fans have undoubtedly grown tired of seeing their team lose.
Had the ping-pong balls fallen the team's way through its tanking period, things may have been different. But, at present, there is no superstar talent around which to build. Gordon may get there, but for the time being Orlando has to rely on the potential of its young core (which now includes the 24-year old Biyombo), the guidance of its veterans (the number and, arguably, caliber of which has improved this offseason) and the experience of its coach – which Rob Hennigan will be hoping turns out to be x-factor here.
And why not?
Vogel did, after all, work alongside Pacers general managers Larry Bird and Donnie Walsh to transform a young team full of potential into a genuine contender back in Indiana.
And, if he can formulate a way of enabling Ibaka, Biyombo and Vucevic to coexist he could actually orchestrate the transformation he has been charged with making.
That is, unfortunately, not his only challenge this year though.
Vogel will also need to find a way of transforming Payton into a floor general; Fournier into a consistent scoring-threat who also contributes on defense; and Gordon, who has played the majority of his minutes at the four spot to date, into a genuine two-way playing three, like Paul George.
Oh, and he also needs to motivate the likes of Green, Augustin, Meeks, Wilcox and company into providing the necessary support off the bench, while also giving Hezonja the kind of minutes he needs to continue developing.
Make no mistake, he has a heck of a job on his hands. But Frank Vogel has been here before. And right now, prior to the start of the season, he seems like the right man at the right time.
Hopefully Magic fans will still agree with that statement come the end of the season.
More from Orlando Magic Daily
This article originally appeared on