Forget Being Careful With Embiid, the Sixers Want More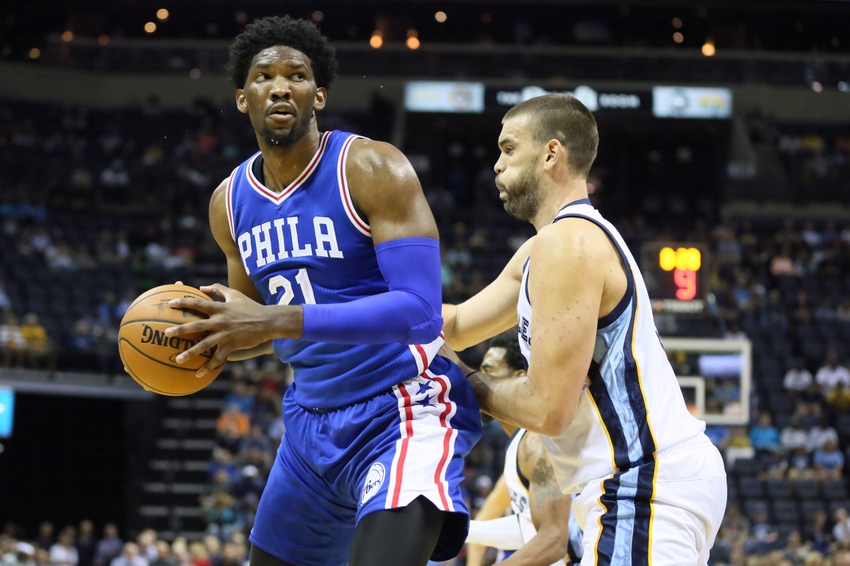 The Philadelphia 76ers seem overall pleased with what Joel Embiid has done during the preseason, but there seems to be room for even more.
"[@JoelEmbiid] is on track to arrive to opening night in a really good place."

[ 🎥 » https://t.co/gtROqsaCbl] pic.twitter.com/JtxpDFJwA4

— Philadelphia 76ers (@Sixers) October 19, 2016
Joel Embiid has been a bit of a mystery, and one of the largest unkowns of the whole radical rebuilding process that the Philadelphia 76ers have gone through over the past few seasons. Finally, however, fans, as well as the Sixers, are getting a taste of the real Embiid on the court.
More from The Sixer Sense
Embiid is finally being talked about heavily by the media, and head coach Brett Brown often talks about Embiid at length whenever he's given the chance. After one of the Sixers four practices in the week leading up to the Sixers final preseason game, Brown had this to say about Embiid:
"I think his conditioning and competitiveness, it makes him not take plays off. When I look out on the floor, I don't see him taking plays off. I think [he's] really trying to push himself, and I feel like he is on path. He's on track to arrive to opening night in a really good place, we always want more, but I think his weight is good, his attention to the recovery is an A+, and I think that he is on track."
This quote tells a lot about the attitude of the coaching staff, specifically regarding Brett Brown. He does recognize that Embiid has done a lot and he is on track with his recovery, but he's still asking for more.
"We always want more," Brown iterated to the media. That's an attitude that is really is something that tells a lot about the organization and leadership of Brown. Despite the things Embiid has gone through, despite all of the slack Embiid should have on his rope for missing out on two seasons for things that were out his control, he's still being asked for more. That's what the attitude is like in Philly.
The Sixers clearly expect a lot from their players right from the start. That attitude promotes advancement within the organization for all of the individual players, as well as the team.
This article originally appeared on