Five takeaways from the Warriors' perfect road trip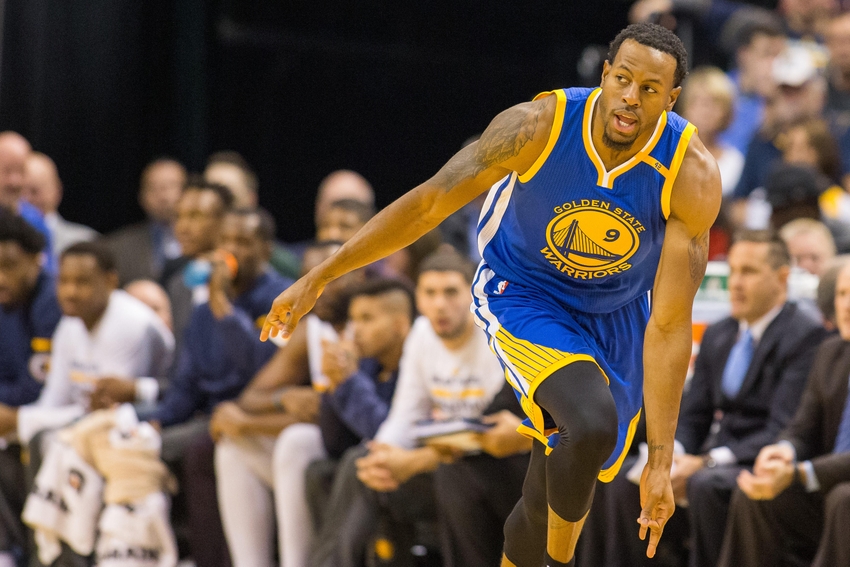 The Golden State Warriors went a perfect 4-0 on their road trip that took them from Toronto to Indiana. Here are five takeaways from that stretch.
The Golden State Warriors went a perfect 4-0 on a tough road trip. They visited the Toronto Raptors, Boston Celtics, Milwaukee Bucks, and the Indiana Pacers. They found a way to win each game.
Last season when Golden State went on a similar trip, they were taken to double overtime by the Celtics and they lost their record 24 game winning streak to the Bucks. It was a trip that pushed them to the limit and gave them a loss. This season, they made sure that they only came away with wins.
They're on an eight game winning streak, bouncing back after losing to the Los Angeles Lakers in Staples Center. They've started to show flashes of what this team can be on both ends of the floor. Each game had a different feel to it, but the one constant was that the Warriors were scoring a lot of points (118.76 average over four games).
To be fair to their opponents, both the Boston Celtics and the Indiana Pacers were hobbled. So while it is difficult to get a real feel for what those teams can do and how they matchup with the Warriors, the Dubs still did a lot of things right on their own. They played who was in front of them.
The new-look Golden State Warriors are still a work in progress. They're getting better every game. Here are five takeaways from that perfect road trip.
5. Kevin Durant should be leading MVP conversation
When Kevin Durant signed with the Warriors, no one exactly knew how he would fit. Many were concerned that a power struggle between he and Stephen Curry would arise. And that's ignoring any potential turbulence in trying to play alongside two other All-Stars in Klay Thompson and Draymond Green.
Curry has won the last two NBA MVP awards and Durant won it the year before that. It was expected that both of their numbers were to drop, but it was unclear just how much. Could they both get their numbers on the same nights or would they have to alternate?
The NBA has been amazing this year, as always. There are players in both conferences that are playing out of their mind. LeBron James is casually averaging a near triple-double while James Harden has been absolutely unleashed under Mike D'Antoni and guys like DeMar DeRozan, Jimmy Butler, and Kawhi Leonard are having career years. That doesn't even include what Chris Paul, Blake Griffin, and Russell Westbrook are doing.
There are all of these great players playing amazing basketball and it's Kevin Durant that should be leading the far-too-early MVP conversation. While Curry is still the most important cog in what Golden State does to rip teams apart, Durant has taken the lead in carrying the load on most nights. He was special during the road trip.
He only played 27 minutes and took just 9 shots against the shorthanded Pacers. Even in his limited action in a game he didn't need to score, he dished out 6 assists and grabbed 11 rebounds. He's proving to everyone that believed he couldn't fit in Golden State that he's more than just a scorer; he's an incredibly versatile beast.
Durant averaged 28.6 points, 8.3 rebounds, and 6 assists on nearly 61 percent shooting from the field over the first three games of the road trip. The offense as times looked lost when he sat. He had to settle things down for Golden State when teams started to threaten.
The Clippers are having a great season, but it's hard to bet against the Warriors as finishing as the top team in the West. If they can win 65+ games and boast a historically great offers then Durant can win his second MVP award.
4. Draymond Green is gunning for Defensive Player of the Year

Draymond Green's resumé this early into his career is amazing. He's been named to an All-Star team, an All-NBA team, and two All-Defense teams. He's a central figure to two of the greatest teams ever and an NBA champion. But there's one piece of hardware that he really wants.
Green wants the Defensive Player of the Year award. He's finished as a runner-up over the last two seasons, losing out to the incredible Kawhi Leonard both times. Green probably deserved one of those.
He wants the award this year and he's not hiding his desires. He told CSN Bay Area "I'm not a selfish guy when it comes to awards or stats … this is one thing I'm very selfish about. I want to win that Defensive Player of the Year Award bad." Looks clear to me what he wants.
The Warriors have an incredible offense, but they also need their defense to follow suit if they want to win another NBA championship. It's improved over their winning streak and Green, as their anchor, has a lot to do with it. He's been controlling the game.
In Milwaukee, with the game on the line, the Bucks tried to run a play in which Green's man was supposed to get the ball. The Warriors' star had other plans and knocked the ball away and saved the game. It was a huge play at a crucial moment.
Green hears the talk surrounding Golden State's defense and is taking it personally. He's up for the challenge and he's starting a campaign worthy of his first DPOY award.
3. The Warriors can turn it on when they want
Golden State is really good at basketball and they know it. They have a star-studded lineup with weapons all over the floor. Their small ball lineup with Green at the center position is absolutely deadly.
Because of this, they tend to relax and get complacent at times. They play down to their opponent's level. The Warriors have a tendency to get careless and lazy with the basketball, turning it over and letting other team's get into rhythms and build confidence as games go on.
With all of their firepower, they can flip the switch when they want. They become superhuman almost instantly. They have players that can get hot in the blink of an eye.
The Toronto Raptors were playing a tough game against the Warriors. It was a tightly contested game after two quarters. Then, all of a sudden, Golden State turned it on. They went on a huge 31-9 run in the third quarter that put the Raptors away.
They focused and locked in defensively and started hitting shots from everywhere. Curry and Durant were incredible, pushing the ball and getting looks in transition. They also used great half court sets to get shots up too.
It was a beautiful example of how good this team really is. Once they get engaged, they're impossible to beat.
2. Klay Thompson is finding his groove
Early in the season, experts and NBA fans everywhere were celebrating Klay Thompson's struggles. It was proof that they were right; that the fact that there is "only one ball" would be the super team Warriors' demise. And they were hopeful that there was a chance for someone else to win a title this year.
Warriors fans were starting to get desperate. Some were talking about trades, others were talking about sending him to the bench. And while many of the reactions were overkill, he really was struggling. He couldn't shoot the ball very well and the rest of his game was suffering.
But he's finally turning it around. Over the last three games of the road trip, he averaged over 27 points per game while shooting over 46 percent from beyond the arc. He's found his shot again.
Rosalyn Gold-Onwude asked Steph Curry how Thompson "got his groove back." The MVP then cracked a joke.
Curry was asked how Klay Thompson got his groove back. "The same way Stella did," he said.

— Connor Letourneau (@Con_Chron) November 22, 2016
While it might not have been in that way, Thompson has put it together. He had been getting great looks all season long and they're starting to drop now. He's firing away at will.
If Thompson can continue this high level play, then Golden State becomes even more difficult to defend. Instead of just Curry and Durant carrying the load, the Warriors become a vicious three-headed monster that eats souls.
1. The Warriors are nowhere near where they can be
Golden State went a perfect 4-0 on the road. They played two teams that dealt with key injuries and two other very tough squads. They played in hostile environments on short rest. Nothing mattered. They still won.
They blew teams out, scored at will, and turned up the defensive intensity during stretches. They built up an eight game winning streak that they will bring home with them. They just kept winning while experimenting with different lineups.
The most impressive part of this run is that they are not playing that well. Sure, their offense has been fantastic and their defense has been good at times. But they have yet to really play a complete 48 minutes. They still haven' quite sorted everything out.
Their 31-9 run was an indicator of where they can be. But there's no sense of urgency because they know they can do that at will. They're so much better than most teams that they don't have to play hard for a full game. They're preserving themselves for the postseason, hoping to go on a third deep run.
Steve Kerr is still working on the rotations. He's tinkering with lineups, figuring out which big men he can play and which ones he can't. The backup guard positions are still being contested between Ian Clark and Patrick McCaw. Klay Thompson returning to form helps relieve the pressure on Kerr and the backups. David West is playing better and Zaza Pachulia looks more comfortable.
The Warriors might still be a piece away. They could make a move for a rim protector because that was vulnerable at times throughout the road trip. But they're improving every game. They're winning without playing their best basketball.
Once they fully click, it'll be over.
This article originally appeared on