Five Reasons Why the Denver Nuggets Could Be In Store for Another Transitional Season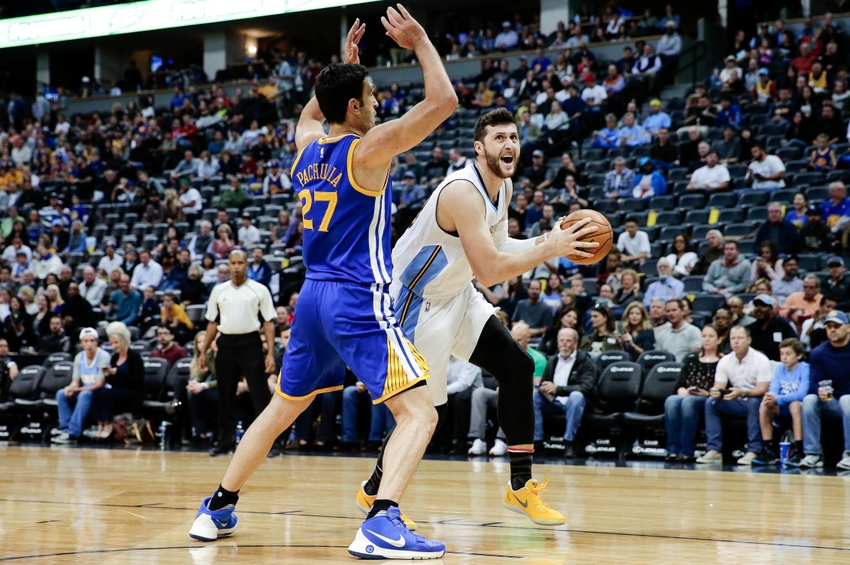 The Denver Nuggets have struggled through ten, but those ten may have shown us that this team may only be ready for another traditional season.
As the first ten games of the season pass by for the Denver Nuggets, the team is currently stuck with a discouraging 3-7 record in the West. Looking ahead to Wednesday's fixture with the Suns, it seems as so there is an early inclination that this season could serve as another learning curve.
The Nuggets are currently sitting at 11th in the West with their 3-7 record. A team that has such  playoff aspirations should know that this will not cut it. After several close games with frustrating mistakes from young players, the Denver Nuggets need to be able to find themselves again.
Want your voice heard? Join the Nugg Love team!
If this isn't turned around now, Denver could be quickly in for another lackluster season. Actually, maybe Denver is already set for another traditionally disappointing season.
Here's why:
Lack of Consistency:
After another tough loss this time to the Portland Trail Blazers, the Nuggets are now sitting on their fourth straight defeat and lack of consistency within the team continues to be an issue.
Sparing Danilo Gallinari, who has improved on his career PPG with 16.8 points, the Nuggets are failing to get regular performances from their players.
Yusuf Nurkic has shown moments of sheer brilliance and has, for the most part, taken advantage of his extended minutes. But at times, the Bosnian is disappearing when needed the most, scoring just eight points in Portland. And, with fellow European, Nikola Jokic struggling to work in a front-court with Nurk, the Serbian has also found it difficult to come off the bench and perform, failing to capitalize on last years great form.
As for the backcourt, Emmanuel Mudiay, after his blowout first-quarter performance in Boston scoring 24 points, the 21-year-old has lacked a cutting edge. Scoring just eight in Portland and more significantly adding zero assists, it is clear the guard needs to find some continuity in his performances.
Age:
With an average of 25.38, the Nuggets have youth on their side and it's clear they have massive potential, but they also need experience.
Denver Nuggets: DFS Picks for the Season Opener against the Pelicans
With a new influx of rookies, and the likes of Jokic, Barton and Harris, Malone's team is essentially relying on experience from the likes of Kenneth Faried, who is only 27. Down the stretch Mike Miller and Jameer Nelson will offer guidance, but will it be enough?
Mudiay, in particular, runs the court at the ripe age of 21, and his inconsistency shows, despite seeing glimpses of greatness. But with a little bit of nurturing and learning from the likes of Nelson in the backcourt, the Congolese can come good. But for now, this youthful side will probably need another season or two before they can challenge the league's elites, consistently at least.
With youth comes inexperience, it is obvious that so far this season Denver has seen inexperience play into several key games.
After losing close ones to Portland, Memphis, and Toronto, the Nuggets need to finish games out, but can they do that with their lack of experience?
Rookies need time:
As we saw Jamal Murray finally hitting his scoring form with 19 on Sunday night, the Portland game was proof that these young guns need time.
Murray will eventually find his shot, and he did, but his consistency will be a process that takes time. Hopefully Murray it has finally clicked for Murray after his dismal start to his NBA career. The next question is: if injuries subside, will he get time?
As for Juan Hernangomez, he enjoyed his recent flurry of minutes scoring 26 combined in his last three outings off the bench, clearly showing great potential. But again, with so many big men on the roster, the Spaniard may find minutes limited.
And finally, Malik Beasley made his statement against the Warriors with his 12 points in just 15 minutes of action. The futures bright and if this season is to be a transitional one, Malone might as well give as many minutes to the rookies as possible.
Pepsi Center needs to be a fortress:
With albeit just three games played in Colorado so far, the Nugs are yet to get a win at a place that should be a goldmine for wins.
During the Nuggets' playoff days which feels like an eternity ago, despite it only being three years, the Pepsi Center served as a fortress with the Colorado altitude and electric atmosphere rallying it's players up and down the court.
Do you know hat also irks me? The Denver Nuggets shoot better on the road from three, the free throw line, and frankly everywhere. They average more points on the road and have a -12.3 +/- at home. This is just unacceptable. The Nuggets must start to create a solid home presence in order for them to finally start to create attendance and fill the Pepsi Center with their hopeful fan base.
If the Nuggets are to find some sort of consistent form in the coming weeks, then they surely need this sense of home advantage back, and quickly.
Lack of a Superstar:
With all the potential and weapons the Nuggets seemingly have at their disposal, it still very much feels like the team lack a figure of real stature and quality that Malone can build his youth around.
Ever since the departure of Melo, the Nuggets have arguably declined, and whilst getting back to the Playoffs can be a timely process, maybe some moves in the trade market to lure a high-profile talent wouldn't be such a bad idea.
The Denver Nuggets are a young team, and they will figure it out. But as of now, they will need to figure it how to win close games before they can go further. Since they have been unable to, they will continue to lose and see another traditional Denver season.
This article originally appeared on