Five Big Time Trade Ideas for the Denver Nuggets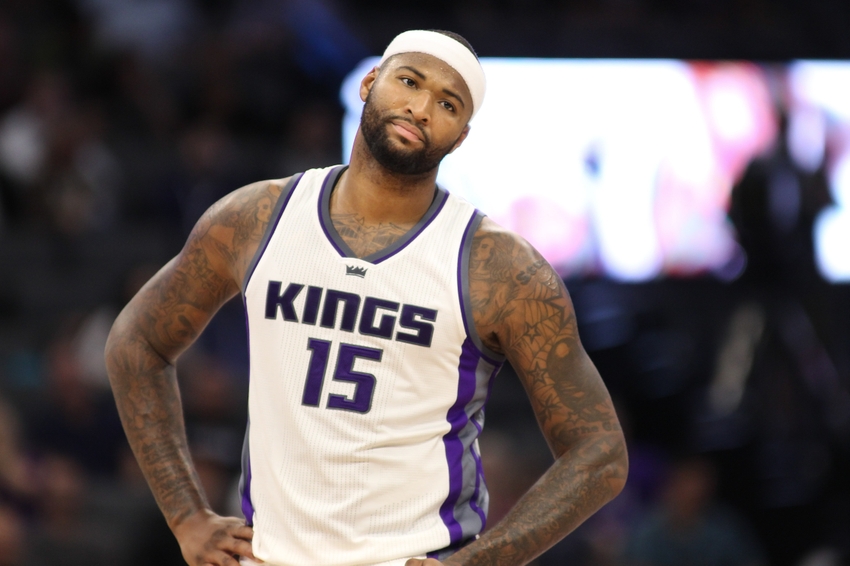 As the count down to opening night comes has passed, the Denver Nuggets find themselves in a position where they need to consolidate their assets in hopes of reaching the playoffs.
The Denver Nuggets have been actively seeking a veteran presence to combine mentor the young stars of tomorrow like Jamal Murray and Nikola Jokic as well as help guide seasoned vets like Danilo Gallinari and Wilson Chandler.
Throughout the offseason, trades sparked with both Atlanta and Timberwolves in perspective deals that may have involved Kenneth Faried. With that said, several teams would be interested in the Manimal's presence and potentially other veteran's off of the Nuggets squad.
Want your voice heard? Join the Nugg Love team!
These trades include resigned and recently traded players. As such players who have signed/resigned with a team cannot be traded until late November (per terms of the CBA).
Disclaimer: These are not actual trade rumors just distant thoughts about how to help our Nuggets.
Lets get started:
Nuggets get
PF, Serge Ibaka
PG, CJ Watson


Magic get
PF, Kenneth Faried
SF, Wilson Chandler
2020 Nuggets Protected 1st round pick
The Denver Nuggets receive an athletic, defensive presence who can block shots, make open shots, and help mentor the young foreign bigs. Ibaka's impact would be felt immediately, as he would potentially be able to bring the Nuggets over the hump and into the post-season. Watson, would fill a role similar to that of DJ Augustine, as Jameer Nelson has proved his fit on this team is nonexistent.
In return for Ibaka (on an expiring contract) and Watson (2 years left on his deal) the Magic would free more time for Aaron Gordon to play SF and have Faried start, or bring Faried off the bench and play Chandler at the 3. The lineup versatility as well as long-term contracts would give new head coach  Frank Vogel an opportunity to build and develop the core. A first round pick sweetens the deal and gives further flexibility to the Magic front-office.
Nuggets get
PG, Patrick Beverly


Rockets get
PG, Jameer Nelson
SG, Will Barton
2020 Nuggets 2nd round pick
Jameer Nelson's mentor woes have been well documented.
With his inability to stand out as a mentor for this team unlike fellow teammate Mike Miller, the Nuggets would be best served to go after Beverly. He would not only be able to help Emmanuel Mudiay and Jamal Murray understand the game better defensively, he could become a key piece off the bench who could make open shots and create a gritty on-court demeanor for this young team.
With James Harden and Eric Gordon set to play the majority of the 1 this season, it appears Beverly's role has all but diminished. In Nelson, the Rockets would be receiving a more explosive playmaker off the bench. Barton would be able to push the pace in Mike D'Antoni's system while boosting the energy of the second unit.
Nuggets get
PF, Paul Millsap
SG, Thabo Sefolosha


Hawks get
PF, Kenneth Faried
C, Jusuf Nurkic
SF Wilson Chandler
In Millsap, the Nuggets would not only be receiving an elite offensive playmaker, but also a defensive specialist who could set the tone for this young team. His no-nonsense approach would set the tone of the locker room and hold guys accountable. In Sefolosha, the Denver Nuggets get a guy finishing up his contract who can be a valuable two-way wing for Coach Mike Malone.
In Faried, Chandler, and Nurkic, the Atlanta Hawks have a plethora of options on who to play at the 4. With Millsap in the last year of his deal, the Hawks could be hesitant to lose him for nothing, just as they did with Al Horford. In receiving loads of athleticism, defense and depth, the Hawks could make a push in the Eastern Conference and turn some heads.
Nuggets get
SG, Kris Middleton
SG, Malcolm Brogdon


Bucks get
SG, Gary Harris
SG Will Barton
2018 Protected 1st round pick
In trading away one injured player (Harris) for another (Middleton), the Denver Nuggets would be eventually be able to have an oversized shooting guard who can guard the 2-4. His outside shooting, length on the wing, and stout defensive would pair well with any of the current guards in the Nuggets back court.
While tough to give up Harris, Barton on the other hand has played well in an open capacity, and would immediately fill a backup playmaking role. The two way presence of Barton and Harris would fit Coach Jason Kidd's defensive switching and would make open-shots.
Nuggets get
PF-C Demarcus Cousins
SG Malachi Richardson


Kings get
C, Jusuf Nurkic
SG, Gary Harris
SG, Malik Beasley
2019 Nuggets 1st round pick
In acquiring the best low post big in the game, the Denver Nuggets would instantly have the go-to scorer and bona fide star they've been lacking since the departure of Carmelo Anthony. The respect and admiration that Cousins and Coach Malone developed in Sacramento would pickup instantaneously.
In receiving Nurkic, Harris, and Beasley, the Kings would be getting high ceiling, ready to go players from day 1. Nurkic and Willie Cauley-Stein would form an imposing, front court while Beasley and Harris would offer long-term fixtures at the 2.
The unprotected first round pick has the potential to bring in another impact player, giving new Head Coach Dave Joeger plenty of guys that can have success within his system.
My personal favorite is trade #2 as the Denver Nuggets may looks for an elite defensive point guard. Tell us what your favorite trade was in the comments!
This article originally appeared on