Five alternative NBA timelines for Shaquille O'Neal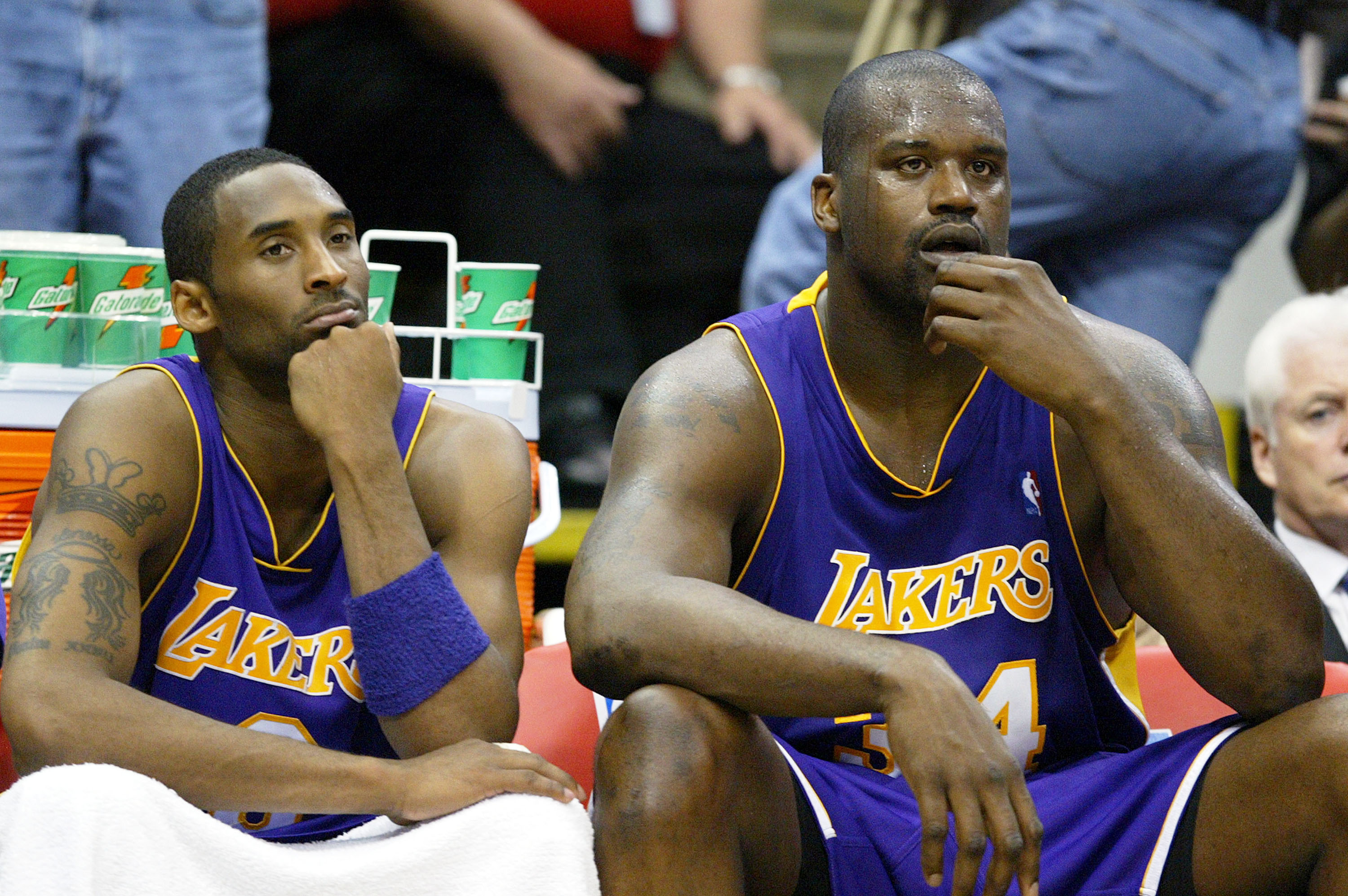 Shaquille O'Neal will enter the Basketball Hall of Fame Friday night. What would his career and the NBA look like if he'd gone down a different path?
Shaquille O'Neal was the most dominant center of his time. From his early years where he would run up and down the court like a seven-foot gazelle for the Orlando Magic to his best days as a monster-truck-grade force in the low post for the Los Angeles Lakers, there hasn't been an NBA center as physically imposing since O'Neal retired in 2011.
O'Neal was a four-time NBA Champion, a 15-time NBA All-Star, an eight-time All-NBA first teamer, two-time scoring champion and the 2000 NBA MVP. He finished as a three-time NBA Finals MVP with 28,596 career points, 13,099 career rebounds, and 2,732 career blocks.
It's hard to top what O'Neal did in the NBA from 1992 to 2011, but what if his career had taken a different path altogether? Here are five alternate NBA universes that involve Shaq Diesel.
5. What if he was drafted by the Minnesota Timberwolves?
O'Neal was the No. 1 overall pick by the Orlando Magic in the 1992 NBA Draft out of LSU, having left Baton Rouge after his junior season. However, O'Neal could have left after his sophomore season, or even played all four years with the Tigers, and would've wound up on one of three expansion-era NBA teams. One of those teams was the Minnesota Timberwolves.
Minnesota picked third in the 1992 NBA Draft, selecting Duke Blue Devils star center Christian Laettner. He didn't live up to expectations in the Twin Cities but would find on-court success with the Atlanta Hawks in the late 1990s. How would O'Neal have fared in frigid Minnesota on an expansion team like the Wolves?
Since O'Neal never played in a cold-weather city until the end of his Hall of Fame career, who knows how he would have handled playing in the Land of 10,000 Lakes? Given his talent, he probably would've been the first big star on the hardwood in the Twin Cities before Kevin Garnett came along in 1995.
Minnesota would have probably struggled until Garnett came along to join O'Neal, but might've been at least the caliber of the Chris Webber Sacramento Kings.
One thing we do know: The Timberwolves would not have swapped sharpshooter Ray Allen's rights for Stephon Marbury with the Milwaukee Bucks in the 1996 NBA Draft. Imagine a big three of O'Neal, Garnett, and Allen in the late 1990s to early 2000s. The mind shudders.
Minnesota would've won at least one NBA championship, and probably gone to another. Maybe their success derails the San Antonio Spurs in the West, as the Lakers would have been a doormat without O'Neal arriving in 1996.
4. What if he was drafted by the Charlotte Hornets?
The other team that was living at the top of the NBA Draft Lottery in the early 1990s was the Charlotte Hornets. Charlotte had the No. 1 overall pick in the 1991 NBA Draft and selected UNLV forward Larry Johnson. Had O'Neal entered the draft a year earlier, he would've likely been the top pick over Grandmama.
With the No. 2 pick in that draft, Charlotte selected Georgetown big man Alonzo Mourning after missing out on the right to take O'Neal. Mourning is a member of the 2014 Hall of Fame Class, having spent his first four years in Charlotte before going on to author a lengthy second act as the defensive anchor of the Miami Heat.
Once Charlotte traded Mourning to the Heat for Glen Rice (among others), the Hornets lost their ability to stay relevant in the Eastern Conference, and the team would be relocated to New Orleans in 2002. Thankfully, owner Michael Jordan brought the Hornets moniker back to Charlotte after New Orleans decide to rebrand themselves as the Pelicans in 2014.
In short, O'Neal would've loved playing in the certifiably basketball-crazy North Carolina. Would Mugsy Bogues or Dell Curry have been good enough in the backcourt to complement O'Neal in the frontcourt? Probably not. Then again, maybe Shaq's presence turns those guys into All-Stars?
Charlotte would have had a Shaq and Penny Magic arc to its team. Maybe the Hornets would have been good enough to play in an Eastern Conference Finals or NBA Finals with only Shaq as its centerpiece during the two years Michael Jordan decided to play AA baseball? Either way, the Hornets would have never left Charlotte had O'Neal been with this NBA franchise.
3. What if he made the Dream Team instead of Christian Laettner?
Christian Laettner was the collegiate player chosen to play on the 1992 Dream Team in the Barcelona Games over O'Neal and Mourning. The top three picks in the 1992 NBA Draft were exactly what Dream Team head coach Chuck Daly wanted to round out his 12-man roster: a strong collegiate big man to grow and learn from 11 future NBA Hall of Famers.
Laettner didn't fit in with the likes of Michael Jordan, Charles Barkley, and Patrick Ewing. He remains the only player on that squad to have not made it to Springfield for his accomplishments as an individual player. Laettner was elite at Duke but slightly better than average in the NBA.
Now, what if O'Neal made the 1992 Dream Team roster instead of Laettner? How would that have changed things for O'Neal's NBA career? Here are two things that could have happened had O'Neal played on the Dream Team:
1.) He wouldn't have wanted to play in small market Orlando for any stretch of his NBA career.
2.) He might have been able to rectify his woes at the free throw line before his rookie season.
Getting to play with star players in his early 20s would have made O'Neal reluctant to play in a small market. He may have forced a trade with the Magic to somewhere like Boston, New York, or Los Angeles after his first Olympic experience.
Could being on 1992 Dream Team have helped his free throw shooting? O'Neal would have been young enough to break his bad habits at the line. His mentors at Barcelona might have been Ewing, Charles Barkley, David Robinson, and Karl Malone.
All four Hall of Famers were excellent free throw shooters during their playing careers. One of them may have found a simple flaw in Shaq's shooting mechanics to make him a 75 percent shooter in his career. If Shaq were a 75 percent free throw shooter, he easily eclipses 30,000 career points.
2. What if the Los Angeles Lakers picked him over Kobe Bryant?
When the Lakers lost the 2004 NBA Finals to the Detroit Pistons, the rocky marriage between Kobe Bryant and O'Neal was over. The Lakers front office had to make an ultimatum: Bryant or O'Neal.
Los Angeles would trade O'Neal to the Miami Heat later that summer, but what it Lakers general manager Mitch Kupchak valued O'Neal more than Bryant? Keeping Bryant was the right move, as he had eight more years left in his prime, played better defense than O'Neal, and anchored two more championship teams. Could the Lakers still win with just Shaq?
Suppose Bryant's hyper-intense personality was too agonizing for the Lakers to go forward with. The Pistons were the best trade partner for Lakers in the Bryant sweepstakes. Los Angeles would gain either Chauncey Billups or Richard Hamilton, as well as a future first-round pick at the very least.
The Lakers probably would have won one more NBA Championship with O'Neal as their centerpiece. Either Billups or Hamilton could be the ideal No. 2 to Shaq with the mid-2000s Lakers. Los Angeles would win one more NBA Championship before Shaq exited his prime in 2007-08.
Detroit would have won two or maybe even three more championships with Bryant as the Pistons star player. Miami would not be the marquee free agent destination it is now. Dwyane Wade would be viewed in the same light as Carmelo Anthony: a great individual talent without an NBA ring.
Who knows if LeBron James would have ever left Cleveland? Maybe the Cavaliers are still without a championship because they couldn't have drafted Kyrie Irving. He was the one bright spot to James' exodus to South Beach.
Keeping Shaq in Los Angeles and trading Kobe to the Pistons doesn't hurt either players' legacy. It does have a negative impact on Wade and James. That's for sure.
1. What if he never left Orlando?
What if Shaq didn't leave Orlando for Los Angeles in 1996 NBA free agency right before the Summer Olympic Games in Atlanta? Four things happen if O'Neal signs a new deal with the Magic:
1.) Orlando wins at least two NBA Championships with O'Neal and point guard Penny Hardaway as its two star players. They had better on-court chemistry than O'Neal ever had with Bryant. Who knows how good the Magic could have been in the mid-to-late 1990s?
2.) Hardaway could have been a top-30 player in NBA history. His body broke down once he had to carry the weight of the world on his shoulders once Shaq left for the Lakers. For those who didn't get to see Penny in his prime, Hardaway was roughly a cross between Magic Johnson and Russell Westbrook before knee injuries ruined his promising NBA career.
3.) Orlando is the marquee free agency destination in Florida, not Miami. Miami may have South Beach on its side, but all of Florida has warm weather and no state income tax. South Beach wasn't a major selling point for the Heat until Shaq gave the team legitimacy in 2004.
4.) The Lakers and the New York Knicks would mirror each other on opposite coasts. These are two franchises living in yesteryear with nothing but chaos on the hardwood from the mid-1990s to 2000s. Los Angeles was well equipped to land another marquee free agent, but none could touch the 1996 signing of Shaq. Would Kobe be the top-10 player in NBA history without Shaq? No way.
This decade gave us a huge what-if team in the Oklahoma City Thunder. How Westbrook, Kevin Durant, James Harden, and Serge Ibaka never won an NBA Championship is a basketball enigma we'll talk about for years. It'll remind us of the greatest what-if team in NBA history: the Shaq and Penny Magic of the mid-1990s.
This article originally appeared on