Finding the Orlando Magic "Death Lineup"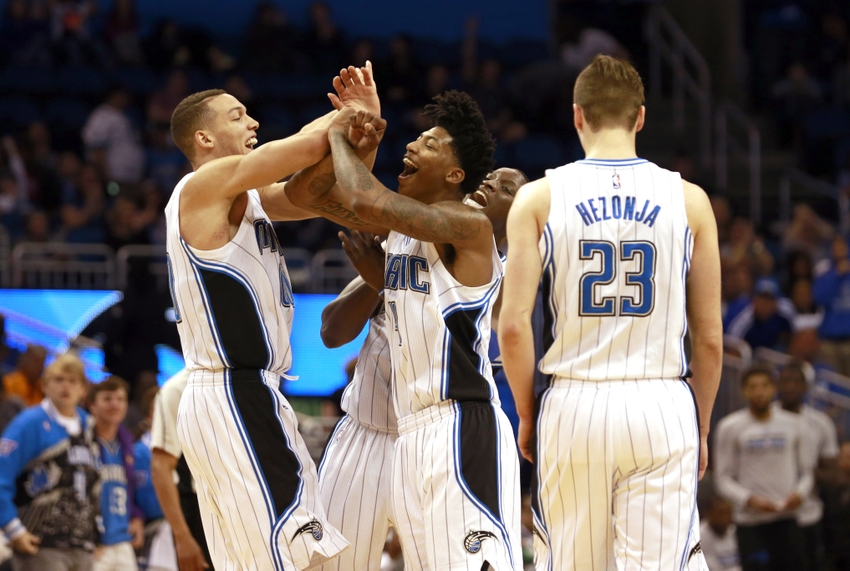 Numerous teams may be looking to emulate the Warriors' "Death Lineup" from last season. The Orlando Magic have the personnel to make their own.
They came in during the late second quarter, when teams are protecting players before halftime and might not value possessions as closely as before. The Golden State Warriors would throw Stephen Curry, Klay Thompson, Harrison Barnes, Andre Iguodala and Draymond Green on the floor.
The "Death Lineup."
That Warriors lineup would crush teams with its offensive efficiency. Teams could not figure out how to match up. And close games would turn into blowouts in an instant.
Every team is scrambling to find its unique lineup that maximizes its players' skills in the same way. Including the Orlando Magic.
Jonathan Tjarks of The Ringer took up that task to find other potential "Death Lineups" around the league, including the Orlando Magic.
"Frank Vogel can't play it safe if he's going to get the Magic back in the playoffs. To get there, he needs to find ways to get more out of Orlando's two top-five picks."
His suggestion for a lineup the Magic could use for short stretches to throw opponents off and exploit matchups would put out Mario Hezonja, Evan Fournier, Aaron Gordon, Serge Ibaka, and Bismack Biyombo.
The coaching staff will need to be creative in order to get this team to win enough games to make the postseason, specifically on the offensive side. This idea of a "Death Lineup" is certainly an intriguing one the Magic have the personnel to use.
A "Death Lineup" is one that can switch on screens, exploit favorable matchups, stretch the defense and play together. That lineup is an intriguing one that has upside. But it is not the best "Death Lineup" option this team has.
The problems with death
One big issue with that lineup is that it lacks a lead ball handler and distributor.
If Vogel puts that lineup out to close games, he would be relying on Hezonja to play the role of point guard. And he is yet to show the capability to fulfill that role.
Hezonja played some time at the point last season, specifically when Elfrid Payton was injured, and struggled at that role. He finished the season with an 11.2 assist percentage and 18.0 turnover percentage. The team seemed to struggle with him and Shabazz Napier at the point.
Oftentimes he struggled to get past pressure, and would make errant passes. Opposing defenses picked up on that weakness and pressed him and forced him into making poor passes.
He certainly has shown some strong passing skills, but he would likely work best as a secondary creator rather than the point guard.
Evan Fournier has shown the ability to penetrate the defense, but not the ability to facilitate scoring opportunities for his teammates. His assist ratio was 12.8 percent last season.
As a comparison, Elfrid Payton's assist percentage was 32.8, which is closer to where a team would want its primary ball handler and distributor to be.
The Magic would need a true point guard on the court in order to succeed offensively.
Another issue with this lineup is the lack of spacing in the frontcourt.
Hezonja and Fournier should project to be above-average 3-point shooters this season. But Gordon, Ibaka and Biyombo have been subpar in that category, which could lead to defenses packing the paint and stopping the Magic offense from moving the way they would want from a "Death Lineup."
Aaron Gordon has a ton of versatility defensively, but he likely works best at the 4, where he will not be relied upon to have a strong outside shooting performance.
Serge Ibaka will work best playing where he is most comfortable: inside the 3-point line. He has been one of the best mid-range shooters in the NBA, and he has the athleticism to finish inside. But he was a below-average 3-point shooter last season.
Not only was he not effective from behind the arc, but it was very clear he was not happy staying out there on offense. In order to maximize his offensive abilities and increase the chances he would be willing to resign in Orlando for the future, the Magic would be best off keeping him stationed inside the 3-point line most of the time.
The better lineup
When picking an optimal "Death Lineup," the Magic would want to choose players who fulfill the aforementioned description of a "Death Lineup." They also want to ensure they will have rim protection, offensive flow and rebounding to prevent other teams from exploiting a huge weakness.
One thought numerous analysts have had is trying a lineup with Gordon at the 5. But until he proves he can be a solid rim protector and strong rebounder, that lineup would not be preferable, as teams could take advantage of the lack of size.
Gordon though certainly has some of that Draymond Green versatility in him if given the chance. No one doubts he can jump to meet an offensive player at the rim.
Another aspect of a "Death Lineup" is the Magic would still want five of their best players on the court. They could find a versatile lineup with bench players that fits the description. But if the talent level is subpar, it would not be effective.
The Magic certainly would want to use their recent top five picks in the lineup, as they can both play multiple positions and have strong upside. The question is who to put in at the other three positions to make this a strong "Death Lineup."
My primary suggestion for a lineup that could maximize the efficacy of a "Death Lineup" would be Elfrid Payton-Evan Fournier-Mario Hezonja-Aaron Gordon-Serge Ibaka.
The Magic would have two strong shooters at the wings, elite rim protection in Ibaka, a true distributor at the point and potential secondary creators who would allow the offense to flow.
This lineup would allow the Magic to switch defensively and exploit matchups. They would look to play 4-out on offense primarily. And Ibaka could move out behind the arc on occasion and allow Gordon to take advantage of matchups inside the paint.
There is still some risk with this lineup.
This lineup would rely on Payton and Hezonja to guard the perimeter effectively or occasionally inside. And both will have to improve defensively from last season.
Payton was measured at the draft at 6-foot-4 with a 6-foot-8 wingspan. So he has the potential to both be a strong defender on the perimeter and switch onto bigger players if needed. He will need to get back on track with the potential he showed in his rookie season. That looks to be a big x-factor for the Magic in the upcoming season.
There would still be a height advantage if Payton is forced to switch onto a bigger opponent. But if the Warriors could live with Stephen Curry switching and still dominate teams defensively, the Magic would seem content with Payton in that role.
Perhaps he would look to take more risks and create turnovers if in that position. He certainly could with the potential rim protectors behind him to clean up mistakes.
Alternative versatility
This lineup could also work with Biyombo at the 5. Although the spacing may decrease, Biyombo is an elite screener and offensive rebounder. The Magic can use him offensively in a quicker lineup like this.
If the team struggles with shooting, perhaps D.J. Augustin or C.J. Watson could be put in at the point. But the defense could take too much of a hit with that alteration.
The Magic invested heavily in their frontcourt this summer. They will likely look to play two big men together for most of the games.
But if they want to change it up and take advantage of their versatility and athleticism, they could look to one of these death lineups that are more similar to where the NBA is going.
A lineup of Payton-Fournier-Hezonja-Gordon-Ibaka maximizes their versatility on both sides of the ball. And it allows them to excel in the crucial aspects of a "Death Lineup" without the glaring weaknesses other variations could have.
This article originally appeared on